Vaper Empire Pros & Cons
Pros
Large Selection of Vaporizers & Accessories
Affordable Prices
Highly Responsive Customer Service
Variety of E-Juices
Our Exclusive 15% Discount, Use Coupon Code: e-cig-brands
Start Vaping with Vaper Empire
Vaper Empire was founded in 2012 in Australia and has recently relocated their factory the United Kingdom from which they distribute their merchandise. They have quickly grown to one of the top e-cigarette companies in the world and are proud to offer high-quality devices.
So, without any further ado, here is our full Vaper Empire review.
First Impression
Vaper Empire is a classy company that offers high-quality devices in sleek, sophisticated designs. Their devices are pricey because they know that they're worth it, and if you are a young professional looking for a convenient e-cig you can slip in your pocket, then look no further. Their e-cigarettes are subtle and elegant and never conspicuous. They produce enough vapor to get a solid throat hit without clouding up the room, and with smooth draws like these, you'll never have to worry about dry hits again.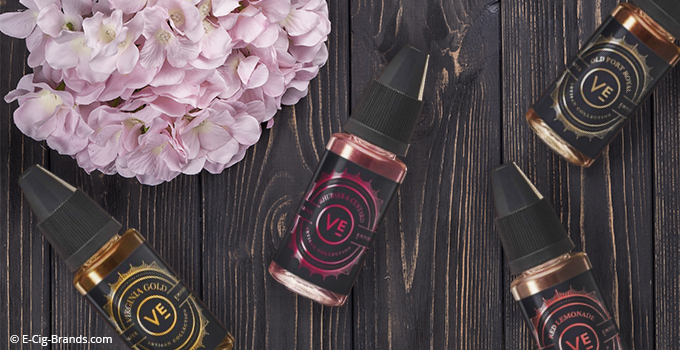 Vaper Empire Vapor Production
Vapor Empire devices provided a solid throat hit, but there was certainly no sub-ohm vaping here. With resistance hovering around 2Ω, don't expect any cloud-chasing or large conspicuous clouds of vapor in public spaces. These sophisticated electronic cigarettes provide just the hit you need without overdoing it at the office or the local cafe or pub.
Vaper Empire Vaping Accessories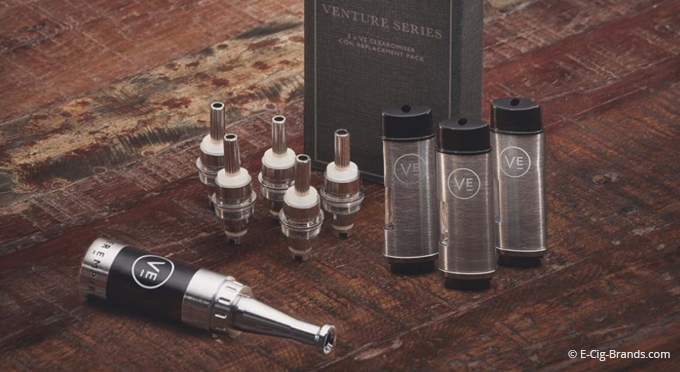 We know that no vaper is complete without the full gamut of accessories, and Vaper Empire surely does not disappoint. Check out their sleek leather carrying case or their replacement coil release medallion for loosening the coil system on your vaping device. They also have your full range of extra clearomizers, cartomizers, and batteries, which you should be replacing on a regular basis to ensure maximum performance.
Vaper Empire E-Liquid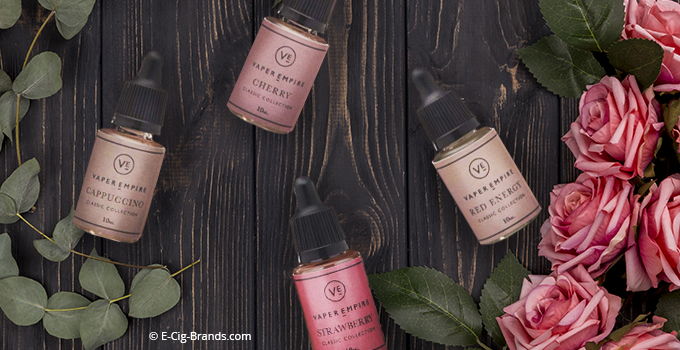 A Vaper Empire review without a thorough analysis of their e-liquids wouldn't really be a fair review. Vaper Empire has two collections of e-liquid including the classic and artisan variations. The Classic Collection can be purchased either as individual 10ml bottles or in a 6 or 12 pack for $119.50 and $59.75 respectively. Flavors include traditional tobacco, menthol, and spearmint as well as fruity flavors like blueberry, apple, and mango. Don't miss the watermelon flavor, a clear favorite amongst customers one of whom claims, "This flavour is really lovely. It isn't too sweet, yet it isn't bland. It is a really good choice for an everyday vape, it won't get old on the palette. I adore it!"
The Artisan Collection is really one-of-a-kind in the vaping world with high-quality, unique flavors mixed to impress. With names like "Twice on Sundae," "Spring in Siberia," and "Velvet Elvis," Vaper Empire will lure you in before you even take a puff. Each flavor is totally unique. Some of our favorites include "Ragtime Raconteur," a mix of tobacco and mocha cappuccino with hints of caramel that promises quite the vaping experience: "A blazing piano tune pours out of a speakeasy on the south side of town. Young flappers in sparkling fringe do the Charleston for their admiring onlookers."
Another one of our favorites in the Artisan Collection was "Salvador's Siesta," a vaper's take on a classic Spanish dessert of creamy hazlenut custard. The description reads, "The orange-red sun sits high above a medieval Spanish village, spilling short rays of white light across the terracotta tiles. A cool, salty breeze sweeps over the Mediterranean, momentarily cutting through the sweltering heat. Tucking in to Natillas de Avellanas, provide the creamy flavours and aromas of hazelnut and custard for a smooth and decadent opportunity to slow down and enjoy the sultry afternoon." With a description like this that simply makes you start salivating, you are sure to enjoy. Indulge yourself–these artisan flavors are delectable!
Take advantage of the fact that three bottles of classic e-liquid and one bottle of artisan e-liquid come in every deluxe starter kit, but certainly purchase some extra artisan e-liquids. We couldn't come up with a single favorite though! Each one was better than the last! If you are a gourmand, you have to come here. This might even be one of Vaper Empire's greatest strength.
You can choose a nicotine strength of 6mg, 12mg, 18mg, or 24mg or purchase two bottles and mix your own concentration in order to decrease your nicotine dosage more gradually. All bottles are made in the EU with child- and pet-proof drip-free bottles in their multi-million dollar facility that adheres to TPD standards.
Start Vaping with Vaper Empire
Vaper Empire Battery Performance & Charging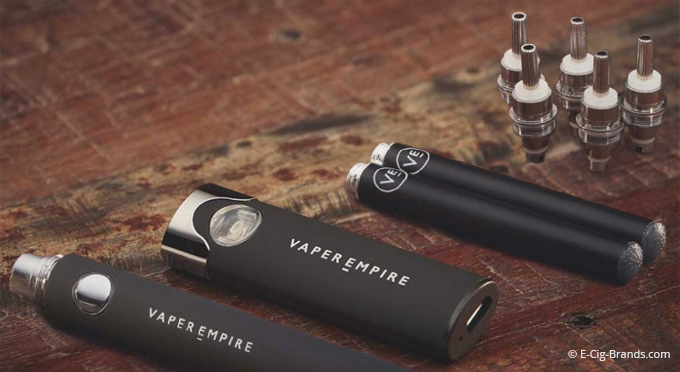 With fairly high resistances, you won't find batteries here that will blow vapor through the roof, but then again, this is not their aim. With cig-a-likes with a capacity of less than 400 mAh and intermediate vaporizers with a capacity of 1500 mAh, these batteries, while not cheap, are not going to last you more than a day before you have to recharge. We did, however, get about 1200 puffs out of some of the more powerful vape pens. Vapor Empire batteries have an average voltage of around 4V though, so they will provide a satisfying hit. These batteries, again, are not meant for box mods or cloud-chasing, so don't expect to be sub-ohm vaping on these babies. We found that they these vape pens were elegant and sophisticated, but designed with the young professional in mind not the vaping aficionado. If you are looking for devices that cater to a vaper on the go, then these should prove more than sufficient, but heavy smokers might want to look for something a bit more powerful.
Selection
With only about five starter kits and no e-hookah, e-pipes, e-cigars, or box mods to speak of, Vaper Empire has a severely limited selection. They cater specifically to beginner and intermediate vapers or vapers with busy lifestyles looking for easy, convenient devices. Vaping aficionados looking for cloud-chasing and large amounts of vapor will most likely want to look elsewhere. That being said, the selection they do have is top-notch, and they clearly funnel their efforts into making sure that their vaporizers satisfy–and satisfy they do! Nonetheless, their website is clearly designed and customers can easily locate which vaping device is for them. We found their limited selection to be relieving for newer vapers who don't want to sort through pages of vaporizers and accessories to find what they need.
Packaging & Design
Vaper Empire certainly does not skimp on their packaging, and the effort really shows. These black and gunmetal designs are nothing if not sleek and sophisticated, and devices do not come in garish colors or materials. Boxes are an understated black with gold lettering, and the overall appearance is uniform. From the leather carrying case to the pastel-wrapped e-liquids, we were pleased by the extra care put into details that really made a difference in our overall vaping experience.
Vaper Empire E-Cigs Shipping
Vaper Empire is based in the land down under, which is slightly far from vapers in most other parts of the world, so they are happy to offer two convenient worldwide shipping services. If you are short on supplies, you can order via the DHL Premium Express Service to get your vaping equipment within 3-5 days. This premium option comes with extended tracking services and trusted DHL reliability. Otherwise, customers can choose the Standard Flat Rate Airmail Service with limited tracking service if they are willing to wait six to twelve days until their package arrives. Shipping will of course be cheaper and faster within Australia, but DHL promises to dispatch parcels on the same day provided orders are submitted before 3pm. Vaper Empire takes no responsibility for third-party delays, and customers should be aware of public holidays and peak shipping periods to better calculate the date of arrival.
Start Vaping with Vaper Empire
Vaper Empire Warranty
Vaper Empire promises to replace any damaged products if returned within three months excluding atomizers, coils, and e-liquids unless they are received already damaged. After three months, Vaper Empire does not guarantee replacement but will be happy to promptly review any complaints, questions, or concerns via 1800VAPER or [email protected]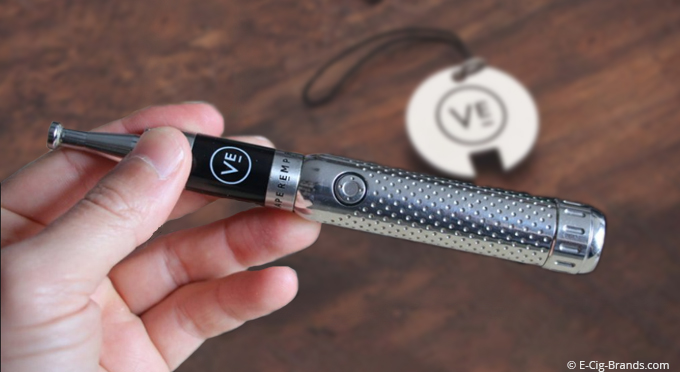 Customer Service
Customers are given a reference code via email directly after placing an order. Make sure to keep this number so that if you ever need to get in contact with Vaper Empire for any reason, they can efficiently process your request or complaint. We found that Vaper Empire's customer service team was extremely personal and responsive even with regards to the most insignificant of concerns. Even though their support base is in the down under, they are highly responsive and care deeply about customer satisfaction.
Vaper Empire Starter Kits
Vaper Empire has five different series of vaporizers all in pen format with varying degrees of power. Each of their five kits comes with the device, a battery, and USB charging cable and plug, but if you want to upgrade to a deluxe starter kit, you'll receive an assortment of accessories and e-liquids that will allow you to start vaping right away. These starter kits are sleek and sophisticated, and though there are not any heavy-duty box mods, vapers of all levels of experience will find high-quality, elegant devices for everyday use.
The V-Twist Series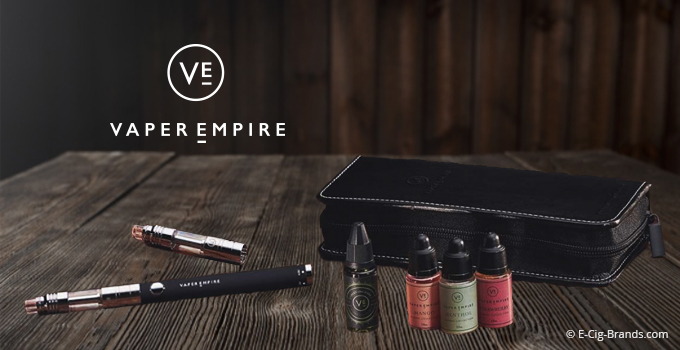 The V-Twist Series comes in black or chrome with a variable voltage 900 mAh battery with a voltage range between 3.2V and 4.8V. Plus, in the deluxe kit you will find three bottles of 10ml classic e-liquid, one 10ml bottle of artisan e-liquid, and a classic leather-bound pouch. This fan-favorite has an innovative intake valve to allow for adjustable airflow, and is topped with a lovely glass-tipped mouthpiece. The tank holds 1.7ml of e-juice, and the overall resistance is only 1.8Ω. This device is small enough to slip right into the pocket of your pants but doesn't sacrifice on vapor or taste. The V-Twist Series Deluxe kit sells for $119.00 and is already one of their most popular kits. It is sure to be one of your favorites soon enough! Don't take our word for it though. Customer Zee exclaims, "Im never going back! It's changed me from a very heavy smoker to not even wanting to go back goodbye to the smelly clothes & breath and Hello to the new & improved happy & healthy person!"
Vantage Series
This compact, stylish device is probably one of the most reliable e-cigs on the market. As far as e-cigarettes go, this one is top-notch, and it will blow away your expectations and have you turning away from analog cigarettes in just a matter of time. You can purchase this electronic cigarette in either black or chrome, and it even comes with an extra clearomizer and rechargeable battery in the deluxe kit. The tank is 1.6ml, and you should get about 1200 puffs out of each battery before having to recharge. For ease and simplicity, the vantage series is the way to go. Plus, at only $109.99 or $84.95 for the standard kit, this kit surely won't break the bank.
The Vibe Vape Mod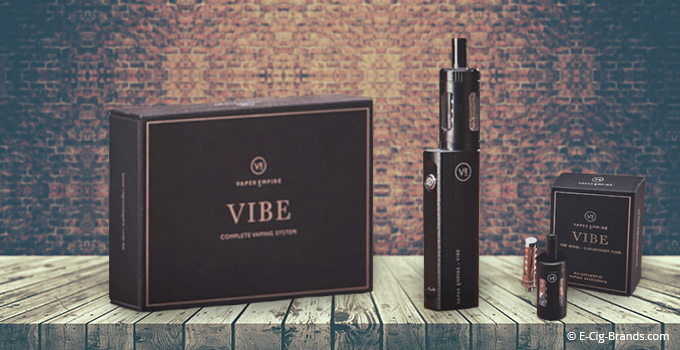 We love Vaper Empire for their sleek, elegant vape pens, and we're so excited to introduce their newest product: The Vibe. The Vibe has more power than any of their other vape pens so far. With a 2000 mAh battery, this pen will have you vaping for days. The tank holds an impressive 4ml, so just load her up and you're set to go for the day. Even though the specs are more impressive, The Vibe itself is just as stylish and sophisticated as ever. With a gunmetal alloy exterior, this pen will surely be a conversational piece. We love this all-in-one device because not only is it useful, but it also is incredibly convenient. With an internal battery and an attached tank, all you'll have to do is fill up and you're ready to vape. If you are looking for a vape pen whose performance is impeccable and whose design is stunning, then look no further. The Vibe is exactly what you've been looking for. Order The Vibe from Vaper Empire today.
Start Vaping with Vaper Empire
The Viva Titanium Series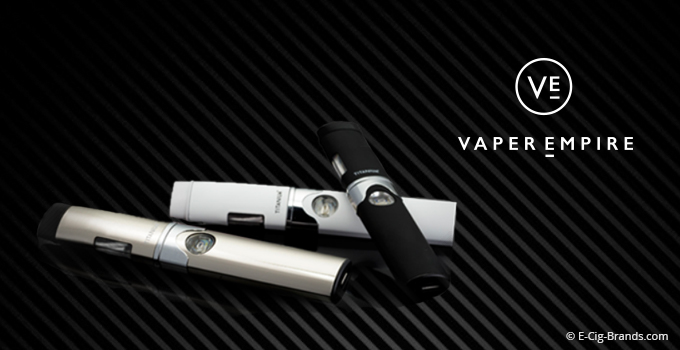 This vaporizer pen has a sleek ovoid profile and slips effortlessly in between your two fingers or inconspicuously into your pocket. A long-lasting titanium coil and a lightweight battery make this series an easy choice for vapers on the go, and with the deluxe kit you won't only get four e-liquid containers but an extra cartomizer and battery as well. Customers claim that this pen is both fashionable and functional, and they are significantly happier than their friends who chose cheap knock-off versions from Asia. At $129.99 or $108.99, this device is slightly more expensive, but with 600 puffs and 3.8V-4.2V on a 360 mAh battery, you are surely getting good quality for an incredibly convenient size.
Venture Series
The Venture pack is a stainless steel electronic cigarette with a stipple-textured design perfect for the intermediate vapor in search of a more powerful device without upgrading to a box mod. The top-coil design prevents you from taking dry hits, and with a 2.5ml tank and 1500 mAh battery, you will vaping for longer before refills and recharges. The voltage ranges from 3.3V-3.8V, and it will last you the equivalent of 25-30 traditional cigarettes! Customers describe this model as, "Best e-cigarette I have come across so far!" At $189.99 or $149.99, this device is not meant for a novice, but rest assured that it will take care of all of your vaping needs!
Viggo Vape Pod

Slim and elegant, in a soft-touch black metal, the Viggo Vape Pod system is perfect for the beginning vaper. Powered by a 400 mAh battery, the Viggo is easily portable, and has 3 different power modes. There are currently 6 varieties of vapor pods to go with the Viggo pod system and their quality matches what we've come to expect from Vaper Empire. Each pod holds 1.8ml, and are currently available in apple, whole leaf tobacco, creamy custard, orange crush, menthol, and tobacco blend. With pods available in both 3mg, and nicotine-free there is something for everyone. The Viggo Vapor Pod system comes with the Viggo, a USB charger, and the user's manual. Pods are sold separately in packs of 3. Whether you're a beginner or an experienced vaper who prefers something more minimalist, the Viggo Vapor Pod System is a stylish and practical option.
V-Pack II Series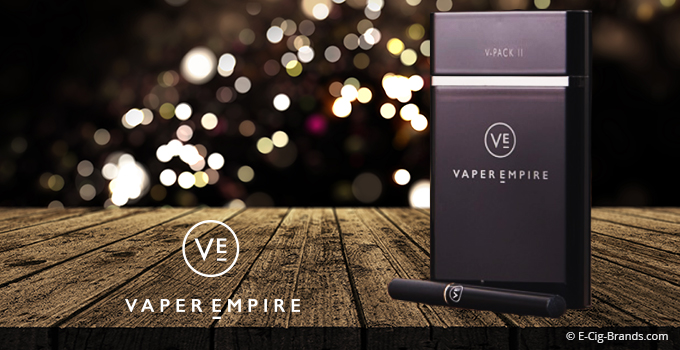 This totally unique pack resembles a traditional pack of cigarettes but is actually a box that doubles as a portable charging case! This totally inconspicuous cig-a-like pack is bound to wow you if you are new to the vaping world. The V-Pack II Series comes with a battery stem and a disposable cartomizer that screw together. Slip it into the black and gunmetal gray carrying case along with an extra battery and some spare cartomizers for all-day vaping. The 1200mAh battery will last 400 puffs and has a stunning output voltage of 4.7V. Customers claim, "The V-Pack II series is the perfect blend of Style a Flawless and Consistent Vapour Delivery System and Convenience that makes this product stand alone in a market that is beginning to evolve." For only $139.99, you will get a portable charging case, two stem batteries, a USB charging cable, wall adaptor, instruction manual and 4 5-packs of cartomizers. If you are looking to quit smoking, this elegant pack is your solution!
Start Vaping with Vaper Empire
Vaper Empire Prices
We found Vaper Empire to be one of the pricier options on the market, and while their customers rave about their devices, this may not be the best option for a smoker on a budget. However, you will save a significant amount of dough by switching nonetheless. Their starter packs are about $20-$30 more expensive than some of the other top brands, but that extra money is surely due to the effort they put into the sophistication and elegance of their designs, which are, without a doubt, unparalleled throughout the market. If you are willing to pay a little bit extra, you will surely have a an e-cig that is the envy of all those around you based on looks alone.
Other Products
The Vaper Empire website has a brilliant widget designed to tell you exactly how much you can save by switching to electronic cigarettes. With a convenient slide-bar, all you have to do is plug in the number of cigarettes you consume a day as well as the costs of those packs and how many cigarettes there are per pack, and instantly you can know exactly how much you will save per month and per year simply by going smoke free. This ingenious tool is simple to use and will have you astounded by the huge amounts of cash you are throwing down the drain unnecessarily.
Benefits
If you are living in the European Union, you no longer have to worry about checking the size of the tank before ordering. Since all products are manufactured in the United Kingdom, they adhere to the regulations set out by the Tobacco Products Directive. Tanks are all smaller than 2ml, and are drip-proof. Plus e-liquid bottles are limited to 10ml. We know how frustrating it can be to order from an American company and ship goods to Europe only to realize later that they were confiscated at the border even though the goods were perfectly legal outside the borders of Europe. Rest easy that all of our products are good to go for vapers from around the globe.
Vaper Empire Review Summary
After a thorough Vaper Empire review, we can easily say that we are very satisfied with Vaper Empire's customer service and elegant designs. They certainly intend to impress, and they accomplish nothing less. They don't have an enormous selection, but they make up for it with the devices they do offer. Young professionals will certainly love these chic, simple designs that make vaping on the go simple.