However, not everyone wants the latest box mod or the newest sub-ohm tank. There are a number of reusable e-cigarette starter kits specifically designed for the inexperienced beginner like the ePuffer Magnum Snaps for instance or the V2 Series 3, which comes with cartridges that snap into place magnetically. Whatever happened to disposable e-cigs though? Refilling clearomizers, replacing atomizers, cleaning tanks–whatever happened to good old-fashioned disposable e-cigarettes?
Whatever happened to the days when we could vape and throw? Disposable e-cigarettes are often seen as starter devices, but the truth is that they're inexpensive and convenient. You probably will end up saving money in the long-run with a reusable device, but if time is your most valuable commodity and you just aren't attracted yet by the flashier mods and the extra effort it takes to understand them, then by all means, go disposable! On a second note, there are a lot of quality disposable e-cigs out there. Don't assume that just because they're disposable that they're garbage. You just need to know which kits are the best. E-Cig Brands has all the information you need to find the best disposable e-cigarettes at top prices.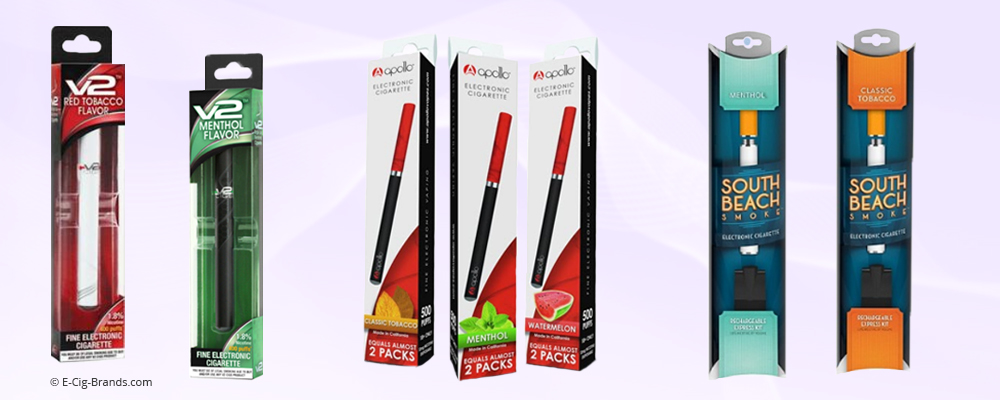 Benefits of Disposable E-Cigarettes
While vaporizers are wonderful, most people forget how much work it takes to maintain some of them. Disposable e-cigarettes are simple. Vape. Throw. Repeat. Here's why:
No Accessories:
Now you can't simply buy a vaporizer. Whenever you buy a vaporizer, you're obligated to purchase complementary accessories. Now, many of these accessories are included in the starter pack. Usually, you'll get a wall charger and USB cable, but a simple starter kit doesn't come with a stylish travel case the highest quality batteries. You have to purchase those separately. Plus, every few weeks you need to replace either the cartridges or the atomizers on your vaporizer depending on what kind of device you have. Not only do you constantly have to refresh your supply, but you have to continually tinker with a device you already bought. A disposable e-cigarette needs no accessories whatsoever. It comes with all you'll need to vape it, and you'll never have to purchase extra supplies to maintain it.
No Charging:
Some of the larger vape pens and mods nowadays have battery capacities the surpass 2000 and 3000 mAh, but first of all that wasn't always the case, and second of all, many of the vaporizers we commonly bring with us during the day aren't large enough for these kind of batteries. Yes, if you want an enormous sub-ohm box mod, it will come with a battery that will last for days on end. However, the majority of vapers tuck a convenient vape pen into their briefcase pocket before work for an easy vape on-the-go.
Typically, vape pens have batteries with capacities around 650-750 mAh. This is enough to get you through the work day, but if you forget your charger at home, you might be out of luck when it comes to happy hour. Disposable e-cigarettes do not need to be charged–ever. A single e-cigarette will last up to 30 traditional cigarettes-about a pack and a half, and it comes already charged. Bring two with you for the entire day, and you'll be set all day. Misplace your wall adapter? Can't find the micro USB cable you usually keep in your desk? No problem! No charging required!
Inconspicuous:
Disposable e-cigs are relatively inconspicuous. While you can purchase disposable electronic cigarettes in a range of colors, the majority of them are white, black, or white and yellow, so no one will be able to tell whether you have an electronic or traditional cigarette. Let's be fair. Regardless of how stylishly they are designed, vaporizers are futuristic boxes that give off fruity-flavored vapor. They tend to catch the attention of anyone whose path they cross, and if you have the latest mod, you might attract more attention than you might have anticipated. Disposable e-cigarettes don't last more than an entire day, and no one needs to know what you're doing. Don't feel like discussing your personal decisions? You don't have to! Disposable e-cigarettes will allow you to blend right in with the crowd.
No Refilling
The size of a tank will vary according to the device, but let's say that your device has a tank of 2ml. A 2ml tank should probably last you most of the work day, but sometime later that evening, you're going to have to refill it. That means that you have to bring your e-liquid with you and keep your e-liquid regularly re-stocked. Refilling a cartomizer or a cartridge isn't always simple, and the majority of devices do leak a little bit no matter how leak proof they claim to be.. You never have to refill a disposable e-cigarette, and you don't have to worry about spilling e-liquid on yourself. You purchase the disposable e-cigarette with a cartridge pre-installed, and you're set and ready to vape.
No Complicated Settings
Now beginning vapers can find starter kits without any variable settings, but once you get to the intermediate level, devices often get more complicated. Once you move past electronic cigarettes, there's a large variety of options to choose from, and many of them have variable temperature and voltage settings. You have to be careful when using complicated devices that you don't let it overheat lest you take a dry hit or risk combustion should you be vaping loose leaf or wax. Disposable e-cigarettes never have any settings. The temperature and voltage settings are programmed for you, so you never have to worry about setting them yourself. They are already ready for you.
Other Types of Disposable Vaporizers


Now not all disposable e-cigarettes are actually cigarettes. You can also get disposable e-cigars that can be reused several times. One disposable e-cigar is the equivalent of about ten classic cigars. That way, you can purchase an occasional e-cigar if you don't plan on vaping cigars every single day. For a special Cuban treat, you can get the ePuffer Robusto Disposable E-Cigar for only $21.95. You can also find the E-Cigar D-1800 and the E-Cigar D-500. Click here to learn more:
Click Here to Find ePuffer's Disposable Electronic Cigars
Economizing With Disposable E-Cigarettes
A disposable electronic cigarette will cost you less than $10. Though the exact price depends on the company, they all hover around this number. Now if a disposable electronic cigarette is the equivalent of about 30 classic cigarettes, it lasts you roughly as long as a pack and a half would. A pack of cigarettes ranges anywhere from about $5.00 out in the midwest to higher than $12.00 in places like New York City. So, let's say you're in New York City. Just by purchasing disposable e-cigarettes instead of traditional ones, you'll save close to ten dollars per day, $300 per month, and $3600 per year. That's an extraordinary amount of money. Reusable vaporizers typically allow you to save money because you reuse the same device, but there is still a remarkable disparity between the price you pay for analog cigarettes and disposable e-cigs.
Top Disposable E-Cigarette Starter Kits to Try

ePuffer – Eco Disposable Electronic Cigarettes
For $9.95, you can get ePuffer's premium eco disposable e-cigarettes in a wide variety of flavors including tobacco, menthol, and new e-shisha flavors like appletini and watermelon sangria. You can also get the 12-pack for $79.95 if you know you'll be using them on a regular basis. These e-cigs are powered by a 3.7V cylindrical lithium battery and have an orange glowing LED tip to resemble the burning charcoal butt.
Click Here to Find ePuffer's Disposable E-Cigarette
ePuffer – XPOD – Mini Disposable Vape Pod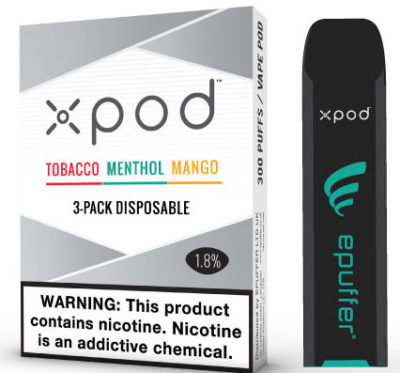 At only 15g, ePuffer's new XPOD Minis will slip inside your pocket unnoticed. Better yet, when you're finished with one, you can just throw it away–no hassle whatsoever. Each pod comes with 1.2ml of 50/50 blend vape juice at 18mg/ml of nicotine. You can purchase these pods in either mango, menthol, or tobacco, and because the vape liquid is made with state-of-the-art nicotine salts, you can bet that each puff tastes like the real thing.
South Beach Smoke E-Cigarettes Kits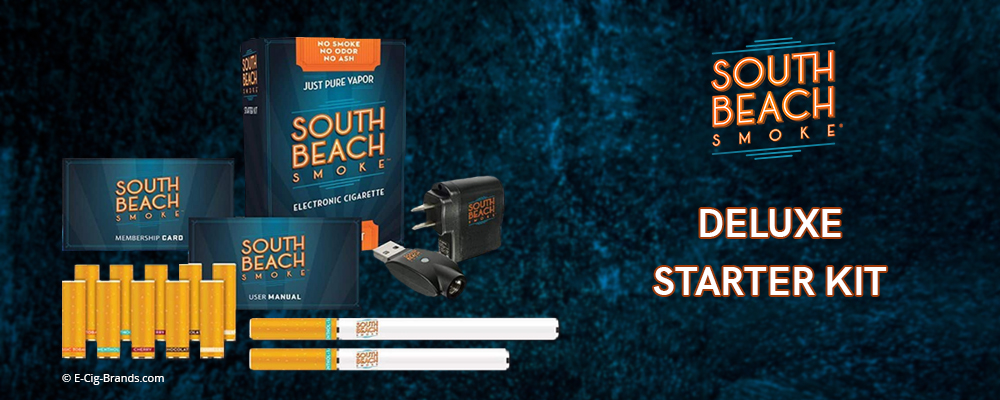 Now South Beach Smoke doesn't have an official line of disposable e-cigs, but their deluxe kits are inexpensive enough for us to lump them under the same category. Their extremely popular deluxe kit comes with a short and long ion battery as well as a wall-adapter, micro USB cable, and 10 cartridges. This kit has the equivalent of about 14-16 packs of cigarettes, and so even though it's technically not a pack of disposable e-cigarettes, it could function as one nonetheless. They also have their advanced deluxe kits with more cartridges and extra accessories.
Click Here to See All South Beach Smoke's E-Cigarettes Kits
Apollo E-Cigs Kits
Apollo has a tab for disposable e-cigarettes, but it doesn't seem like they actually have anything posted there at the moment. They have told us though that they occasionally have disposable e-cigs for sale, so it is worth keeping an eye out for them. Look here for updates.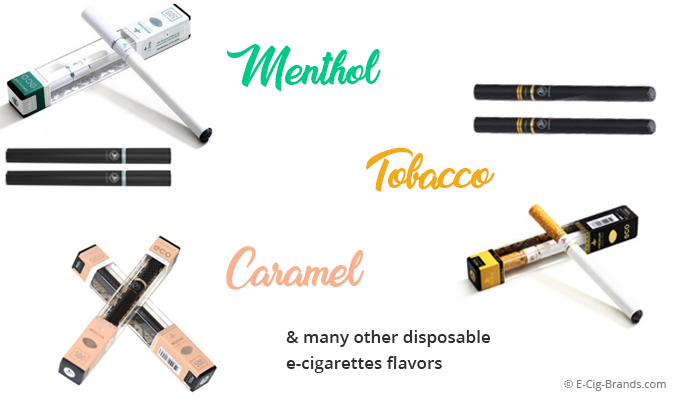 What To Look For When Buying An Disposable E-Cigarette
When looking for a disposable e-cigarette, you are going to be looking for essentially the same things you look for when purchasing any other vaporizer–battery power and capacity, puff count, e-liquid flavors options, price, etc. Unfortunately, you won't find the same kind of flavor variety in disposable e-cigarettes as you will with reusable e-cigarettes, but most of them offer at least tobacco and menthol for starters. ePuffer is quite unique insofar as it sells a large variety of e-shisha flavors compatible with their disposable e-cigs. In general, ePuffer has one of the largest selection of disposable products on the market. If you don't know where to start, starting there is a good option.
Disposable e-cigarettes don't have the same kind of vapor production offered by reusable mods. In fact, you might even find the vapor a bit weak, which is to be expected. Instead, make sure that the voltage is standard–about 3.7-4.0V, and check the puff count.
In Conclusion
Disposable e-cigarettes are really undervalued in the vaping world because they are good-quality devices. You will see vaping companies advertising the ergonomic designs of their other products, but disposables require literally nothing from you. It sometimes seems as though sub-ohm vaping and cloud-chasing are all that matter, but the truth is that lots of new and experienced vapers just want convenience. They want to know that they will have their nicotine or tobacco fix when they want it and where they want it.
Now plenty of people vape as a hobby, but collecting batteries and tanks doesn't appeal to everyone, and that's okay. Young professionals and older vapers, for example, don't necessarily want to carry around colored box mods and pens that will draw unwanted attention. Disposable e-cigarettes, or cigalikes as they were affectionately dubbed by early vapers, look, well, exactly like cigarettes with a white top and yellow butt. With identical designs, it's nearly impossible to stand out of the crowd. Disposable e-cigarettes are portable, indiscreet, and offer the ultimate convenience. They could be your best vape yet. So, don't wait! Check out these top disposable e-cig packages today!
Click Now & Find The Best Disposable E-Cigarette For Your Needs!