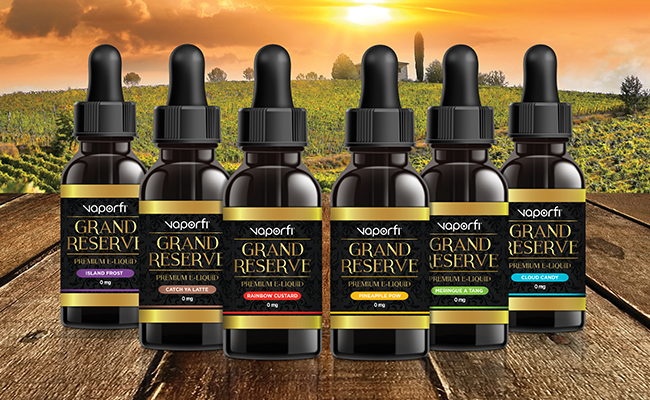 2017 was a good year for vaping. Boom growth, ever-increasing market share, and, of course, some awesome e-liquid flavors. It seems like every year the quality and creativity of vape liquids goes up and up. We're getting more true-to-life fruits and tobaccos, sweeter and richer desserts, more warming and satisfying coffees, and every more creative and original blends. There were too many great, top-selling e-liquids on the market in 2017 to name but a few deserve special recognition. So here is E-Cig Brands' list of the top ten e-liquid flavors of 2018.
10. Apollo Fa-Q American Pie Max VG – $12.99 USD for 16ml/$19.00 USD for 30ml
Apollo's Max VG line of e-liquids is made of nearly 100% vegetable glycerin, providing a thicker, more viscous vape liquid that doesn't hit the throat as hard as a more even VG and PG (propylene glycol) mix. The result: a smoother vaping experience and larger, denser clouds. Though specially designed for RDAs (Rebuildable Dripping Atomizer) because of the high wattage, which generates a thick and flavorful vapor cloud with these kinds of thick e-liquid, Max VG will work with most e-cigs (because of the thickness it will perform it's best with higher-end clearomizers, like a newer Sub Ohm model). The entire Max VG line is a cloud-chaser's dream and American Pie is a delicious dream at that. Fa-Q American Pie tastes like a spoonful of fresh apple pie, perfectly balancing the warmth of hot, sticky apples; the spice of fresh cinnamon; and the sweetness of rough, raw sugar. It's like Thanksgiving dinner or a visit to Grandma's place in an e-liquid.
Pro Tip: Add a drop of Apollo's French Vanilla vape liquid for a delicious apple pie and ice cream taste experience. It's like vaping dessert.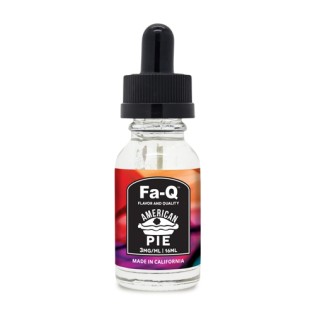 Get Apollo's Fa-Q American Pie Max VG E-Liquid Here!
9. Apollo's Signature Series TWO – $4.99 USD for 15ml
Apollo's Signature Series is a new direction for the company, away from single flavor e-liquids and towards layered, complex dripping liquids hand-designed by their chief chemist Chris Gaskill, whose signature adorns the logo and lends the series its name. Like the Max VG line, the Signature Series will perform its best in very high quality clearomizers, because the e-liquids are so dense with flavor. TWO is a 50/50 vegetable glycerin/ propylene glycol reformulation of Apollo's best-selling e-liquid, Miss Samoa, from the Fa-Q Max VG line. That reformulation means TWO is more friendly to tanks and clearomizers than its Max VG predecessor. No flavor has been lost in the remix, though. TWO is a rich and layered vape liquid, with a fudge cookie base smothered in caramel and generously dusted with toasted coconut. The entire Signature Series bears the personal guarantee of Chris Gaskill: they represent the best of Apollo's continued evolution in flavor and quality.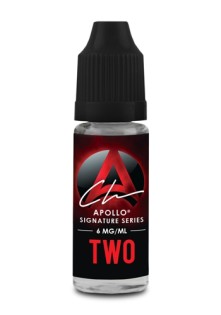 Get Apollo's Signature Series TWO E-Liquid Here!
8. ePuffer Menthol – $19.95 USD for 30ml
If you're after an e-liquid to recreate the experience of menthol cigarettes, look no further. If you've been on the hunt for a while, chances are you've dealt with more than a few liquids that just taste like gum or mints. Epuffer's menthol flavor provides the genuine taste experience of a traditional menthol cig in a vape liquid. It's a smooth, stress-busting flavor that, thanks to ePuffer's True Nicotine Content feature, retains the flavor of real nicotine. That makes ePuffer's Menthol a great e-liquid choice for traditional smokers of menthol cigs looking to give vaping a try. And, like all of ePuffer's e-liquids, Menthol is almost alcohol free, meaning you don't need to worry about any adverse health affects, and comes in a safe, child- and tamper-proof container, making it safe to throw in your bag or pocket whether you're out the afternoon or traveling cross-country. So if you're feeling stressed, whether it's that big meeting next week or just your so-far fruitless hunt for a replacement for traditional menthol cigarettes, give ePuffer's Menthol a try.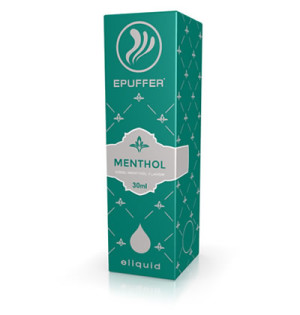 Get ePuffer's Menthol E-Liquid Here!
7. VaporFi Grand Reserve Catch Ya Latte – $17.99 USD for 30ml
From VaporFi's chef-inspired premium Grand Reserve collection of vape liquids, Catch Ya Latte, which took the Best in Show title for coffee flavors at the 2016 Vape Summit in Houston, Texas, offers the taste experience of a premium latte made by a first rate barista (no Starbucks in here, we're talking some cramped place run by 20-something girls in horn-rimmed glasses with superhero tattoos and weird graphs about the blends all over the walls). Forget the hot cups of brown they serve in the office 'kitchen.' Forget the bland, oily 'coffee' at the diner around the corner. This is hot, fresh espresso blended with perfectly frothed milk and topped with crema in the shape or a leaf or little heart or the damn Mona Lisa. All VaporFi e-liquids use top-rated nicotine and glycerin; completely kosher, higher than food-grade ingredients; and come in child-proof bottles with clearly labeled lot numbers so you can trace your e-liquid's and its ingredients' origins.
Get VaporFi's Grand Reserve Catch Ya Latte E-Liquid Here!
6. ePuffer Havana Cigar – $19.95 USD for 30ml
The embargo my be lifted but getting your hands on fine, hand-rolled Cuban cigars isn't as easy as popping down to your local tobacconist. I mean, who even has a tobacconist anymore? And it's not like they're stocking Cubans behind the counter at 7-Eleven. It's even worse if you've given up smoking: there aren't many alternatives to that uniquely fine experience that is a hand-rolled Cuban cigar. And experts say that cigars contain even more carcinogens per inhale than cigarettes. Want that famously fine taste experience without breaking the bank or going back on your New Year's resolution to ditch the cigarettes and stick to vaping? Then you need ePuffer's Havana Cigar e-liquid. Havana Cigar vape liquid promises a high vapor density to guarantee a flavor-rich vaping experience to really capture the unique pleasure of a fine Cuban in a way you just can't find with any other e-liquid.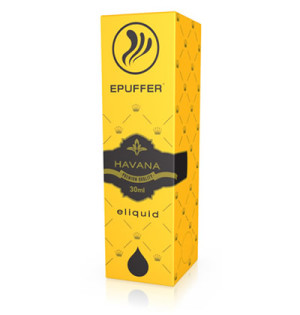 Get E-Puffer's Havana Cigar E-Liquid Here!
5. Vaper Empire's Velvet Elvis – $15.00 AUD for 10ml
Are you nothin' but a Hound Dog for a bold e-liquid flavor experience? Can't Help Falling in Love with unique vape liquids? How many Elvis song titles are you going to have to endure in here? From Australian retailer Vaper Empire's Artisan Collection of unique flavors and awesome names, Velvet Elvis, inspired by none other than the King of Rock 'n Roll himself, is a candy lover's dream e-liquid. Daring, unique, and unforgettable as the King himself, Velvet Elvis offers a smooth blend of Gummi Bears, Bubblegum, and Skittles, to please and delight your taste buds just like its namesake pleased and delighted your eardrums. One deep inhale and it'll be Stuck on You. And you know what? That's All Right, because Velvet Elvis e-liquid is a Mystery Train of bold, delicious candy flavors. Just try not to spill any on those new Blue Suede Shoes.
… Jailhouse Rock.
Get Vaper Empire's Velvet Elvis E-Liquid Here!
4. VaporFi Reserve Northern Lights – $19.00 USD for 30ml
From VaporFi's premium Reserve collection, Northern Lights clocks in as one of the best vape liquid choices for a cool, refreshing burst of flavor. But this isn't just a wallop of mint. Northern Lights e-liquid provides layers of fresh menthol and fruity flavors, providing notes of mint and melon and finishing like a fine mojito on a warm, sandy Cuban beach. It's a unique, refreshing combination that's a step up from regular menthol vape liquid flavors. Where can you get the cool, refreshing air of the Northern Lights and the sweet, fruity freshness of the Caribbean all at the same time? No other e-liquid offers you the same unique refreshment experience. As always with VaporFi, Reserve Northern Lights e-liquid is made with VaporFi's top, better than food-grade, Kosher ingredients and only the best-rated nicotine and glycerin and packed in a child- and tamper-proof bottle with a trackable lot number.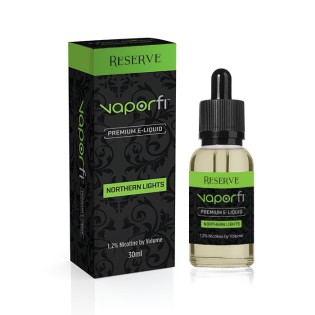 Get VaporFi's Reserve Northern Lights E-Liquid Here!
3. ePuffer Premium Tobacco – $19.95 USD for 30ml
Looking for a classic, premium tobacco experience? Not interested in a bunch of fancy flavors? Don't understand why anyone would want to smoke coffee or fruit? Then ePuffer's Premium Tobacco e-liquid is the vape liquid for you. It's the essence of a classic, traditional tobacco cigarette distilled with organic ingredients into the convenience and health-friendliness of vaping. Like ePuffer's Menthol vape liquid, Premium Tobacco is a great stop is you're just starting out and need a familiar flavor experience from your e-liquid as you transition away from traditional cigarettes. If you're using a cigalike you probably won't even be able to tell the difference, assuming, of course, that you're used to good cigarettes. Premium Tobacco is an ideal choice for the new or first-time vaper who's just making the switch, or the experienced vape-aholic who loves the taste of first-rate tobacco in their box mod.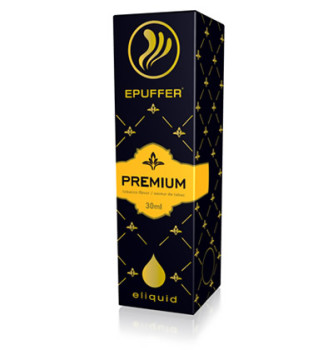 Get ePuffer's Premium Tobacco E-Liquid Here!
2. ePuffer Valerian Natural Relaxant E-Liquid – $24.95 USD for 30ml
The good folks at ePuffer see vaping as more than a pastime. They've worked to create vape liquid variants and styles that can have a deeper impact on your life. The newly reformulated Valerian Natural Relaxant E-liquid is a prime example. A vape liquid naturally formulated with Valerian root, sage, and cannabis terpene extracts, Valerian Natural Relaxant E-liquid is a powerful all-natural aid to sleep and relaxation that you can use to help manage your anxiety or insomnia, or just to calm your nerves and get a deep, restful night's sleep. Don't worry/get too excited, you won't get high from Valerian Natural Relaxant E-liquid, just a bit sedated. Epuffer don't use any THC, CBD, or active cannabis components in their formula. Instead, they rely on all-natural sage, relaxing cannabis terpenes, and Valerian root extract, whose active ingredients of isovaleric and valerianic acid relax the nervous system and promote sleep. The all-natural ingredients in Valerian Natural Relaxant E-liquid come with thousands of years and plenty of modern science to recommend them as powerful aids to sleep and relaxation and are now available in a great vape liquid.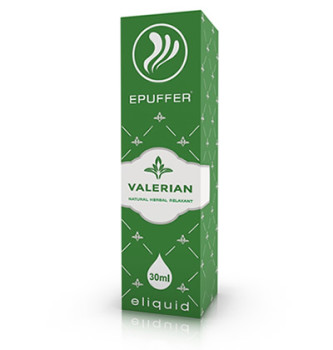 Get ePuffer's Valerian Natural Relaxant E-Liquid Here!
1.VaporFi Grand Reserve Island Frost – $17.99 USD for 30ml
Topping of our list is another one from VaporFi's first-rate Grand Reserve collection of premium e-liquids. Island Frost e-liquid is a cool, brisk breeze on a Caribbean island in a 30ml bottle. Building on a delicious base of pineapple and coconut, VaporFi layer champagne-infused blueberries, sweet muddled mint, and tangy lime garnish. The contrast and combination is an overwhelmingly delicious mix, as enticing as a day on a warm sandy beach with a cool island breeze and an ice cold pitcher of piña colada at your side. With so much complexity, you won't be surprised to find that every inhale is different, with different flavors coming to the fore every time. That layering, complexity, and incredible range of flavor experience all make VaporFi's Grand Reserve Island Frost a favorite all-day vape. As ever, VaporFi use only top quality, better than food-grade ingredients, with the best nicotine and glycerin, all of it completely Kosher and all the bottle child- and tamper-proof and labeled with clear lot numbers to make your bottle of e-liquid and its ingredients completely trackable.
Get VaporFi's Grand Reserve Island Frost Vape Liquid Here!
So there you have it, E-Cig Brands' Best 10 e-liquids flavors of 2016. There were more than a few deserving honorable mentions who didn't make the list. All the e-liquid makers we mentioned today produced a wide range of first-rate flavors in 2016, all worth a try if they're up your particular alley: desserts and candies, coffees, fruits, mints, tobaccos, and unique blends. All in all it was an explosion of quality flavors and liquids, with more set to tumble down the pipeline with every passing month. We here at E-Cig Brands, at least, can't wait to see what awesome e-liquid flavors 2017 will continue to bring. If 2016 was anything to go by, the best is yet to come.