How Do You Use a Vape Mod?
You use a vape mod the same way you'd use practically any other vaping equipment, by inhaling on the mouthpiece. That being said, they do differ somewhat from e-cigarettes and vaping pens because they come with a tank and an OLED screen.
To fill up the tank, you'll have to unscrew either the top or bottom cap and fill up the tank via the appropriate slot. If your tank is a top-filling device, you'll need to be careful to avoid the chimney. The chimney houses the atomizer, and if you drip e-liquid into the atomizer, you'll end up with a gurgly mess. You'll also want to be careful to keep the e-juice holes closed while filling the tank. You can open them afterward to prep the wicking material before starting to vape.
As far as the OLED screen is concerned, you'll need to read the instructions to find out for certain. Usually, you'll click the power button 5 times to turn the device on and then another 3 times to access the menu. You can use the up and down buttons from there to scroll through the different options.

How Do You Choose a Vape Mod?
Vape Mod Power Output
The power output of a vape mod refers to the wattage level at which the vape mod fires. This number is determined by multiplying the voltage level of the batteries by the current or amperage. We can think of this through a simple analogy. If you take a pipe, the amount of water coursing through represents the amperage while the speed at which the water flows is the voltage. By multiplying these two amounts together, you'll come up with the power or the wattage.
Most vapers vape at anywhere between 30W and 70W. 80% of the time you're not really going to want to go any higher or lower simply because the vape mod just won't provide any vapor or, on the other hand, the vapor will be so hot it will burn your throat. That being said, there are vape mods that can vape at over 100W. You can, to a certain degree, mitigate the heat by using high-VG e-liquid, which is considerably thicker and smoother than a standard 50/50 blend.
SMOK and some of the other Chinese vaping manufacturers claim that their devices can reach over 200W, but the truth is that even if the battery can reach 200W, the vape mod won't legitimately support that much power especially at sub-ohm resistance levels. So, this is really more of a marketing ploy. When you're considering power output, you'll want to find a mod that can reach at least up to 70W-80W. The very best vape mods will go up to about 150W, but 80W is really more than enough for the vast majority of us. However, if it's a small travel vape mod, you may only need it to reach 40-50W.
Vape Mod Battery Life
Your battery life determines how long your vape mod will last before it dies on you. Battery capacity is measured in mAh, which stands for milliampere hours. A battery with 750 milliampere hours will expend 750 milliamperes in one hour.
Just be careful that, when you're shopping for batteries, you look at the continuous discharge rate as opposed to the pulse discharge rate. Sometimes, companies try to trick customers by using this misleading metric. The continuous discharge rate measures the capacity were you to be using the battery continuously while the pulse rate measures the capacity based on the amount of milliamperes drawn on a single puff.
Moreover, a battery's capacity is indirectly related to its current levels. You cannot have both a powerful battery and a long-lasting battery. That is to say that a battery with 3000mAh might only have a discharge rate of 15A, and it probably won't be able to surpass 60W. On the other hand, a battery with 2000mAh might be able to support 120W even though it won't last all that long.
Just to give you a frame of reference, most e-cigs have a battery capacity of about 250-300mAh. If you upgrade to a vape pen, you'll probably find anything from 600mAh-1200mAh. When you start using vape mods, you'll either have multiple 18650 high-drain batteries or an internal battery. Either way, you can expect battery life to range between 2000 and 4500mAh.
The amount of time this will last you will of course depend on the resistance of your atomizer as well as how frequently you use the device. The best vape mods should have no trouble lasting through the day, but the battery life will also deteriorate over time.

What Kind of Tank Should I Use with My Vape Mod?
The tank stores the e-liquid and houses the atomizer coil. Now not every vape mod includes a tank, and, indeed, many of the best vape mods come with just the battery. That being said, the tank is an essential component of your mod, so whether it comes in the starter kit or you purchase it separately, you're going to want to pay as much attention to the tank as you do to the battery.
Coils: Coils are as the heating elements that vaporize the e-liquid you then inhale. You'll want to examine both the material, orientation, and number of the coils in whatever e-cig mod you choose to buy.Coils come in either kanthal, stainless steel, titanium, or nickel. The majority of tanks use kanthal because it heats up evenly and remains relatively stable. If you're using titanium or nickel, you'll need to make sure that your box mod can vape on temperature control mode as well as wattage/voltage mode.Secondly, you'll want to check whether the coils are oriented horizontally or vertically. The vast majority of tanks today use vertical coils, which are wrapped in a cotton wick. Vertical coils allow for more direct airflow and even heating making for more consistent vapor and flavor.Lastly, take a glance at the number of coils. The more coils an atomizer has, the more vapor it can produce. However, a tank with 12 coils like the TFV12 will drain your e-liquid very quickly. So just be aware that it's somewhat of a trade-off.
Airflow Control: As opposed to an e-cigarette, vape mods are designed to give you plenty of airflow control. When you puff on a cig-a-like, you're getting a mouth-to-lungs draw. These restricted draws are designed to mimic analog cigarettes as closely as possible. Vape mods, on the other hand, are primarily designed for direct-to-lungs vaping, meaning that you draw the vapor directly from the device into your lungs.Check the tank for adjustable airflow control. There should be a ring on the base of the tank with vents that improve airflow to the coils. On the best vape mods, you can adjust the airflow to your liking.
Drip Tip: Tanks should come with a drip tip. A drip tip is the mouthpiece that both allows you to inhale the vapor from the mod and protects your lips from the heat generated by the atomizer. Most vape mod starter kits will come with a drip tip of their own, but if it has a 510 connection, you can pop on one you already own.
Top/Bottom-Fill: Originally, you would have had to unscrew a tank and fill it up through the bottom. This, of course, would have been incredibly irritating because you wouldn't have been able to fill up the tank until you had finished what was in there.Today, the majority of tanks are top-fill devices meaning that you simply unscrew the cap to fill up the tank. There are some that complain that top-fill devices tend to leak more than bottom-fill devices. However, if your tank is leaking, it's most likely because you didn't fill it up properly. When filling a top-fill tank, you'll want to simply turn it upside down after filling it to let out the air at the top.
Capacity: The best vape mods usually have a capacity between 4ml and 7ml, but you will occasionally see one with up to 10ml. You can also occasionally find vape mods with internal tanks that are set right inside the vape mod as opposed to on top. Usually vapers prefer larger tanks because it allows them to vape for longer without having to fill up on e-liquid. However, if you prefer to change flavors frequently or you happen to have a small battery, you may be perfectly happy with a small tank.
Rebuildable Pieces: Whether it's simply an RBA piece or a full dripper, you'll want to check whether your mod has compatible rebuildable pieces. Rebuildable pieces are designed for advanced vapers who want to build their own coils and take control over the entire vaping experience. There are many kits that will include a rebuildable deck along with a couple of other coils. Even if you prefer pre-set coils now, there might be a point in the future when you'll want to try your hand at homemade coils. Not only are they far cheaper, but the vapor usually tastes better too.Alternatively, you may choose to buy an RTA, RDA, or RDTA separately. These rebuildables are separate tanks that come with decks you can build on yourself.
Controls: You might want to take a glance at the controls. Today temperature control mode is almost a standard, but that may not necessarily be the case. You'll want to make sure the mod has temperature control so that you can use nickel and titanium coils should you choose to. Vape mods today also come with LED light displays, TCR function, customizable home screens, memory modes, and puff counters. Today, you can even find a couple of mods with touch screens. Talk about sophistication!On the other hand, there are some mods that don't even come with an OLED screen. If you're new to the vaping world, you might prefer a simple device with easy, pre-programmed settings.

What Price Should I Pay for the Best Vape Mods?
There is a wide range of prices for vape mods, and the best mods may not necessarily be the most expensive. You can find beginner's box mods for as low as $30-40. If you're looking for heavy-duty, high-quality mods made with DNA chips and every gadget and gizmo you can imagine, you can spend over $100 and even over $200.
In general, you can expect the average price for good vape mods to hover around $60-$90, but there are certainly exceptions. You will, of course, have to pay more for a mod made in America than you would for a Chinese one, but for the most part the Asian produced vaping products are trustworthy. You'll want to stick to well-known brands though because Chinese vaping companies don't always stick to the same quality standards.
What Is Your Best Vape Mod?
Now that you know what you're looking for, it's up to you to find what you believe is the best vape mod!
Top Vape Mods Reviews:

Joyetech eGo AIO Vape Pen Starter Kit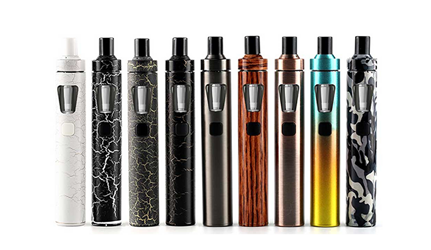 If you're not a high tech or advanced vaper don't wreck your mind looking for the perfect kit. If the big mods and complicated tanks aren't an option, the Joyetech eGo AIO Starter Kit is a worthy choice. Simulating the draw of a cigarette is the focal point of this device due to its bottom feeding atomizer heads that promote a mouth to lung vaping style. The coil options for this vape starter kit hit above the mark with a fine-tuned design meant to promote flavor and powerful draw. Choose from high or low resistance cubis coils and discover the benefits unique to each coil. A plethora of color options make this kit a stunning addition to even the most advanced vapers' collection.
The battery life on this smaller vape pen is impressive for its small size. This vape pen delivers 1500mAh of battery capacity that trumps some box mods in distance between charge cycles. This device is the ideal every day carry for those who don't want to fuss or have to make way for a bulky mod in their purse or pocket. Efficiency and user friendliness take precedence with this starter kit as changing coils, filling juice and adjusting the airflow is all done through an amazingly high quality top cap. The Joyetech eGO AIO is a worthy investment for all.

ePuffer Vape- Phantom HD3 Portable Mod
Battery: 1100nmAh
Resistance: 2.1ohm
Temp Control: No
Price: $34.95
The Phantom HD3 by Epuffer is a solid, sleek, and classy looking vaporizer that was designed with heavy smokers in mind. With each puff, you get a large volume of vapor, and Epuffer offers a small but tasty variety of e-liquids. Epuffer is consistently one of the top vaping supply brands, and their products are quality and prices are still reasonable.
Epuffer's Phantom HD3 comes with a 1.6 mL Liquamizer tank, an atomizer, the 1100 mAh battery, a USB cable, and an instruction manual. Liquamizer is Epuffer's private brand clearomizer.
As always there's a 30 day money back guarantee. Epuffer also offers free shipping to the US with orders over $50, so add in a bottle of eliquid or two and take advantage of that! As an added benefit, Epuffer is offering, for a limited time, a free bottle of e-liquid (limited flavors) for free with purchase so hurry up and click the link to get it before it's gone.
Enjoy 10% Coupon Code: ecigbrands