Getting The Best E-Liquid Starts With Knowing The Basics
E-Liquid (also called e-Juice in Canada) is a blend of artificial or natural flavours, nicotine, sugar, and other organic or chemical compounds. It is a liquid that is added to an electronic cigarette, commonly called an e-cigarette or e-cig. This liquid is heated by the e-cigarette device and then aerosolised as the user inhales the e-Juice product. E-Liquid comes in many flavour options.
Many users enjoy this feature as it allows them to customise their smoking experience. Users can select which flavours they would like to taste as they smoke, as well as select how much nicotine they are consuming—if they choose to have nicotine in their liquid at all. The current e-Juice market in Canada gives smokers the option of having all of the flavour and none of the nicotine if they choose. Nicotine liquid is commonly available throughout Canada in the following dosage amounts:
Nicotine Strength Levels: 0%, 0.6%, 1.2%, 1.8%, 2.4%, 3.2%.
Understanding Vg vs Pg And Explaining Common Ratios
One of the ingredients of an e-Liquid is Propylene Glycol, called Pg for short. Another important ingredient is Vegetable Glycol, which known as Vg for short. One or both of these liquids can be mixed with the Nicotine liquid to create a blend of e-Juice. How much an e-Cig smoker uses of each liquid will create a different smoking experience. So how much should a user add of each? It depends on a few things.
Looking for a "throat hit": For those interested in having the smoking feeling that hits the throat more, then Propylene Glycerin is the way to go. This is known to hit more in the throat, so Nicotine and PG would be the main ingredients. Common ratios for those who like that feeling are 70 (PG):30(VG) or for even stronger mix 80(PG): 20(VG).
Moreover, not all devices can handle high VG vape juice. Beginner vape pens don't have strong enough tanks to handle e-liquids with such viscosity. In that case, it's better to stay with 70/30 and 50/50 blends, which also, as it happens, tend to be more flavourful. Find out more about the best vape pens for e-liquid by reading our full review.
Want less of a "throat hit" and/or allergic to Pg: High VG blends provide a smoother throat hit but carry less flavour. In order to get those enormous, dense clouds, you'll need vape juice with a high concentration of VG. Cloud-chasers know that high VG juice is the way to go. Plus, vegetable glycerin is smooth enough to balance out the heat vape mods and box mods produce at very high wattages.
However, if you want to start blowing bigger clouds, you're going to need more than just the best high VG juice. You're also going to need to know how to find the best Box Mods in Canada as well as how to find the best Vape Mods in Canada. Check out our list of favourite box mods of 2021.
High VG blends are typically in a ratio of 30/70 or 20/80 depending on the brand. If you are on the hunt for the best high VG e-liquids, then check out our "How to Find the Best High VG Juice" guide.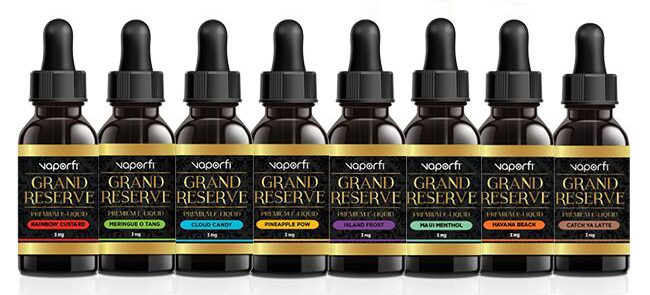 Best Tasting E-Liquids In Canada
E-Liquid comes in a wide variety of flavours. Standard flavours such as mint and menthol are ideal for the smokers who wish to recreate the experience of smoking traditional cigarettes without putting their health in serious risk.
You don't have to stop at e-cigs though. There are flavours hand-crafted for e-pipes and e-cigars. Fancy a handmade Cuban cigar? You don't even have to step on a plane to get one! Simply purchase a Havana E-Liquid like the one sold by ePuffer. A bold e-cigar brings out every nuance in your e-liquid. E-cigars impart a distinctive richness to e-liquid that renders it that much more enjoyable.. Click here to learn more about how to find the best E-Cigar in Canada.
Puffing on an elegant wooden pipe? Maybe choose a more subtle and sophisticated e-liquid. Maybe a cherry or premium tobacco? You can find the best E-Pipe in Canada and the top e-Pipe flavours by reading our full review.
There are now thousands of flavour options across Canada. Flavour options range from single flavours to flavour blends. There are many sweet, fruity, and rich flavour options to choose from within the Canadian market. You can even find some of your favourite desserts in vapour form. The choices are endless. Cotton candy? Breakfast cereal? Tiramisu? You can bet there's a vape juice equivalent.
Exotic Tastes: Many vendors offer limited-time or special blends of flavours which are more exotic. To try some of these, a user would need to check with each individual vendor to see what special flavours or limited edition e-Liquids are available. In addition to the standard flavour options, many vendors offer the option to customise your own flavour blends.
Many vendors provide the option of purchasing DIY kits and e-Juice recipe books which allow users to further customise their smoking experiences and create the best e-liquids for their tastes. These DIY kits and e-Liquid recipe books are sold by many online vendors, as well as available through select, traditional speciality shops. With so many flavour combinations, it is possible for a user to create the next best exotic e-Liquid flavour.
Tastes that last longer: The strength of the flavours can vary from strong to light. This means a user can have a strong mint flavour, for example, or a light mint flavour, or even a light-mint chocolate flavour. Longer lasting taste depends on the quality of the liquids. Different vendors will have different flavour qualities. We highly recommend Apollo e-Cigs and South Beach Smoke. These are American based companies and trusted brands which are known throughout the global vaping industry for their high-quality products. Another option is to search for specific liquids which are intended to intensify flavour. Many vendors of e-Cigs offer intensifying liquids which can be added to blends to create bolder e-liquids.
Tips For E-Liquid Beginners
Starter Kits: With so many options, it may seem easy to become overwhelmed. Not to worry, there are many kits and guides available to help new e-Cig users to transition from traditional cigarettes to the world of electronic smoking. These kits can include the device and starting e-Liquids, although it's always advised to check the contents of a package as the e-liquid is not always included within some of these kits currently available on the Canadian market.
Starter Flavours: Many beginners to vaping in Canada start out using the flavours which replicate the traditional smoking experience. Flavours such as tobacco, menthol, and mint are a comfortable choice for many as the body adapts to your new smoking experience. Having the familiar flavours can help to curb cravings for the old cigarettes during the adjustment to what many deem a "cleaner smoking experience."
Once the transition has been successfully made to the electronic smoking devices, it could be the time to continue customising and enhancing the smoking experience by switching over to other flavour options. For those desiring to quit smoking, e-cigarettes can be a helpful intermediary step. After switching over to the sweeter flavour options, the nicotine levels can be slowly decreased until it is no longer desired.
Cartridge options:
E-cigarettes either come with a refillable tank or with disposable cartridges. A cartridge may come with or without the atomizer. The real advantage to cartridges is their convenience. You simply pop them in and vape–no messy refilling necessary. While they do tend to be a tad more expensive than bottled e-liquid, many find it well worth the money. Find more about how to find the best e-cigarette in Canada and whether they take e-liquid or cartridges.
Options For The Dedicated Canadian Vaper
Once you decide that vaping is an activity which you enjoy or decide that it is the method you will use to wean yourself away from an existing nicotine addiction, there are many further options to explore which can enhance your overall enjoyment of vaping.
For E-liquid advanced users: For the advanced e-Liquid users, greater experimentation with flavour options is possible. There are many flavour blend options and intensifying fluid choices to create thicker smoke clouds or bolder flavours, as well as different device modification options to enhance and create the desired smoking experience.
Bolder flavour details: There is yet another option to consider in getting the best e-Liquid for 2021 and that is the option to make your smoking experience bolder. In addition to traditional and limited-time special e-Juice flavours, many e-Cig vendors offer a special juice intended to intensify the smoking experience. This intensifying liquid can lead to bolder "smoke-rings" and a more intense smoking experience. However, these intensifying liquids require extra care, as they are not designed to be compatible with just any e-Cigarette device.
Many intensifying liquids carry the caution that using the liquid with a plastic device can cause the device to malfunction; in some cases, this is due to the extra heat of the liquid's temperature. Plastic devices, especially, are cautioned against being paired with these intensifying liquids. But, when paired with the right device, these liquid intensifiers may provide the best e-Juice experience for the individual wishing to further enhance their smoking experience.
Getting extreme with custom flavours: Many flavour options are available through commercial vendors for e-Cigs across Canada and are a great choice for many e-Cig connoisseurs.
E-Liquids In Canada On A Budget
Fair price(s) for e-Liquid: Pricing for e-Liquid varies depending on each vendor. Things that potentially factor into pricing include quality, quantity, distributor locations, and promotional pricing. Many vendors offer sales and promotions for trial flavours and clearance stock. The promotional items are often discounted from normal pricing. Some vendors offer small 5-10ml sample e-liquids for just over $5. When purchasing from online vendors, factor in the cost of shipping, whether or not shipping is free will impact the price. Many e-Cig vendors offer 30ml e-Liquids for around $15 – $20. Create your own blends vary in pricing as well. Some offer create-your-own blends of 30ml for upwards of $20 and 60ml custom blends for around $35. While the initial price for the new e-cig device and e-liquids may seem like a lot, many e-cig users report actually saving money in the long term.
You may also consider a 3-in-1 vape pen. 3-in-1 vape pens allow you to vape e-liquid, dry herbs, and concentrates all on one handheld device. It won't save you money on e-liquid, but it might help you cut costs overall. Learn more about 3-in-1 vape pen by reading our full review.
With more manufacturers and suppliers joining this growing and increasingly competitive Canadian market, many cheaper deals are becoming available.
Because of the lack of regulations, the ECTA (The Electronic Cigarette Trade Association of Canada) has issued their own set of standards for e-liquids. The ECTA is highly respected in the vaping industry and supports manufacturers by certifying their e-liquids and helping them to build credibility with consumers.
Ultimately, the best, safe e-liquid will be one that suits individual tastes and smoking needs. For many e-Cig fans, this is best achieved through personalised blends.