There are all sorts of vape flavors available on the market today. Tobacco, menthol, desserts, and even coffee; but one of the most popular and well-loved vape flavors in existence is undoubtedly strawberry. This sweet and unmistakable flavor has enthralled mankind for thousands of years, and spurred them to combine that flavor with anything that could make it even more delicious, from chocolate to ice cream and even lemonade. There's almost nothing that can't be improved by adding a strawberry to it, and vape juices are no exception. Whether you're brand new to the world of vaping and its many extraordinary strawberry blends or you're a longtime lover of one of the world's most delectable sweet treats, we're here to help you discover that ideal strawberry flavor for you.
What Is Strawberry E-Liquid?
You might think that this question hardly needs to be answered. What is strawberry e-liquid? E-liquid that is strawberry flavored, of course. But it's so much more than that. If you think this flavor of e-liquid is limited to just your traditional strawberry, you're sorely mistaken. You can get strawberry shortcake e-juice. A strawberry and banana blend. Strawberry and vanilla. You can go off the deep end and get a strawberry Pina Colada that consists of the titular flavor as well as coconut and pineapple. Or if you really do prefer straight up strawberry in its natural, solo state, there many options available there as well. You can find e-liquids that embody strawberry popsicles, similarly flavored cookies, or just the quintessential strawberry, picked at the perfectly right time for optimal ripeness and flavor. Strawberry e-liquid is like any other vape juice; just with one of the arguably best flavors involved.
How to Choose Strawberry Vape Liquid?
When choosing any e-juice, there are of course the obvious things to consider; VG to PG ratio, nicotine levels, and quality of ingredients, but ultimately what matters most is flavor. Unfortunately, there is no easy way to say 'this person will obviously enjoy this flavor the most,' and no matter how many reviews you read on any flavor, it won't help you really determine whether or not you personally will like it.
That said, you can take your regular taste in food into consideration to determine which particular strawberry e-liquid blend would suit you best. More of a desserts kind of person? A blend that utilizes shortcake of cheesecake might suit you best. For those of you who love more fruity combinations, consider what fruit you enjoy the most after strawberry. Chances are you can find an e-juice blend for strawberry and mango, banana, watermelon, or just about anything else under the sun. You can even find strawberry blends for stranger flavor combinations, like cereal or the aforementioned popsicle. It's still impossible to know for sure if you'll like a blend before trying it yourself, but if you try and base your decisions of the real strawberry combinations you like, you have a much higher chance of choosing something enjoyable the first time.
All things considered, the best way to learn about what kind of flavors are out there is to take a peek at some of the most popular options. The blends below are exactly that.
Top 4 Strawberry Flavor Vape Juices
#4 Orange Strapple Vape Juice
This blend isn't primarily about the strawberry, but the way it tastes in tandem with its best buds, orange and red apple. Orange Strapple from VaporFi is all about hitting that perfect balance of fruit juice flavors; the tang of a juicy orange, the crispness of a fresh red apple, and of course, the sweetness of a perfect strawberry. If your favorite way of enjoying strawberry is fruit juice, Orange Strapple is the way to go. Available at $15.19 for a 30 ml bottle or $22.75 for a 60ml, this flavor blend is available in PG to VG ratios of 50/50, 70/30, or Max VG. However, there's no nicotine here either.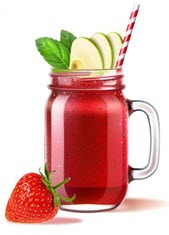 #3 Decadent Dip E-Juice
You didn't think we'd talk strawberries without chocolate, did you? Decadent Dip takes the age old combo of strawberries and chocolate and gives you a way to enjoy it without any of the usual calories. Smooth, delightful chocolate commands most of the ensemble, but you won't miss the subtle, sweet aftertaste of a luscious strawberry soon afterwards. Chocolate and strawberries isn't a very innovative combination with how long it's been around; it's a bit more like Old Faithful, never failing to satisfy and impress. $15.99 is all it costs for a 30ml bottle of quintessential decadence.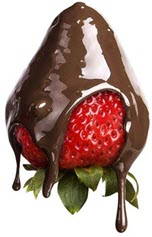 Buy Now the Decadent Dip E-Juice & Save 10%!
#2 Strawberry Macaron E-Juice
Looking to evoke that creamy, sweet, graham sandwiched flavor of a macaron? You get one guess as to what this e-juice blend provides. With a notable punch of strawberry flavor at the start and a smooth, subtle vanilla to embrace at the end, this blend has a strong presence, yet remains light and airy, like the dessert is represents. A perfect balance of smooth and sweet, it's only $15.99 for a 30ml bottle available in either a 70/30 PG to VG ratio or a Max VG variant. It's worth noting, however, that this particular blend doesn't have any nicotine in it, so if you're looking to scratch that particular itch, you'll have to look elsewhere.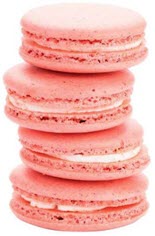 #1 Strawberry Milk E-Liquid
Another one of those flavors that brings back childhood memories, this strawberry milk blend is for those with a real sweet tooth. Creamy? Check. Sweet? Check. Strawberry? Triple check. Smooth yet strong, this is a definite dessert flavored blend designed to epitomize the taste of classics like strawberry milk, milkshakes, or cakes. Be warned though, it is downright stupendously sweet, so if you aren't the type of person to eat a triple layered sugar coated strawberry cheesecake, this $15.99 30ml bottle might not be for you.