ePuffer Pros & Cons
Pros
Large Selection of Quality E-Juices
Great Prices!
Generous Warranty
Excellent Customer Service
Stylish & Fun Vape Mods and E-Cigs
Huge Discounts in the "Clearance" Section
ePuffer is a globally renowned vaping company that has been leading the smoke-free revolution for more than ten years. Their high-quality devices are unparalleled in the market and they are carefully tuned in to the wants and needs of their ever-expanding loyal fan base. We've decided to a full ePuffer review to give you the important details you need to know about this influential vaping company.

First Impression
The ePuffer website is very clear and well-organized with information under side-panels on every page laying out all the necessary information for new vapers. Moreover, ePuffer limits their starter kits to a select favorites and continues to revise these kits over a number of years in response to customer suggestions. From a first glance, the ePuffer website is friendly to newcomers and a cinch to navigate.
ePuffer Vapor Production Overview
After sampling the various ePuffer vaporizers, we found that they actually did not produce enormous amounts of vapor in comparison to some of their competitors. In general, ePuffer caters to a slightly older crowd who is more interested in quitting smoking than the various sub-ohm trends and cloud-chasing devices available on the market. Though you can find sub-ohm tanks on ePuffer, in general, they are, in fact, reducing the sub-ohm capabilities of some of their devices.
ePuffer Accessories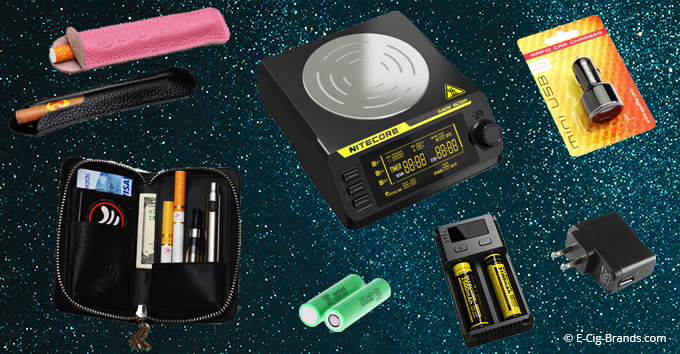 We adore accessories, and ePuffer has some of the coolest on the market. Accessories boost any vape, and while many accessories are sold alongside their devices, you can find some unique accessories here. Pick up a sleek leather carrying case and vape pen sleeve or lanyard. Alternatively, you could try out the magnetic liquid mixer if you prefer to cook up your own e-juice concoctions. There are volt readers, portable and car battery chargers, and some extra batteries here. However, most of the accessories are found under the individual device pages.
ePuffer E-Liquid Flavors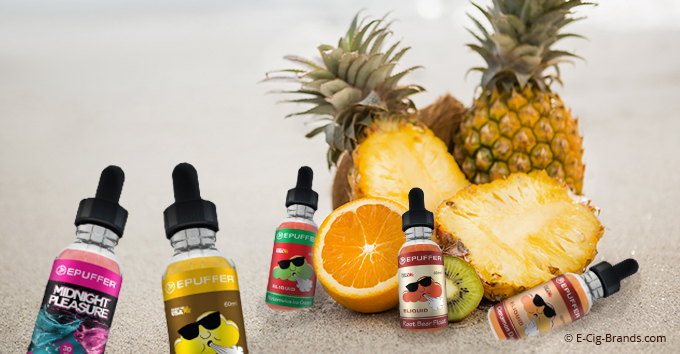 With endorsements from stars like Jeff Daniels, Sophie Monk, and John Sally, you know that ePuffer must be making headlines. Here's why: their e-liquids are simply delectable! Plus, all e-juice is certified vegan, kosher, gluten-free, alcohol-free, and non-allergenic. You can always find the classic English Flake Tobacco, but otherwise, you are going to find some unique choices. Midnight Pleasure, a fan favorite, is a mix of cotton candy and martini that will give you lungs a ride straight to heaven. This vibrant, sweet mix is a 60/40 mix, and as Tammara comments, "If I was only allowed one eliquid this would be it. It's crisp, clean flavor is delightfully refreshing." Others who report sweet cravings after giving up regular cigarettes love using this flavor as a healthier alternative to chocolate and ice cream.
You may also want to try an exotic Guava Apricot or Cinnamon Danish or even the Valerian Natural Relaxant–a truly exclusive e-liquid made from ancient herbs found in the Americas, Europe and Northern Asia and known since antiquity to prevent anxiety and insomnia as well as aid in digestion. Double-blind studies have proven its calming effects. Nubs posts on the ePuffer website, "I suffer from high anxiety and have trouble sleeping. 15 Puffs of this and those troubles are all gone. Highly recommended product." With flavors like Melon Daiquiry Blitz, Raspberry Mint Mojito, and Cassis Blackcurrent Apple, ePuffer surely takes the cake for most creative flavors. Packages come in either 30ml or 60ml and can be purchase in various nicotine concentrations.
ePuffer Battery Performance & Charging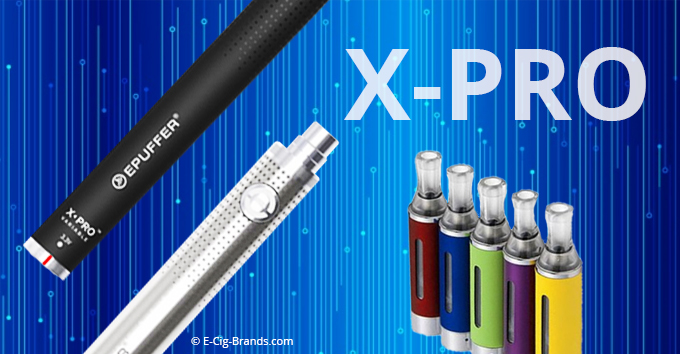 ePuffer tends to create long-lasting batteries. In fact, many of their vape pens will last two full days without dying. However, the resistance is on the higher side making it harder to take really hard throat hits. The vape pens that we tried out lasted a full 700 puffs before we had to recharge the batteries. Overall, we were pleased with the battery capacity but found that they tended not to provide weaker throat hits and moderate vapes though they lasted longer.
Selection
ePuffer has a number of devices for every kind of vaporizer or e-cigarette; however, they keep their selection limited. Instead of constantly manufacturing new vapes, ePuffer is always revising the products they have in order to make them better than ever. They prefer to stick with their favorites rather than constantly expanding. This makes choosing easy on the customer because all of their products are top-notch. Their website is a cinch to navigate and customers can find exactly which device will best suit them within a few clicks. Their limited selection is a huge advantage for ePuffer, and it makes a significant difference!
Packaging & Design
ePuffer evidently puts a good deal of time into their designs because they come in white or black modern, streamlined designs with magnetic closure flaps and a foam insert to keep the devices inside protected. You won't find any gaudy colors or garish designs from ePuffer because they aim from sleek, sophisticated, and mature. Most come in a black or white case with a smooth finish or a classic stainless steel. Their devices are subtle and understated, but certainly elegant and stylish.

ePuffer E-Cigarettes & E-Liquid Shipping
ePuffer offers free first-class shipping for any domestic orders, meaning through the 48 continental states, within a minimum required purchase of $50. They do their best to process all orders immediately that are placed before 2pm Eastern Standard Time. All orders ship out through the U.S. Postal System, and ePuffer takes no responsibility for orders lost in the mail. If this happens to you, you will have to contact your local post office with your tracking information sent to you via email confirmation. Additionally, U.S.P.S. will refuse to deliver any package to anyone under the age of 21 and proper identification is required. ePuffer will also provide free shipping to Canada for any orders above $100, and they will charge a flat rate of $5 for any orders above $50. International orders coming from the U.K., Australia, or elsewhere are subject to standard shipping rates.
ePuffer Warranty
ePuffer stands behind their products, so if customers are not fully satisfied with any ePuffer products for any reason, they can send back their purchases within 30 days for a full reimbursement. They also provide a two-week manufacturer's warranty on liquamizers and atomizers, 60-day warranty on batteries and personal carrying cases, 180-day warranty on e-pipe bowls, and a full one-year warrantee on any USB and wall chargers. ePuffer will always stand behind its products, and they want their customers to know it!
Customer Service
ePuffer wants their customers to receive the best customer service. If you have any questions or concerns, you can contact their support team toll-free at 1-855-EPUFFER or 1-855-378-3337 from the USA or Canada from Monday to Friday 9:30am-6pm EST. You can also submit a ticket inquiry via their website, and a representative should be with you within 6 hours. From their website, it is evident that ePuffer is highly responsive and each of the negative comments posted under the reviews sections has a prompt, helpful reply from an employee.
ePuffer's Starter Kits
We have the low-down on all of ePuffer's top starter kits. Read on, and you can see for yourself which kits suit you. We think that all of their kits are top kits, so it really depends on what your needs are. Some of their devices have multiple editions, so we listed all that are currently still stocked.
Magnum Snaps E-Cigarette E-Pack Kit
Perhaps the most important part of this ePuffer review is this section. The Magnum kit uses patent-pending magnetic snap technology to encase an e-cigarette, extra cartomizer and battery all in one convenient carrying case that doubles as a portable charger. The sleek black and white designs mimics the look of a traditional cigarette case but are durable and have a built-in flashlight in the bottom corner. The starter kit also comes with two E55M batteries with a red and blue LED ash tip that mimic the , three premium tobacco cartridges with up to 300 puffs each, Universal AC2USB Adapter 110/240V, micro USB charging cable, car charger and instruction manual. The tobacco cartridges are in a 70/30 PG/VG ratio, and only costs $69.95. This electronic cigarette kit is perfect for a beginning vaper who has tried disposable e-cigs and would like to invest in a simple, user-friendly device.
ECO Premium Tobacco Disposable E-Cigarette Review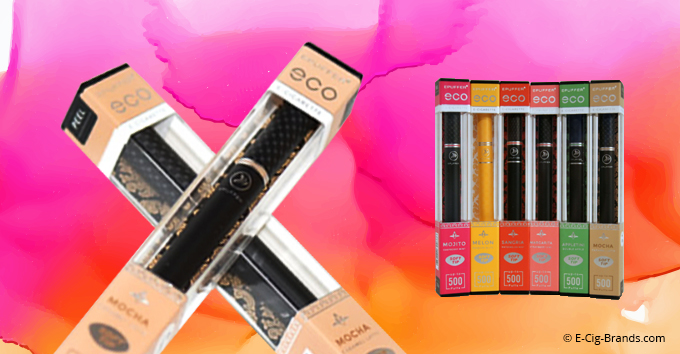 ePuffer's line of disposable e-cigs offers new vapers the chance to experiment with vaping before committing to a more expensive and powerful version. $7.95 will buy you a disposable e-cig with a protective tube and pre-charged 3.7V lithium battery with a lifespan of 500 puffs. The end has a built-in orange LED tip to mimic their traditional alternatives. They utilize ePuffer's unique Soft Filter, and DiRECT|Flow™ technology providing easy draws, more intense flavors, and thicker vapor. Plus, not only are these healthier for your body, they also come in biodegradable materials so they are better for the environment.
XPOD – Mini Vape Pod Review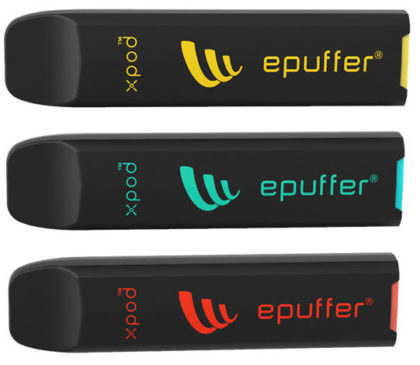 ePuffer is finally offering a brand new disposable vape pod. The XPOD Mini Vape Pod comes in three different flavors, mango, tobacco, and menthol, and carries 1.2ml of e-liquid, which is roughly equivalent to 300 puffs. The 280mAh battery will last until you've vaped every last drop of the 50/50 e-juice, and when you're done, you can simply toss the entire device away and open up a new pod. The first ePuffer vaporizer to come with nicotine salts, this device boasts 18mg/ml of nicotine in each pack. So, not only are these pods incredibly convenient, but they also provide extremely satisfying throat hits.
Titan Vaporizer Review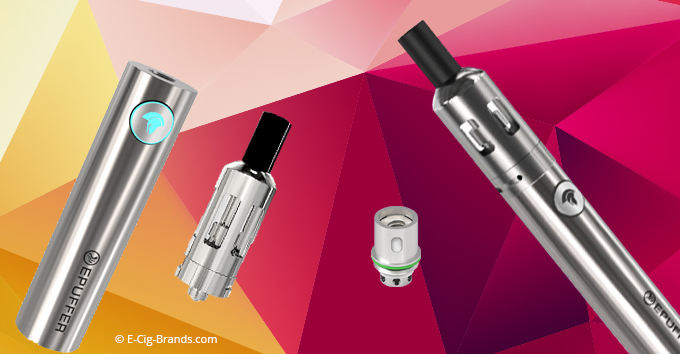 The Titan is a hybrid between a vape pen and a box mod providing the ease and convenience of the latter with the power of the former. This unique hybrid design comes in a polished stainless steel with two interchangeable coils which, as of July 2017, will be 2.0Ω and 1.0Ω for an authentic mouth-to-lungs experience. The Titan kit also includes an 1100 mAh, which will be soon updated to 1500 mAh, a glass liquamizer, micro USB charging cable, narrow flow drip tip, and helpful instructional guide. The battery runs on automatic control and with the higher resistance coils, vapers don't have to worry about complex variable controls or overheating at high temperatures. This pack is specifically designed for vapers who have tried e-cigs and are looking for a more advanced alternative but aren't ready to go on to mods just yet. It has a powerful vape, but with the higher resistance will not produce excess clouds of vapor.
Phantom Vape Mod Review


The Phantom is another vape pen that has a larger battery capacity without the extra bulk. It comes with a 1.6ml liquamizer tank, replaceable atomizer, 1100 mAh lithium rechargeable battery, micro USB charging cable, instruction manual, and a bonus e-liquid. It boasts especially smooth draws and exceptional vapor production. Though this kit does not come with a separate wall charger, customers were overall very pleased with this beginner's kit. As always, ePuffer does not guarantee e-liquids used from other companies, which might have the incorrect consistency and either leak or heat up unevenly. However, as long as you are using ePuffer merchandise, this kit is a reliable pen to take around during the day and to the office.
Cosmos Dry Herb Vaporizer Review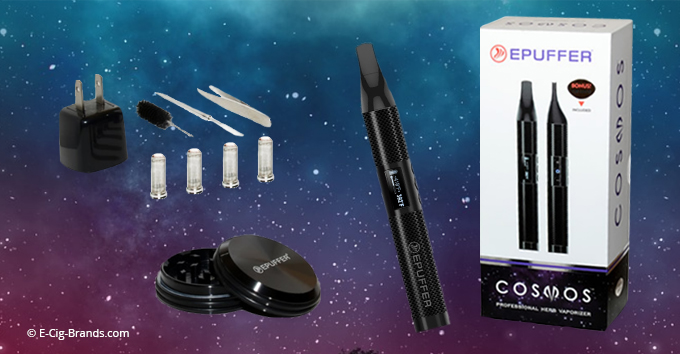 Now that cannabis is decriminalized in many places across America, dry-herb vaping has grown more and more popular. This starter kit uses Smart OLED digital heat control technology to allow this vaporizer to reach optimal heat. This solid carbon fiber pen is lightweight and portable and has a digital temperature control measured in either Fahrenheit or Celsius and automatic shut off. It comes with 4 mesh shells, USB wall charger and micro USB cable, instruction manual, packing tool, tweezers, and cleaning brush, and bonus dry-herb mini-grinder. The temperature ranges from 385-430°F, and the battery has a capacity of 2000 mAh. Order this dry-herb vape today to totally revolutionize your vaping experience.
Robusto Disposable E-Cigar


If you have e-cigarettes and vaporizers, then surely there has to be an electronic equivalent for cigars, and by golly, there is. These disposable e-cigars are undeniably more popular than ever. The Robusto lasts approximately 1200 puffs or the equivalent of about 10 cigars. It comes with an authentic cork soft-tip mouthpiece, and light-up LED ash tip all without any of the tar or carcinogens. With the taste of a Cuban cigar, this disposable e-cigar for only $19.95 will have you coming right back for more!
E-650 Electronic Cigar


If you don't have the extra cash to fly to the southern hemisphere and purchase an authentic pack of Cuban cigars, then you might just want to try the rechargeable electronic version that not only costs less, but will save your lungs too. The 650 model is only $59.95 and has a silky, smooth draw. It comes with a 650 mAh lithium battery, two premium tobacco flavor atomized nicotine cartridges, universal AC/USB Charger 110/240V, intelligent USB Charger with overcharge protection, and an instruction manual. Each atomized cartridge is the equivalent of about 8 cigars, and you can always purchase refills from ePuffer.
ePuffer E-900 E-Cigar


E-Puffer's newest e-cigar model is more luxurious than ever with a hand-rolled paper texture that makes it look and feel like the traditional cigar. With 900 puffs on each charge, this e-cigar also lasts longer than ever. This starter kit comes with two high capacity 900mAh rechargeable batteries – ( Ø=14.5mm, length: 85mm ), three premium flavour atomized nicotine cartridges ( ~ 45 tobacco cigars ), a universal AC/USB Charger 110/240V, intelligent USB Charger with overcharge protection, and instruction manual. After the 650 model sold out multiple times, ePuffer, which ruthlessly develops each product, released the unparalleled 900 model, and if you are a cigar lover, this electronic version is bound to astound you.
ePuffer Electronic Pipe 605 REV-2


Pipes show nothing short of class and sophistication, and now you can puff one without sacrificing your health in any way. ePuffer's 605 pipe is truly a gem to behold. With a wood or marble bowl, this work of art looks just as elegant as any traditional pipe and is just as, if not more, powerful. Their original version comes with a 2 lithium batteries, 3 pre-filled cartridges worth at least 900 puffs each, a battery charger and micro USB cable, a wooden gift box, and helpful instruction manual. You can vape it any time and it will end up saving you a load of cash in the long run. When you finish with one cartridge, simply unscrew the used cartridge and put in a new one. No maintenance or cleaning is required, so don't worry about nicotine build-up or clogging. This beautiful vape is sure to become a conversation piece in your house in no time!
ePuffer E-Pipe 609


When the 605 version became an instant hit, ePuffer knew that they needed to take this timeless piece to a whole new level. Dedicated to perfection, ePuffer revised the 605 version and created this beauty. The 609 E-Pipe comes with an extra stem mouthpiece in each kit as well as all of the pieces in the 605 edition. This edition also comes with an optional clear tank clearomizer for ease of re-filling even though the cartomizers are compatible with the 605 version. This pipe has a manual button for added vaping control but is just as conveniently portable and aesthetically pleasing. You may also choose to purchase a pear wood pipe stand for your living room to display your e-pipe at home.
EPUFFER E-PIPE 629X R4 – Limited Edition


ePuffer has started taking orders for their fourth revision of the e-pipe 629X, their latest revision of their 629X, which came out late July. This e-pipe is comes with two liquamizers with gold and silver trimming respectively so that clients can choose to match their pipe with their other gold or silver accessories. This is certainly what we would call attention to detail! Customers can also choose to color-coordinate their e-liquids by keeping tobacco e-juice in the gold liquamizer and methol in the silver one. ePuffer also created a sub-ohm atomizer coil for the newest version of the 629 for an incredible vaping experience. However, this new coil will not produce an excess amount of vapor, so users can still remain relatively inconspicuous when vaping in public.
E-Hookah/ E-Shisha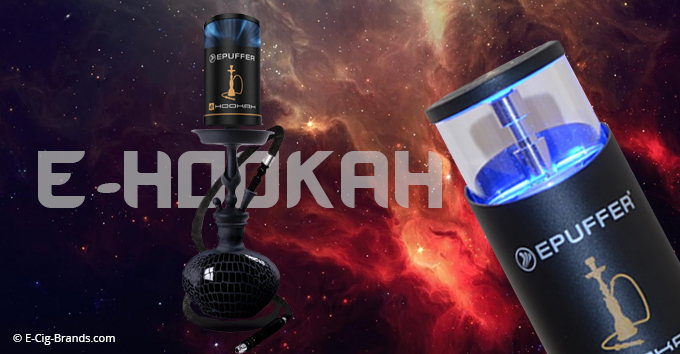 Even though hookah is traditionally known as safer than cigarettes, the water filter cannot filter all of the harmful compounds that are produced in the process of burning organic materials. If you'd still like to continue your hobby but would prefer not to cut your lifespan in half, try electronic hookah! The e-Hookah TC100W comes with an e-hookah head and pre-installed atomizer, two high-capacity 18650 2500 mAh capacity lithium batteries, a USB home or travel charger with cable, extra atomizer, and instruction manual. ePuffer boasts that their e-hookah surpasses all the other versions on the market because it runs on two batteries rather than one rendering the full capacity 5000 mAh. Vape as long as you want! You can go a days without recharging this baby! It runs on 100 Watts of power utilizing an NI200 0.2 Ohm Coil and can be turned up to a whopping 600℉!
ePuffer Prices
We found ePuffer prices to be slightly higher than average for some kits, but considering the high quality, we didn't find them at all unreasonable. Considering that all of ePuffer's devices and accessories are designed, manufactured, and distributed in-house, you won't find any cheap knock-offs shipped from overseas factories.
Starter kits will range anywhere from mid-30's for some of the vape pens to shy of $200 for a new e-pipe, but starter kits are always pricier because they come with everything you need included plus helpful spare atomizers and, frequently, bonus e-liquids. An average 30ml e-liquid costs about $20. If you are looking for cheap alternatives, try checking out their disposable electronic cigarettes and cigars. You can purchase a disposable e-cig for as little as $7.95, and it will last you 500 puffs or 30 analog cigarettes. Even if you are on a budget, ePuffer's prices are reasonable, and an investment in a good-quality device is sure to last you.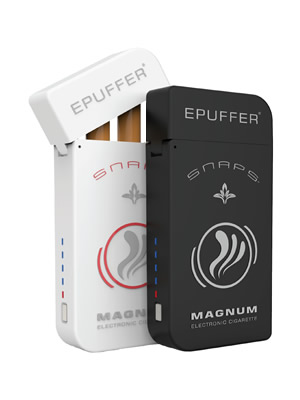 Other Products
Occasionally, ePuffer will discontinue a product and have stock left over, but that doesn't meant that these are no longer useful vapes. On the contrary, overstocked items are brand new, but because they are no longer listed under their main inventory, they drop the prices and advertise great sales. If you are strapped for cash, definitely check out ePuffer's great clearance section. You can find rock-bottom prices on extra liquamizers, batteries, atomizers, and e-liquids. There are sales for over 60% off. All sales are final, but the warranty still holds. Definitely don't skip over this section!
Benefits
ePuffer has been around the block awhile, and so they can boast from their extensive experience. Since ePuffer was founded over ten years ago, they have been featured twice on the popular television show "The Doctors" and have won multiple awards including "One of the Best Health Trends" in 2009 and "Possible Best Quit Smoking Product" in 2010. They have received celebrity endorsements and sell to over one million customers in more than 26 countries.
ePuffer Review Final Thoughts
We found that ePuffer puts an immense amount of effort into even the most minute of details. They care about everything from the packaging to the degree of resistance to the gold or silver trimming, and the concern shows. ePuffer has been around for ten years, and create sophisticated, top-notch devices for the mature, serious vaper. These devices are not meant for fooling around, and if you are going to invest in a starter kit, you know you are going to get your money's worth. If we had to add one last comment about this company in our ePuffer review, we'd simply say that their devices will neither leak or break. However, they will always garner plenty of compliments from colleagues and friends without ever looking showy, ostentatious, or producing obnoxious amounts of vapor. We couldn't recommend them more highly!