How Do Vape Pens for E-Liquid Work?
Vape pens function pretty much the same way that e-cigs function. In fact, all vaporizers use the same basic mechanism regardless of how powerful they are. A vaporizer is a vaporizer. In vape pens, you'll still have a wick that draws e-liquid onto an atomizer, which heats up thereby vaporizing the e-liquid. Now vape pens do differ from e-cigs to a certain degree.
E-cigarettes are designed for simplicity, but many vape pens come with manual fire-buttons and even variable voltage to give vapers more control over their vaping experience. Usually these controls aren't all that complicated. You won't find any OLED displays on a vape pen, but you might have three different voltage and temperature settings you can set yourself.
Vape pens differ from e-cigarettes in a few other ways as well. Occasionally a vape pen will take cartridges, but for the most part vape pens come with a refillable tank. That means that you're going to have to start purchasing bottles of e-liquid, which is advantageous for you because there is only a limited selection of cartridges, and e-liquids usually cost less when you buy them by the bottle.

Are There Different Kinds of Vape Pens?
Yes. Most vape pens are vape pens for e-liquid. However, there are other kinds of vape pens. This post is about e-liquids, but there are vape pens that vape loose leaf and/or concentrates. You can check out the V2 Pro Series 3 to see a pen with such functionality. On the whole though, no. Most are vape pens for e-liquid, and there is a good reason for that. While technology exists for three-in-one vape pens, typically a pen will perform better if it is designed to take one medium only. The V2 Series 3 really is quite impressive, but it's still rather limited in terms of vapor production.
Otherwise, vape pens differ in terms of power output, battery capacity, and voltage control. Even though vaporizers are considered intermediate devices, there really is a wide range of vaporizers. Some are almost as simple as e-cigarettes while others are almost as complex as box mods. Vape pens come in different colors, sizes, and styles, of course, but mainly you'll be selecting your vape pen based on how it works and what controls it has.

How Do I Search For the Best Vape Pens for E-Liquid?
When it's finally time to go shopping, you'll want to know exactly what criteria to use to narrow down your search for the best vape pens for e-liquid. I'd start with battery capacity. Usually when people think of vape pens they think of small, portable devices that are incredibly convenient. Vape pens are meant to be used during the day and on the go, and so, you aren't going to want to have to charge your vape pen after a couple of hours. Small e-cigarettes have to be charged every few hours because they're just so small, but you want your vape pen to last you at least through the work day. I'd say that you should look for vape pens with a minimum of 650 mAh, but if you aren't going straight home and will need to vape during the evening too, you'll want one with an even larger battery capacity. In that case, go for one with at least 1500 mAh.
Secondly, you'll want to know how large the tank is. The best vape pens for e-liquid should have a tank capacity of at least 1.4ml even though you might still have to refill during the day if it tank is smaller than 2-3ml. You should probably also decide if you want a device with a manual or automatic button and whether you want voltage and temperature controls. Typically these controls are not all that complicated, so I wouldn't worry about doing any real damage, but if you simply don't want to concern yourself with these settings, find a simpler vape pen. Also see what kind of atomizer coils it uses. What is the resistance? Can it perform sub-ohm vaping, or do the coils have above 1.0Ω of resistance?
What Kind of Accessories Will I Need?
Accessories are a vaper's best friend, and now that you'll be graduating to vape pens, you're going to love your new trips to the vape shop! Of course you're going to need a wall adapter and micro USB cable for charging, but you may also want to invest in a convenient carrying case if you're going to be bringing the device with you during the day. In any case, a good starter kit should come with all appropriate accessories, so check their individual shop if you need spare parts.
Also note that assuming your vape pen takes e-liquid, you're going to have to replace the atomizers every three to four weeks. So, you'll have to make sure to have a decent supply on hand for whenever you need to swap out an old one for a fresh one.

Are Vape Pens For Me?
In choosing one of these vape pens, it is important to understand both the pros and cons of this particular device. Vape pens are a discreet way to carry on your vaping habit without carrying several miscellaneous parts and accessories. One simply needs to carry a fully charged vape pen. On the other hand, a heavy vaper might find that the vape pen is not enough e-liquid to make it through the day. Yet for those who choose to vape on a lighter scale, they can find that the vape pen is more than effective in handling their vaping demands.
These pens typically come with a battery that can handle a day's worth of vaping without needing to be recharged, but the battery itself cannot necessarily be switched out for a fully charged one. Therefore, it might be important to make sure that you have at least two vape pens so that one can be charging while one is in your pocket for use.
Get the Best Vape Pens for E-Liquid Today!
Well there you have it folks! This is your go-to guide for the best vape pens for e-liquid in the United States. Vape pens are really a lot of good fun, and the truth is that even a lot of advanced vapers still use vape pens because they're simple and convenient. All you have to do is fill and go. A good vape pen for e-liquid should provide a healthy punch at the back of the throat, but it shouldn't produce enormously dense clouds of vapor. You're not going to be cloud-chasing with a vaporizer pen. In any case though, if you're looking to graduate from e-cigs, then give it a go! You definitely won't regret it.
The Best Vape Pen Reviews:

#1: ePuffer's Phantom Vape Pen Review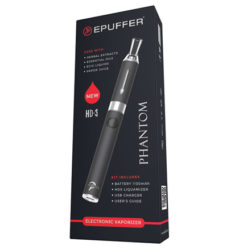 ePuffer is currently offering the Phantom vaporizer with two battery choices. The first is the HD3 and it offers 1100 mAH, similar to the Titan model. This is the battery included in the Phantom kits. If you're looking for something with a few more options, the Phantom X-Pro Variable Battery has a high capacity 1200 mAh and offers variable voltage. Changing the voltage has been made easy–simply turn a dial on the end of your battery to switch between 3.3, 3.8, 4.2, and 4.8 volts.
Also included in the Phantom kit is the Phantom HD3 Liquimizer, which offers a smaller tank size than many vaporizer users are used to: 1.6 mL. The X-Pro battery is compatible with this clearomizer as well, but is 510 threaded, so it will be compatible with many tanks.
The standard Phantom is ideal for beginners, but pairing it with the X-Pro battery will make it perfect for intermediate users looking to add some excitement to their vaping experience.
Retail Price: $34.95
What's included in the Phantom Kit:
HD3 Liquimizer Tank
1100 mAh Rechargeable Battery
USB Charging Cable
Instruction Manual
Phantom Specs:
1100 mAh (optional 1200 mAh with variable voltage)
510 Threading
LED Cherry
1.6 mL Liquimizer Tank Included
Great product! Practical design. New tip is comfortable to use and can be used with the included silicone cover to soften for mouth. Great vapor production. Got the black and it's very smooth to the touch–almost silky.
-Jengie
Click Now to Buy the ePuffer's Phantom Vape Pen!
---
#2: Mig 21 Clear Fusion Vape Pen Kit Review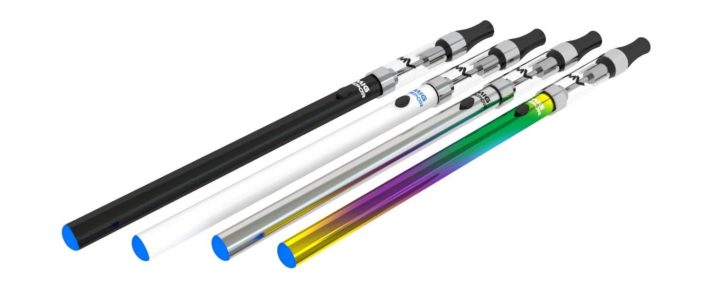 This pen is super thin and sleek. You'll love twirling it in between your fingers. For a very reasonable price, you'll get a pen with a 4.2V, 380mAh battery, a carrying case, wall adapter and USB cable, three 1.3ml tanks, a user manual, and a bottle of e-liquid to get you started. Plus, this comes in black, white, silver, or rainbow!
Try Now the Mig 21 Clear Fusion Vape Pen!
---
#3: Vaper Empire's Vantage Series Review
Vaper Empire prides itself on its elegant, chic designs in black matte and stainless steel. They sell predominantly vape pens, and the Vantage Series is a customer favorite. It comes with two 650 mAh batteries and an extra clearomizer. The deluxe starter kit is on the more expensive side, but it comes with all of your necessary accessories and a couple bottles of e-liquid to get you started. You definitely don't want to miss this one.
I just received my 1st Vape and e-liquid order today, and just want to express how awesome it is!! I didn't realise how close to smoking it would taste and feel, and the Vantage vape is so easy to use, even for someone like me who has never done it before. Also, the customer service and help with questions I had was fantastic.
-Amanda