Click To Save 5% With Direct Vapor
First Impression
At first glance, it's obvious that Direct Vapor is a reliable online vaping retailer that offers good-quality products from top brands at a fraction of the price the same products are sold elsewhere. Right on their front page they promise high turnaround, fast shipping rates, a 60-Day Manufacturer's Warantee, a 15-Day Return Policy, a pledge of authenticity, and a Low-Price Guarantee. I set out to check if their products held up to the high standards they set out for themselves, and here is what I have to say about everything from their e-liquid selection to their customer service.
Direct Vapor Advantages
Low-Price Guarantee
Customers know Direct Vapor for their bargain prices, and Direct Vapor publicizes right on their front page that these prices aren't just low–they're guaranteed to be the lowest. With the Low-Price Guarantee, Direct Vapor promises to match any price posted by any other retailer or reimburse customers for the difference. With a pledge like that, they are sure to be a company that stands behind their products and values their customers above all.
15-Day Return Policy
Receive a starter-kit and decide, once you open it, that it wasn't exactly what you were looking for? Direct Vapor allows customers to return any unopened products within 15 days of the original purchase. First, customers need to contact Direct Vapor to receive an RMA (Return Merchandise Authorization), and then customers will need to send the product back to the company within 20 days in order to sell it back to the company. Plus, there is no need to pay a restocking fee. This guarantee, however, does not allow unsatisfied customers to get their money back. As mentioned before, this policy refers ONLY to unopened goods.
60-Day Manufacturer's Warranty
Manufacturer's Warranties are simply a must in today's world of online retail, and customers will be relieved to find that their expensive vaping equipment is fully guaranteed. Direct Vapor promises to replace any parts that have been damaged within 60 days besides any clearomizers, cartomizers, tanks, e-liquids, or atomizer heads simply for hygienic purposes. Otherwise, customers are simply required to provide evidence of the damage, and Direct Vapor will fully reimburse shipping costs to send replacement parts. Should goods be out of stock, Direct Vapor will refund the purchase or provide a replacement part.
Customers should first contact Direct Vapor to receive an RMA through the same process required for selling back unused purchases. Even though Direct Vapor stands behind its high-quality product line, there will always be defects here and there due to the sheer volume of orders they receive, but they have gotten stellar reviews on their customer service.
Free Shipping
Direct Vapor boasts an impressive free shipping on all orders with no minimum required amount. They promise "rapid turnarounds" and "super fast processing." They even report same-day shipping for all orders submitted before 12PM EST. Fast and free sure is correct. Customers typically receive their products in the mail after no more than a week. Direct Vapor will make shipments internationally, but they will take anywhere from 7-30 days to arrive and are subject to confiscation by customs according to border regulations. With priority international shipping though, you can track the package from the warehouse to the U.S. international sort facility and then once again when it arrives abroad. Standard international shipping provides tracking just until orders reach the sort facility and clients will receive a tracking number within 24 hours when ordering from within the United States.
No Clone Zone
Prices this low look a bit suspicious, but there are no replicas here. Direct Vapor posts right on its front page that authenticity isn't just assumed, it is, again, guaranteed. These vapes come directly from top brand names in the vaping market. No knock-offs allowed.
Rewards and Deals
There are no shortage of deals posted on the Direct Vapor website each day, and so if you keep an eye on their coupons, you might end up paying even less for already inexpensive devices and accessories. There are deals for each holiday and a large clearance section. Plus, you can sign up for their regular e-mails and have all of the hot trends delivered right to your inbox. I signed up for the weekly emails, and I got $10 off of a $100 order right away along with helpful articles on choosing the right devices and accessories. Direct Vapor sure is generous with their deals, and if you are a loyal customer, you will certainly save up more money in the long run than you might have even suspected at the outset.
Click To Save 5% With Direct Vapor
E-liquids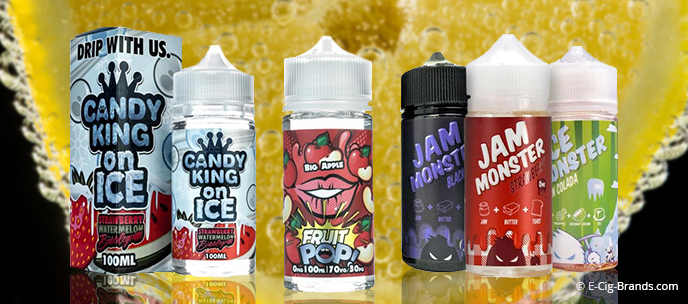 Direct Vapor has an impressive selection of e-liquids available on their website from top brands in the market including Motley Brew and Old Fashioned R&R, which won the prize for drinks and cocktails at the 2015 Vape Summit. The website allows you to search by flavor, PG/VG ratio, price, and manufacturer so that clients can easily navigate to the e-juice of their choice.
There is, of course, classic tobacco and menthol either plain or accented with vanilla or other tropical flavors . Then there are a whopping 124 dessert flavors ranging all the way from classics like strawberry shortcake to more creatively named ones like "I Love Donuts Too" by Mad Hatter E-liquids or Vape Breakfast Classic's "French Dude E-liquid," which happens to be a crisp French toast drizzled with maple syrup and smothered in toppings in case that wasn't self-evident. There are also more gourmet flavors like salted caramel French macaroon and cannoli for those who have a slightly more elevated palette.
Direct Vapor offers a wide variety of PG/VG ratio liquids 25/75, 35/65, 20/80, and 40/60 along with the more traditional options. Overall, the e-liquids were priced reasonably and came in convenient sample-size or bulk 180ml packaging for all different sorts of vaping needs.
Direct Vapor Selection
Mods
At Direct Vapor, you can find Box Mods, Temperature Control Mods, Mechanical Mods, and High-End Vape Mods in wattages ranging from under 50W to over 200W. These range in price from $25.95 for the Innokin iTaste SmartBox iSub V Starter Kit
all the way up to $219.95 for the SX Mini G Class 200W TC Box MOD, a nonpareil with a maximum output voltage of 9.5V and 0.15-3.0Ω resistance range. Direct Vapor has all the top mods from Kanger, Eleaf, Smok, and Sigelei in a multitude of different styles and colors.
Starter Kits
Direct Vapor offers a wide range of starter kits for both novices and experts alike both from top manufacturers as well as their own bundled kits specially chosen by employees. They are composites of favorite accessories and batteries not necessarily included in the same traditional starter kits.
Their hassle-free beginner's starter kits are, despite their simplified functions, powerful and devices sure to prove reliable vaping investments. The Joyetech eGo AIO Starter Kit is a top-notch vape pen and, with five stars and stellar reviews, is a sure go-to for many. This 1500 mAh vape comes in a sleek brushed gunmetal gray, eye-catching black-and-white crackle design, metallic bronze, and a dazzling ombre design. The all-in-one innovative design with a built-in tank is leak free, childproof, and over-current protected. At a stunningly low $`19.95, this is a steal! "Plain and simple… for the price this is one of the best starter kits you can get as a beginner or even a regular that needs something more discrete. So happy with mine!" remarks Garrick, a now loyal Direct Vapor customer.
You can also find a large number of box mod and vape mod starter kits with all the latest gadgets and gizmos available on the market today. I highly recommend checking out the Eleaf iStick Pico RESIN 75W Vape Starter Kit. This eye-catching vape mod comes in a gorgeous marbled design with swirled oranges, pinks, and greens, and each mod comes with its own one-of-a-kind coloration pattern. While light-weight and portable, this mod can be used for sub-ohm vaping at a resistance range of 0.1Ω all the way to 3.5Ω. This adjustable device is especially customizable and incredibly efficient especially for a mod with a battery with under 80W. Looking for something even more powerful? Direct Vapor sells vaporizers that fire at up to 228W!
Dry-Herb Vaporizers
Don't forget about your dry-herb and concentrate vaporizers. Here there is everything from the simple portable pens all the way to advanced mods and accessories galore. Besides the array of starter kits, you should definitely check out the dry-herb grinders, rig-attachment systems, and inflation balloons for an expanded dry-herb experience. You can also find mouth pieces, cleaning supplies, and whatever batteries you may need to start dry-herb vaping. The selection of dry-herb vaporizers really is quite impressive!
Tanks & RDA's
Direct Vapor has tanks, sub-ohm tanks, rebuildable atomizers, rebuildable drip atomizers, temperature-controlled tanks–basically tanks in any kind of shape or size you can imagine. Whether you want to purchase a tank already built or do it yourself, you can find the equipment available here on this page. Prices are largely reasonable as elsewhere, and you can find a standard tank for anywhere from around $10 to just under $30. With the number of advanced rebuildable tanks, Direct Vapor evidently caters to the vaping connoisseur who is looking to chase some serious clouds and get the ultimate flavor out of every puff.
Battery Performance and Charging
Batteries are, by far, the most essential component of any vaporizer whether it be an e-cig or a box mod because it serves as the foundation for the entire vaping process. How hard the throat hit and how long the device lasts is entirely dependant upon the battery, and generally, the better the battery, the better the vape.
Direct Vapor sells an array of batteries for different purposes. The standard e-cig battery, the EVOD Variable Battery 650 mAh Twist, is a simple yet reliable design that comes in multiple colors and an advanced button for variable voltage. Ranging from 3.2-4.8V, this high-quality battery is functional and surprisingly powerful. Plus, it is compatible with eGo and 510 threading.
Those looking for a longer-lasting battery might look for the LG MJ1 18650 3500mAh 10A Battery, one of the largest capacity, 18650 variations to ever be created. With a max continuous discharge rate of 10Amps, this battery provides an unforeseen battery life without sacrificing on power–and at only $8.95 a pop. Depending on your puffing preferences, you could go up to two whole days without ever needing to recharge this battery.
Click To Save 5% With Direct Vapor
Accessories
Any vaponista will tell you that accessorizing is the name of the game. If you want to step up your vape game, you should definitely check out Direct Vapor's selection of carrying cases, drip tips, replacement or rebuildable coils, and even dry herb gear. While functional, I found that their cases and sleeves were relatively simple and not in any way remarkable for a retailer with such a selection of stylish devices. However, I found a wide variety of packs of extra coils and complete coil-building kits for those who would prefer a customized coil.
Direct Vapor offers wood, glass art, and marble drip tips in delightful colors and designs as well as non-stick, hygienic teflon and classic stainless steel. Their selection of dry-herb accessories though was really refreshingly diverse. Overall I found that their accessories section had an adequate selection of basic accessories and an interesting array of unique items.
Customer Service
You can contact customer service via email through their website or toll-free at 1 (844) 90VAPOR (1-844-908-2767) 24 hours a day/7 days a week. They are located at 14300 Commerce Way in Miami Lakes Florida and are happy to discuss any questions or concerns you may have. Customers on their website report high levels of satisfaction with Direct Vapor's customer service. Natasha Ayers, an avid vaper, exclaims:
Direct Vapor has been my go-to for a long time now… they are amazing with online customer service, I have contacted them via social media, email, phone… all times, I have gotten great responses and help from them. Their prices are what sold me in the first place because like a marketplace they offer consistently lower prices on authentic, non-clone items. The free shipping is pretty fast and the overall experience for me has been super positive. I'd happily recommend them to anyone looking for the best vape products and selection.
Fellow vaper Courtney M. Lindsey agrees:
Very impressed with my experience at Direct Vapor. I needed a gift and wasn't familiar with their product so I had a few questions when shopping on their site. They were so helpful from the beginning. I couldn't believe it, but they also price matched my gift! I was shocked! And their customer service was outstanding. I am a stickler for customer service and they won me over with all the help they gave and never made me feel as if I were a burden or was asking too many questions – and I asked A LOT of questions 🙂 My order arrived in time and the gift was a huge hit! I will be a repeat customer for sure!
I would say to trust the customers. Their words say it all!
Overall
I found Direct Vapor an exceptional online retailer with unbelievably low prices compared to their competition. Customers are generally very satisfied with their products, and quickly become loyal fans. Their vape pens and box mods are good-quality devices with great power and long-lasting batteries, their starter kits are diverse and some of them are hand-picked specially by knowledgeable employees. Whether you are looking for your first vaping package or unique accessories and specialty items, Direct Vapor is definitely the place for you! Don't take our word for it, try it out today!
Click To Save 5% With Direct Vapor
Check Out Our New Product Reviews