---
iVaporX Pros & Cons
Pros
Not That Cheap
Generous Warranty
Cons
Currently They Don't Offer Box-Mods
Standard Products
The iVaporX (VaporX) company provides most of the standard options of other e-cigarette sites, including devices and e-liquids. But as with all the sites, they have their pros and cons. Let's explore the options available with this particular manufacturer.
iVaporX E-Liquid & Flavors
The first element is the e-liquid. It is important that there is a certain amount of variety to attract customers who prefer multiply options or for those that opt to find a specific flavor and stick with it. This particular site offers USA made e-liquids, both pre-filled options and containers to refill cartridges. The flavor options are reasonable, but not an extensive selection. However, they do offer colored codes child proof caps that keep the kids out, while identifying the various nicotine strengths for each bottle. The containers are approximately 10 mL, but you can order some at 20 mL sizes.
There are the traditional tobacco flavorings, meant to mimic the traditional cigarette flavor. Additionally, the site also has several combinations, such as café latte. Along with the fruit flavors, they cover the standard offerings of most site, but nothing that really stands out from other sites' options. There are also four different nicotine strengths available, in addition to the option of no nicotine at all. When ordering, you can choose your flavor and strength at the same time.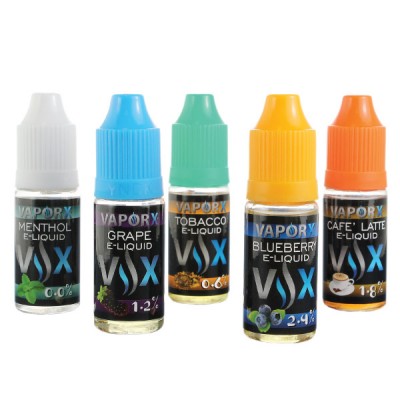 Vapors Selection & Production
There are the traditional devices, such as the more traditional looking e-cigs. There is also one designed with a fun pattern in several colors, called their Hookah e-cig. The site also offers the vaporizers, but does not offer box mods. The vaporizers also include some that are wick-free. The offerings include some that are slim express models and others that have a larger bulkier look. They also include a mini-version of their express model.
The VaporRTX model allows for the vaping of dry herbs or essential oils, instead of the more traditional e-liquids. This model is also offered in three different designs. The various vaporizers do not offer many designs, so the chance to personalize is not really available.
There are also several different heater options available in the accessory section to customize the device's functionality, if not necessarily the overall cosmetic look. Part of the device is a comfortable rubber tip, which can be replaced on the various devices after multiple uses.
Their VaporMax provides an optimized battery and vaporizer combination that includes a balance of voltage and resistance.


iVaporX Batteries & Charging
Each device comes with a standard charging device. The models are charged using a USB port and a wall adapter. They also all come with a rechargeable battery. Within the accessories section, you can also purchase additional batteries, so you can always have one fully charged and available for vaping. The site also offers a variable voltage battery for its vaporizers, but does not offer this option for its more traditional e-cigs models.
VaporX Starter Kits
The starter kits are available for each model, but depending on the model, the kit may or may not include e-liquid. The pre-filled tank kit includes a travel case for the charging kit, e-liquid and the vaporizer. While the kits give you the most basic supplies, it does not include a variety of e-liquids. Thus, a beginner might find themselves spending additional money to find the flavor that appeals to them.
Some of these kits are budget friendly, but the kits are also very barebones. When you are starting out in the world of vaping, the best starting kit gives you a device, samples of e-liquid and of course, a charging cable. However, these kits are not friendly to a beginner and most experienced vapers will not be interested in these barebones kits.

Pricing & Shipping
The prices are fairly reasonable and do appeal to the budget of a beginner vaper. Still, the limited number of options mean that more money will be spent to get all the supplies that anyone needs to enjoy their vaping habit. The shipping methods within the USA include UPS and the US Postal Service. The standard rates apply, but there is no free shipping option unless your purchase is over $75.
International shipments require the standard custom and VAT fees, as well as the international shipping costs. There are no free shipping options for the international shipments. Therefore, it might be something to factor into your budget prior to purchasing from this particular site.


Packing and Warranty
The packaging is very bland. It does not pop at all, but is merely casing to get the products to you. When it comes to the packaging, these models are clearly not designed to appeal to a particular demographic. Instead, they are made to appeal to a broad, but unspecified audience.
They have the traditional manufacturing warranty, but there is no thirty day money back guarantee. There is limited information about their return policy or other warranty information on their site. As a result, your purchase might not be covered if you are unsatisfied with the product's overall performance.


Overall
When looking through their website, one can see the various devices they offer, along with the various accessories. However, the selection is limited in comparison to other sites. There are no box mods within their device category. While their vaporizers do offer some unique features, such as the Vapor Max with its voltage and resistance, overall there is little to recommend these particular vaping options. If one prefers to tinker with their device, these do not offer the ability to do so.
The selection of e-liquids is also very limited, although it is nice to have the child proof caps that are color-coded for nicotine strength.
Throughout the site, there are options, but the feeling is that the devices and the e-liquids appear to just be barebones, versus being a more complex site that would appeal to beginning vapers. When looking for somewhere to shop for e-cig supplies, this site does offer the necessary supplies, but lacks a broad selection that would appeal to a more seasoned vaper.
---
Find out more about
the best e-cigarette brands in EU
or
the best e-cigarettes in AU
.