Dear Vapors, we are sorry to report that we have received negative feedback from customers regarding this company. We strongly recommend against purchasing this brand. Please consider the other recommended
electronic cigarette companies
suggested on this site.
---
Vapor4Life Pros & Cons
Pros
Great battery life
Wide selection of vaping products & amp;e-liquids
Cons
Expensive
Vapor Production isn't great on some models
Based in Northbrook, IL and founded in 2009 by vaping enthusiast Steve 'Smilin' Milin, the success of the company is partly down to the development of the Vapor King: a cig-a-like device with a wide range of customizable options. Moreover, they are celebrated for their impressive array of vaping products: various colours for every item, different battery sizes, cartridges and tanks as well as over 100 e-liquids.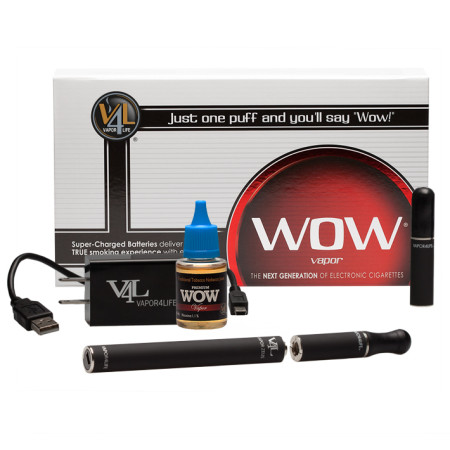 First Impression
The first noticeable feature about Vapor4life is the substantial selection of vaping products available on their website, including over 100 e-liquid flavors. The website is really quite well designed and so are their cigarettes. Weather or not this advanced design and wide inventory is a good reflection on their quality of manufacturing is another thing.
Vapor4Life Vapor Production
The cartomizers aren't anything to rave about, particularly when it comes to the vapor production. There was no volume or thick clouds of smoke and it dwindled quickly. There isn't much of a throat hit to talk about either. As well as this, the cartomizers were overall poorly made. This was obvious when taking a drag, as the noise it produced was quite unsettling.
Vapor4Life Accessories
In the accessories section, customers can find an array of accessories from cases and chargers to drip tips, compatible with all of their devises. Once again, customers are able to select the color of each accessory item they select.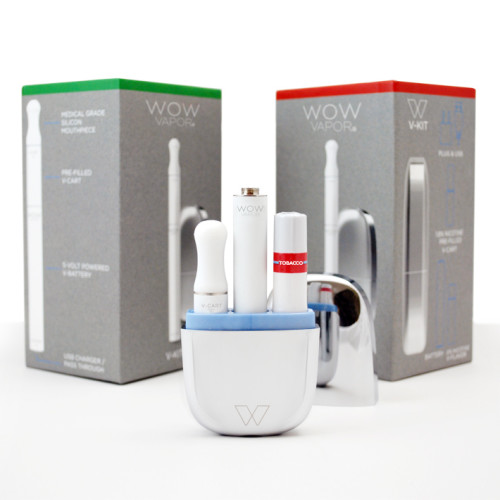 E-Liquid Flavors
One thing that Vapor4life is not short of is e-liquids. They have over 100 different WOW flavors to choose from, so you are sure to find the one you are looking for. The flavors are really a hit or a miss, but here are just a few that are worth trying out:
The Kiwi Apple Strawberry tastes exactly as the name. It is very fruity and light with a soft sweet aftertaste. The throat hit is very smooth. This is a fantastic flavor for the summer months.
The Vanilla Mocha Frappe is basically like an icy, frothy coffee drink. It has a very sweet aftertaste that can be a little overwhelming at times. It may not be the best for all day vaping, but it is definitely one for the smokers with a sweet tooth.
Cinnablaze is definitely cinnamon and the flavor is impressively strong. As for the Peach and Tobacco, it has a perfect balance of the two flavors: It has a nice tobacco overtone with sweet peach undertones.
The Vanilla is very smooth with a light vanilla flavor. The throat hit isn't too harsh or uncomfortable, but rather compliments the light taste.
Battery performance and charging
The Zeus batteries are available in three different sizes: small (650mAh), medium (900mAh) and the extra large (1300mAh). On average, the smallest can give around five hours of smoke time and the charge time with the USB charger is around two hours.
The medium sized 900mAh battery has between six and twelve hours of smoke time, depending on how often you smoke. The charge time is about four hours with the USB charger. The extra large capacity battery has a smoke time of between fifteen and twenty hours with about five hours of charge time with the USB battery. Bear in mind that if you choose to charge the devise with the slim charger, the time it takes to reach full is significantly longer. The pass-through feature is also an added bonus, allowing you to sit in the office and smoke away as the device charges. The only flaw with the batteries is the extra large sized battery. It is a little two clumpy and heavy for a cig-a-like devise.
The Vapor Titan auto electronic cigarette battery comes in three sizes: short (200mAh), regular (300mAh) and extra large (400mAh). The variable voltage battery has a capacity between 200 and 420mAh with a voltage ranging from 3.7 to 4.2 volts. The amount of puffs one can get from the VV battery varies between 250 and 450, depending on how heavy the smoker is. In general, smoke time differs from two to six hours and the charge time is about three hours. There were a few issues with the Titan, for instance, smokers will notice a dip in vapor production as the battery reduces, which isn't great for vape time. Also, at times the button on the battery wasn't responding.
The Vapor King VV battery has a capacity range of 180 to 380mAh while the voltage ranges between 3.7 and 4.2 volts. The capacity range is slightly lower than that of the Vapor Titan battery; however the amount of smoke time and drags a smoker can get from the battery is about the same amount.
The Vapor king Ash Cap battery comes in three sizes: Short (180mAh), Regular (280mAh) and XL (380mAh). The charge time varies on the size of the battery: Short; 2 hours, Regular; 2 – 3 hours, XL; 3 – 4 hours.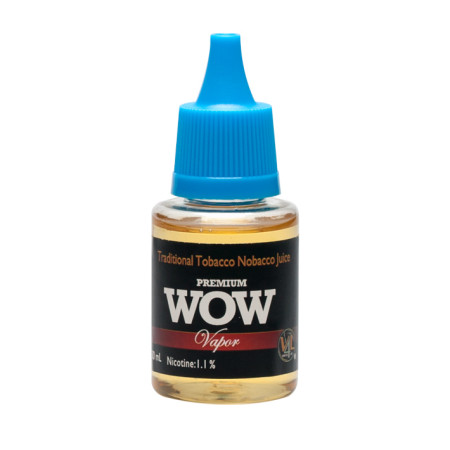 Selection
Options are Vapor4life's forte. They have everything you would need for vaping. With a fantastic selection of models and devices to choose from, as well as a starter kit that will suit every e-smoker. Moreover, each device is custom designed by color and size, chosen by the customer.
Packaging & Design
In general, the packaging isn't particularly eye catching. What is quite stylish, however, is the Vapor Titan coat of arms logo, which is printed onto the front of the Titan box.
The design of the smileomizer is probably the most recognizable feature of the Vapor4life devices. The smooth, bubble-like style is unlike any other design on the market. It is distinctive and this is why it is worth mentioning.
Shipping
US orders using priority mail are shipped within two working days using USPS. Express orders placed before 4:00pm CDT will be shipped on the same day. International orders will be shipped within two working days. There is not an express shipping option for international orders. International shipping fee is $25 for all orders.
Vapor4life have free shipping options for certain products. When you select the product you want to buy, there should be a note on the page to inform you if you are eligible for free shipping. This only applies to orders within the US.
Vapor4Life Warranty
Vapor4life offers a 30-Day Full Money Back Guarantee on hardware that are in like-new condition and show no signs of misuse. The 90-Day Warranty is eligible for all hardware excluding clearance items. Each item differs in eligibility so it is worth noting down what item you have purchased is eligible for which warranty.
The 1 Year Warranty applies to Vapor Zeus and Dial-A-Volt batteries. Keep in mind that the E-liquids and refillables are exempt from all warranties.
Customer Service
Customers can contact Vapor4life via e-mail (you can find the list of e-mail addresses on their website) or their telephone number, open Monday to Friday 9am to 7pm CST. Customers can also fill out a customer service form on their website. Unlike other premium e-cigarette brands, Vapor4life doesn't have an online live chat section. However there is a blog on their website keeping their customers up-to-date with new information on the company. There are also tutor videos to advise you on how to use and maintain a newly purchased product. The FAQ page is ideal for general questions or quires. They also have an about e-cigarettes page for people looking for more information on electronic cigarettes.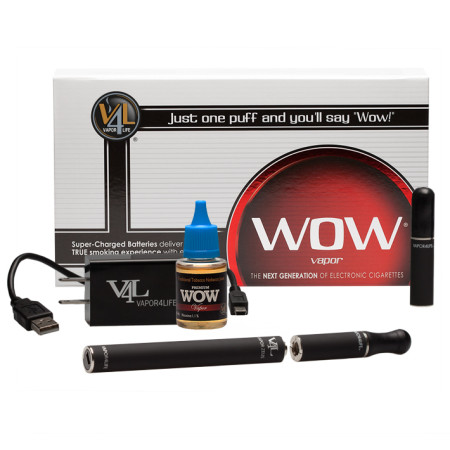 Vapor4Life Starter Kits
Vapor4life has four different devices on sale, each of which have several types of starter kits. The Vapor Zeus range is vapor4life's top rated kit range and it claims to be the first automatic, high-powered, easy to use vapor e-cigarette in the world. The Vapor Zeus Auto Premium Vape kit is the smallest of the Zeus range and includes one battery, two smileomizers (their version of a cartomizer), a USB charger and wall adaptor, 30ml bottle of e-liquid (available in 13 flavors and seven strengths of nicotine) and a classic smileomizer tip. Customers can choose the size of the battery: The small is 650mAh, medium 900mAh and extra large is 1300mAh. Bear in mind that you have to pay a little extra if you opt for the medium or extra large battery. Moreover, customers can select the color of the battery and smileomizer. There are five colors to choose from: black, orange, blue, green and pink.
The Vapor Zeus Variable Voltage Auto Starter Kit is basically the same as the Vapor Zeus Auto but with a variable voltage battery. This battery has between 3.2 and 4.8 volts with a capacity varying from 650 to 1300mAh.
The Vapor Zeus Dual Mode Starter Kit includes a battery, which allows the user to change from an automatic to a manual mode using the five-button click feature. It also includes an LED screen to the let the user know at what voltage the devise is set on.
Moving on from the Zeus Premium Vape is the Vapor Zero Ultimate Vape Kit range. The basic Auto Ultimate Vape Kit includes everything you will find in the premium kit but with an extra smileomizer and a car adaptor. The Vapor Zeus Variable Voltage Auto has everything that the Vapor Zero Auto has but with a VV battery. This also goes for the Vapor Zeus Dual Mode Ultimate Vape Kit but with a dual functioning battery.
There are two types of cig-a-like kit ranges on offer: The Titan and The King. The Titan Standard e-cig kit contains a Vapor Titan Battery, a USB charger, a carry case and a five pack of cartomizers. Once again, customers have options with the Titan. Firstly, customers can select from twelve different colors. As well as this, there is the option of either an auto battery or a manual battery. The cartomizers are also available in thirteen different flavors with seven different nicotine strengths. If that's not enough to choose from, customers can select the color of the carrying case as well.
The Vapor Titan Premium E-cig kit is larger with two batteries instead of one, plus a wall charger while the Vapor Titan Ultimate has two 5-packs of cartomizers, a Vapor King USB charger, Vapor King Slim wall charger and a 3.5ml Dual Coil tank.
The Vapor King Ash Cap Standard Kit contains a Vapor King battery, a USB charger, a carry case and a five-pack of cartomizers. Once again, customers are spoilt for choice, with the option of battery color, type and size, cartridge flavor and strength and the color of the carrying case. The premium also has all of these feature but with an extra battery and a wall charger. The King Ash Cap Ultimate Kit is the largest of its type with two 5-packs of cartomizers and a 3.5ml Dual Coil tank.
The e-cigar king starter kit is Vapor4life's only e-cigar on offer. The kit includes one e-cigar King battery, a USB wall adaptor, charging cable and car adaptor as well as three prefilled cartomizers in Ligero, Maduro and Cubana Blend.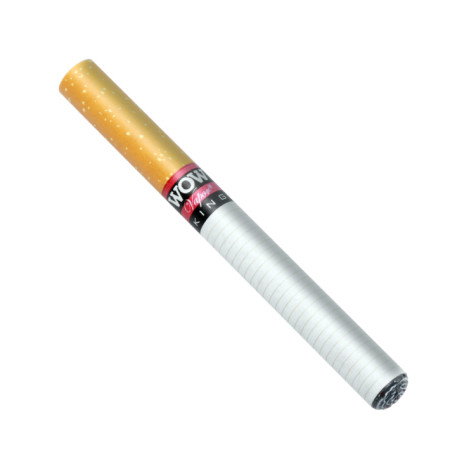 Prices
Overall, the prices of the starter kits are a little on the expensive side. For instance, The Zeus kits vary from $74.99 to $94.99. This doesn't sound a lot in the general scheme of things, but when you consider that the cheapest only comes with one battery, it is a little overpriced.
The same goes for the Titan kit ($24.99 to $74.99) and the King kit ($19.99 to $69.99). However, the standard kit of the Titan and the King has been discounted, making the price a little more reasonable.
The e-cigar kit is priced at $149.99, which is a discounted price. This is an appropriate price for the more advanced kit.
Other Products
Vapor4life has a selection of disposable e-cigarettes with 3.6% nicotine strength, available in either tobacco or menthol flavor. As well as this, they have produced a disposable vape, which is also available in tobacco and menthol flavor, but with 2.6% nicotine. What makes this product particularly worth mentioning is that it has a soft chewable tip to replicate a traditional cigarette feel.
Benefits
Vapor4life boasts a great selection of sale items in their sales and discount section of their website. There you can find the best deals and discounts on vaping devices and other electronic cigarette products. They change the sale inventory regularly so customers can try out more products at a fraction of the price. They also have a 'daily deals' section that has new products every day.
Overall
Vapor4life isn't as impressive as it should be. There are a few things that the company needs to improve on, for instance, the quality of the cartomizers, as well as the vapor production. However, the design and selection they have is what really gives them their name. Overall, it is worth weighing up your options and comparing their products to different ones on the market.
---
Find out more about
the best electronic cigarette brands in Europe
or
the best electronic cigarettes in Australia
.