Dear Vapors, we are sorry to report that we have received negative feedback from customers regarding this company. We strongly recommend against purchasing this brand for now. Please consider the other recommended
e-cigarette brands
suggested on this site.
---
NJOY E-Cigs Pros & Cons
Pros
NJOY's E-cigs are a satisfying alternative to traditional cigarettes
Affordable Prices
Easy introduction to vaping
Promising Artist Collection
Cons
Limited vaporizer selection
Limited overall e-juice selection
Poor battery life
Only US Shipping
Patented in 2006, NJOY became one of the first companies to sell e-cigarettes in the United States. After a decade in the business, NJOY has perfected the e-cig and has started delving further into the vaporizer community. Below is an in-depth review of NJOY products.
First Impression
Our first impressions of NJOY are that they specialize and they do it well. NJOY began by perfecting the e-cigarette and that is largely what they are doing today. Their selection is small, but tailored to e-cigarette enthusiasts. They have created a name for themselves in many brick and mortar stores across the United States, making purchasing an electronic cigarette as easy and convenient as purchasing a pack of traditional, combustible cigarettes. Now, they're expanding their e-commerce presence and making their product available from anywhere in the world. How have they gotten this far in a very competitive, modern vaping market? A passion for their work and a quality that reflects this.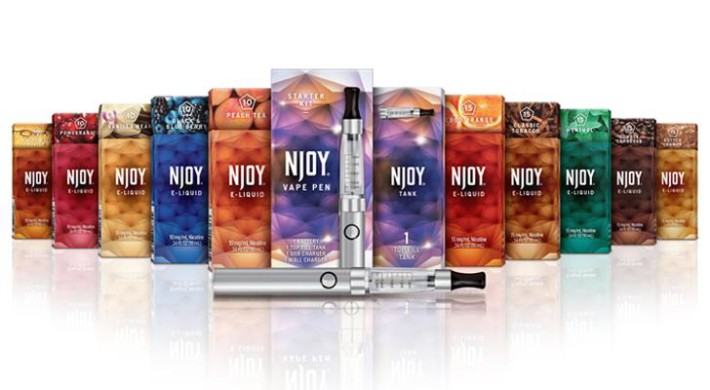 NJOY Vapor Production
NJOY focuses on former traditional smokers. As such, their extensive lines of "cig-a-like" e-cigarettes are designed to satisfy the back of the throat hit many former smokers crave. The vapor produced by NJOY's e-cigarette is instantaneous and flavorful. You won't find tasteless draws from NJOY, whose disposable and rechargeable e-cigs are loaded with NJOY's own brand of e-liquid (but we'll get more into that later). Of course, these e-cigs are not designed to produce billowy clouds of white vapor; they were created to mimic traditional cigarettes.
But should you be looking for a dense, flavorful vapor cloud…NJOY has you covered as well. The vape pens currently offered by NJOY can be fitted with a 3.7 volt battery. The volt value in your vape battery is directly connected to the vapor quality: the higher the voltage, the higher the heat and better the vapor. The 3.7 volts in NJOY's attachable battery means you can expect a smooth vapor that is not so smooth it's unnoticeable. At the same time, this voltage will ensure you're getting an intense flavor out of your e-liquid.
Overall, the vapor quality of NJOY's products is precisely what they promise: satisfying for former smokers trying their e-cigs and, in their vaporizer pens, a perfect starting point for beginners.
NJOY Ecigs Accessories
NJOY is not offering many accessories in the way of customization. Their accessories are limited to NJOY's brand of e-liquid, additional batteries for their vape pens, pre-filled tanks, and additional clear tanks.
The silver lining to this is simplicity. NJOY is clearly created with convenience and ease in mind. You won't find anything complicated here. Their devices are straight-forward and ready-to-use just the way you order them.
Finally, and importantly, while NJOY may not offer the accessories you're seeking to customize your device, they make it easy to use their devices in tandem with other companies' products. For example, their vape pen batteries are equipped with a 510 thread. This means any tank, cartomizer, decorative piece, or otherwise that is equipped with 510 threading, you can thread into the NJOY battery.
NJOY has made their products not entirely brand specific, and knows they don't provide everything more advanced clientele might desire, so if you have a favorite place to shop for accessories—lanyards, tanks, catomizers, e-liquids, et cetera—NJOY is making it possible for you to enjoy the best of their products and others'.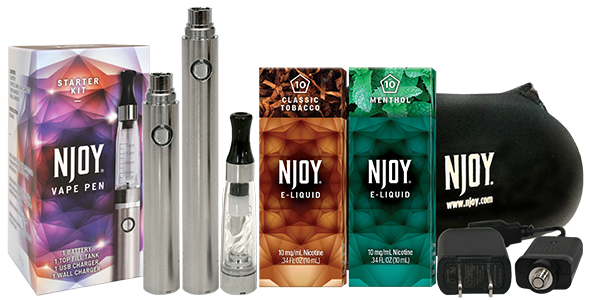 NJOY E-cigs & Liquid Flavors
NJOY's standard selection of e-liquids covers all of the basics: tobacco, menthol, and even some more complex flavors like vanilla and mixed berry. There is a section of their website in which you can order bundles of e-liquids to mix at your pleasure in a vape tank or extra bottle. These e-liquids are sold in bundles, at a discount of 25%, so you can produce flavors like peaches and cream or blood orange gelato.
The liquids appear to range anywhere from a 50/50 propylene glycol/ vegetable glycerin (PG/VG) ratio to something close to 30/70. They produce a standard vapor; that is, the vapor won't disappear immediately, but they certainly won't linger in the room. Important to note is that a 50/50 ratio is used in their e-cigarettes. This ratio is what provides the unmistakable tobacco flavor and a more harsh vapor to mimic traditional cigarette smoke. Their e-liquid flavors do not offer a lot of personalization, as they come in standard nicotine levels of either 10mg/mL or 15 mg/ML, which should satisfy frequent smokers. They are also only available in 10mL bottles (keep in mind 10mL, depending on your e-cig frequency, will last approximately one week).
Excitingly, NJOY has recently created an entire line of e-liquids in the Artist Collection. These are more exotic flavors, deliciously and expertly crafted to be among the best e-liquids available. There are five designer e-liquids currently—though we certainly hope NJOY continues to add more. As one example, NJOY is offering an e-liquid aptly named Hedon's Bite—for pleasure seekers. This e-liquid is a delicate combination of tart and sweet apple, with notes of dark caramel and refreshing, juicy honeydew. This is one e-liquid in the Artist Collection and we certainly encourage an exploration of all five. These have varying nicotine strengths and offer the personalization other NJOY products are lacking.
If you already have a favorite e-liquid, NJOY vape tanks and refillable cartridges are capable of handling various brands of e-liquid. So , you are not limited to NJOY's brand-specific selection.
Battery Performance & Charging
NJOY's products have suffered from complaints regarding their battery life. Indeed, what is a portable vaporizer or e-cigarette without its battery? What happens when you're far from home, without a charger, and suddenly you can't take a draw from your device? Luckily, NJOY listens to their customers and they've made it very simple to give your device a longer battery life and better performance by purchasing, for a low price, a new battery for their devices.
First, many of NJOY's devices are not meant to be recharged: these are the disposables. Out of these e-cigarettes, the "Daily" and "King," you can expect roughly 300 puffs—the equivalent of a pack of cigarettes. When the "cherry" on the end of your e-cig starts blinking and you find your draws getting less intense, it's time to reach for a new NJOY disposable. NJOY recycles their disposables as well, or you can recycle them at a local recycling center. Read the "Benefits" section of this review for more information on how this benefits you and the environment.
NJOY offers one rechargeable e-cig, which comes equipped with a 110 mAh battery. This means approximately 100 puffs out of a fully charged battery. The rechargeable option is great for someone who takes their e-cig with them to work, out shopping, or who was previously a light smoker. This rechargeable cigarette will not last a medium to heavy smoker a full 24 hours without having to recharge at least once. Realistically, charging your device should not be an issue, as these come equipped with a USB charging cord, which can be plugged into a computer, a car charger, or a wall adapter. However, if you find yourself away from a charger for an extended period of time, you might find yourself without a working e-cigarette.
Their vape pen offers a better battery, with the option of an upgrade. The standard vape pen, as it will come delivered to you or available for purchase in a store, operates on a 650 mAh battery. On a fully charged battery, you can expect roughly 600 puffs or a day's worth of vaping. Charging overnight should let you use this device all day without having to recharge. If you're looking for a more powerful battery, NJOY offers one other choice: a 3.7 volt, 1000 mAh accessory battery which can be used with their pre-filled tanks, or a tank of your choosing with a 510 thread. A battery like this will offer you plenty of all-day use, perhaps even two before you need to recharge. This vape pen battery should offer more than enough use for beginners and intermediate users, but it is the most powerful option available at NJOY currently.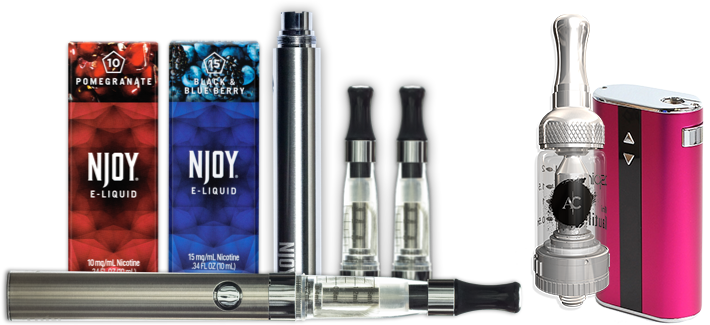 NJOY Selection
As we mentioned earlier, NJOY caters almost exclusively to e-cigarette smokers. This is where their business found its roots, but these days, NJOY is beginning to branch out.
Foremost, they offer e-cigarette options. The first two, the Daily and the King, are disposable versions. The Daily offers the highest nicotine content at 4.5%. The draw is designed to feel like a traditional cigarette, delivering on the back of the throat burn. Each Daily e-cigarette is equivalent to about one pack of combustible cigarettes. These are currently offered in three flavors, including tobacco, menthol, and berry.
The second e-cigarette option offers a little more variation in nicotine content, allowing for light smokers to enjoy as well. The customer can choose between 2.5% all the way to 4.5% nicotine. Like the Daily, the vapor on these e-cigs is meant to hearken back to traditional cigarettes. There is substance to your draw and a familiar harshness on the inhale. Not only do these taste like cigarettes, but they are meant to look like the familiar combustibles, too. These come with a red cherry on the end, courtesy of an LED, as well as a white body and a faux filter. For those of us for whom smoking is a habit of all the senses, the King makes an attempt to look and taste as authentic as possible. Because of this, the King is only being sold in one flavor: rich, hearty tobacco.
Finally, NJOY is offering a rechargeable model if you prefer to reuse your device for as long as possible. This is offered in three flavors, but once the rechargeable battery is purchased, feel free to switch out the flavor chamber as your tastes change as well.
Aside from e-cigarettes, NJOY is branching out into the more advanced vaping community by offering two vape pens: the standard and the high capacity. Both of these vape pens come standard with a 650 mAh battery, but can easily be fitted with a 1000 mAh rechargeable battery. Both boast an easy top-fill tank—made of attractive and durable plastic—that can be filled with any e-liquid of your choosing. These vape pens are compatible with something interesting NJOY is currently offering: pre-filled tanks. NJOY caters to convenience and nothing is more convenient purchasing a pre-filled tank of your favorite NJOY e-liquid and simply threading it onto your rechargeable battery.
Finally, NJOY is showing even more promise of catering not only to vaporizer beginners, but much more advanced users as well with the only item currently in the Artist Collection: the Nautilus. This interesting piece is small—very small—but packs a powerful punch. It offers a 1.8 ohm, 1000 mAh battery, dual coils, and a sleek glass 2mL tank. A lower ohm means a stronger throat hit and a thicker vapor; this, paired with dual coils, will result in the white, dense "vape cloud" many in the community are looking for. This is not a beginner product, but will appeal to more experienced users.
Overall, the selection at NJOY is not as expansive as other vaporizer companies—but it doesn't have to be. NJOY specializes in e-cigarettes and they sell a quality product. Their e-cigarette line is perfect for former smokers, looking for a simple product that is convenient and effortless. Their vape pens are designed to be the next step into the vaping community, an accessible device for people to explore all that vaporizing has to offer as a smoking replacement or modern hobby.
Packaging & Design
The packaging at NJOY is meant to complement their products. They are minimalistic and color-coded for easy flavor reference. Menthol is recognizable in a mint green, geometric design while tobacco flavors come in amber. According to their website, their e-cigarettes used to be packaged in authentic flip-top "packs," but in keeping with their dedication to reducing waste, their e-cigarettes are now sold in slimmer, more compact boxes.
Their e-cigarette line is definitely recognizable: Dailies are a gorgeous, deep, matte blue. The end is fitted with an LED light to signal to the user when the battery is running low—it also lights up upon inhaling. The outside of the device is made to feel soft and comfortable in order to mimic the hand and mouth feel of a traditional cigarette. The rechargeable e-cig also does not have the outward look of a combustible cigarette, sporting a subtle white and gray geometric pattern. But both of these options promise to feel and taste like the real thing, while offering some sophisticated visual appeal.
The King is, as mentioned previously, constructed to look, feel, and taste almost exactly like a traditional, combustible cigarette. Coming in "packs," the King's packaging even feels like a traditional cigarette. It opens something like a Zippo lighter to reveal your pack of five e-cigarettes. The device has a white, paper-like body to hold the battery and a soft faux filter to hold the e-liquid. The NJOY mission statement is to convert traditional smokers into e-cigarette smokers. The King is designed to make the transition easy and comfortable. For many former smokers, the act of smoking a cigarette is very tactile. NJOY has thought of everything you might be missing in a traditional combustible cigarette and added it into the King.
The vaporizing pens offered currently at NJOY fit in easily with the modern, elegant vaporizers popular on the market right now. The standard vape pens have a clear, plastic tank so you can easily see when you're ready for a refill, while the majority of the pen's body is a polished stainless steel. The Artist Collection appears to promise even more elegant designs, including not a plastic tank, but a durable glass tank.
Overall, NJOY e-cigarettes are distinct devices with a clean look and an authentic feel. We were also happy to see that NJOY is branching out into elegant, sleek vaporizing pens as well and an even more designer Artist Collection.
Shipping
NJOY's products are mostly purchased at brick and mortar stores: through their website, you can find a location near you. You won't have to search very long, as NJOY is available in gas stations, smoke shops, and vape stores nationally and internationally. If e-commerce is for you, NJOY's website makes ordering easy and convenient. They ship globally and by making an online account, you can easily track your shipments.
NJOY Warranty
NJOY takes pride in customer satisfaction. For this reason, they offer warranties on consumables (e-liquids, disposables, pre-filled tanks, et cetera), non-consumables (batteries, chargers), and affiliate products sold on their website. For consumables and affiliate products, they give the customer 30 days to return for money back or to replace. Non-consumables have a one year warranty for replacement—that's right. You have an entire year after purchase to replace broken batteries and chargers on your devices. That is how confident NJOY is in the quality of their product.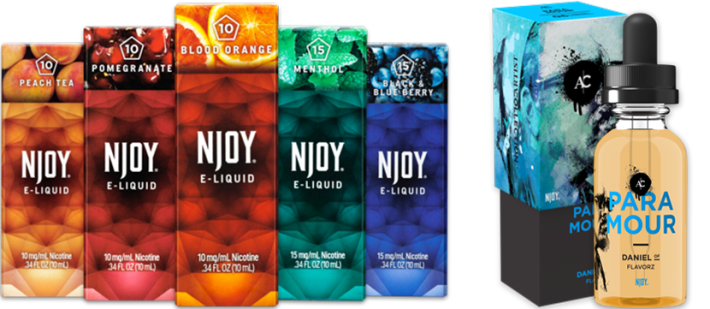 Customer Service
If you do find yourself unhappy with an NJOY product you've purchased, remember they offer warranties on all that they sell. If you need to contact NJOY, there are three easy ways to find a knowledgeable agent in the United States: call, e-mail, or type in the online chatbox to speak with someone. Aside from that, they have many physical locations for you to visit if you need any assistance from NJOY.
NJOY Starter Kits
Most of the products sold at NJOY hardly need a "kit" to get the customer started: they are ready-to-use e-cigs, simply open them and begin puffing. E-cigarettes are sold in packs of 1, 5, 20, or 100.
For their rechargeables, they do offer kits. These range from "standard" to "supreme." A "standard" kit will get you two flavors of e-cigs, a USB charger, and a wall-adapter. The "supreme" will get you all the flavors NJOY has available for their e-cigarettes, two USB chargers, two wall adapters, and two carrying cases. Their vape pens, also, are designed for entry-level, simplicity seekers. These include the pen, a USB charger, and a wall-adapter. For a little extra, you can purchase larger starting kits, which will include flavors, a carrying case, and the already mentioned basics (the largest is easily enough for two people to try out NJOY's vaping line).
NJOY Prices
The prices at NJOY are more than reasonable. Purchasing in bulk, e-cigs are about $5 per stick, but keep in mind one e-cig should last as long as a pack of traditional cigarettes. Their e-liquids, too, are priced below average at $8 per 10mL bottle (unless you're purchasing from the Artist Collection, these will run you $18 for a 30mL bottle, even better don't you think?).
Their vape pens are meant for entry-level vape users, the price reflects this. To try out NJOY's vape pen will set you back only $30, if you purchase the device itself.
Overall, NJOY's vaporizing products are meant as an introduction to the community, not as a high level vaporizer for experienced users. Their e-cigarettes, on the other hand, are a great quality for their price.
Rewards
Unlike some other companies, you can't earn "reward points" by shopping at NJOY. However, there is no shortage of coupons and offers available for their products. In fact, just by visiting their website, we were immediately offered a 40% off coupon on our order.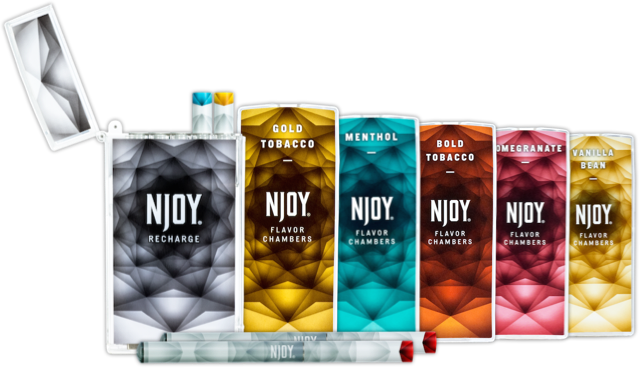 Other Products
NJOY makes e-cigarettes for the most part; after all, this is how their brand was begun. Today, however, NJOY is beginning to find new roots in the expanding vaporizer market with their Artist Collection, which shows promise for enticing e-liquids and elegant vaporizers. They are not currently offering a wide selection of many different products, but keep an eye out in the future for exciting things from this well known brand.
Benefits
Why buy NJOY? With all of the companies out there vying for customer attention in a thriving market, this is a perfectly valid question to ask yourself.
By purchasing from NJOY, you are giving yourself a quality, enjoyable, and satisfying e-cigarette experience. But, importantly, you're contributing directly to the growth and success of the vaporizer community in the United States. And we don't mean in a vague sort of way: part of every purchase you make at NJOY goes to backing pro-vaporizer legislation in order to continue making vaporizers and e-cigarettes affordable and accessible in America. Not only that, NJOY is committed to the environment in more ways than one. They will recycle all of their disposable cigarettes for you, at no cost, and they've committed to reducing waste in their packaging since their establishment in 2006.
Overall
So, what was our opinion of NJOY? We found quality e-cigarettes that make the transition from combustibles to electronic easy, painless, and enjoyable. Their e-liquid selection is expanding to include some very exotic and delicious flavors, while their vaporizers, too, are becoming more competitive. For now, NJOY vaporizers are perfect for beginners, looking to simplify vaping. But the e-cigarette market is where NJOY is strongest.
---
Check out
Epuffer
,
VaporFi
and
Vaper Empire
reviews.