NEwhere Pros & Cons
Pros
Great E-Hookah Pen
Affordable Prices
Great Customer Service
First Impression
NEwhere vapor has settled nicely in a niche of the vaping market: e-cigarettes and e-hookahs. E-hookahs have, for a long time, been a difficult item to perfect. They demand a high vapor production and as a result, pen or disposable models are often disappointing. A quality e-hookah pen has been a long time coming, but we may have found it with NEwhere.
NEwhere Vapor Production
NEwhere Vapor specializes in e-hookah pens. Hookah is a sensory experience and its success relies largely on the amount of smoke, or vapor, produced in tandem with clean fruity flavors. As a result, e-hookah is crafted to deliver a superior vapor production, despite their handheld design.
From NEwhere e-hookah pens, you can expect high quality vapor production. This means a clean flavor, which tastes like fresh fruit and does not taste like candy or artificial syrup.
Looking at an NEwhere e-hookah pen or e-cigarette, you're sure to notice its aesthetic first and foremost: it is polished with a stainless steel finish, it is sleek and slender. The device itself looks to be of high quality and the vapor production lives up to the outward promise of the device.
From their e-cigarettes you can expect a vapor with a throat hit that is not too intense. Their e-hookah pens are tobacco free and will deliver a surprising amount of vapor for their size for a satisfying experience.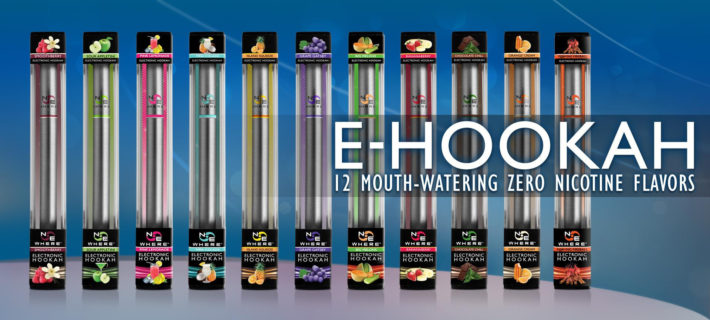 NEwhere Vaping Accessories
NEwhere is not currently offering much in the way of vaporizing accessories. They have only one advanced vaping model: a pen equipped with a 650 mAh battery, a 2.1 Ohm atomizer, and a 1.5 mL tank capacity. The only accessory available for this model is an extra clearomizer tank, which can be purchased for just $8.
The company, however, has accessories of its own. If you find that NEwhere vapor has become your go-to vaping company—and if you're looking for e-cigs and e-hookah, it just might—why not show your support with a Mad Hatter E-Juice t-shirt or NEwhere vapor snapback hat?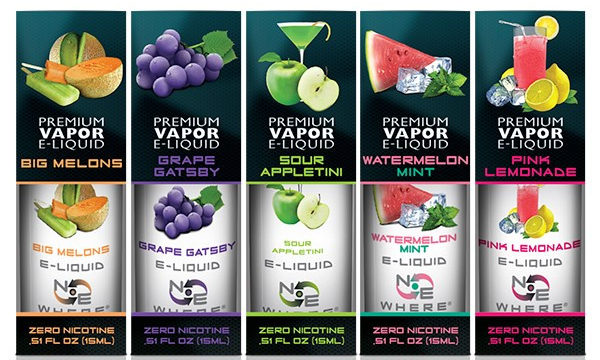 NEwhere E-Liquid
NEwhere is affiliated with and sells Mad Hatter e-juice on their website. There are a few very interesting flavors, mostly catering to those who have a sweet tooth. Some of the available flavors are cookies, donuts, taffy, and cream pop.
Their e-liquids are sold in three nicotine variations including 0mg, 3mg, and 6mg. Most flavors are available in a 70/30 VG/PG ratio, so they are designed to produce large plumes of flavorful vapor.
Their e-cigarettes and e-hookahs are available only in a pre-flavored form. Their e-cigarettes are currently offered in three flavors, including a fruit flavor, tobacco, and menthol.
Their e-hookah, among their best-sellers, is available in many more flavors. The most popular of these are piña colada and pink lemonade. Most of their e-hookahs are zero nicotine and are meant purely to enjoy NEwhere's intense flavors.
Packaging & Design
The aesthetic of NEwhere devices is in line with today's modern market. They are sleek, with a stainless steel finish. The devices fit easily in your hand or your pocket and take up very little space. They are subtle, because the products do not need to be flashy in order to draw attention to themselves.
The packaging, too, is minimalistic. It is clearly labelled for ease-of-use, but NEwhere knows that the packaging won't last long once you've received your device in the mail.
NEwhere Shipping & Warranty
NEwhere allows their customers to return their products—for any reason—within 30 days of purchase; however, if there are items missing of the items are in poor condition, you will not be eligible for a full refund.
NEwhere offers a one year warranty on their products which will cover manufacturer defects. This means it will not cover misuse of the product. Both of these policies are fairly standard among vaporizing companies, so these should come as no surprise. Vaporizers are complicated pieces of equipment and warranties generally only cover manufacturing errors. For hygienic purposes, most vaporizer companies, including NEwhere, cannot accept returns on e-liquids or mouthpieces.
Within the United States, all shipping is free via USPS. Shipping via Fed Ex will cost money, but this way your package can be guaranteed and tracked. NEwhere is also offering worldwide shipping, so you can order from all over the world.
NEwhere Starter Kits
NEwhere vapor does not have the big starter kits of other vaporizing companies, but this is simply because they are a company specializing in simplistic devices. Their e-cigarettes and e-hookahs are sold only in disposable forms, so they are packaged only one at a time and come pre-filled with e-liquid. For these items, there are no starter kits.
For their advanced vape pen, there are two starter kits available. The first comes with the battery, tank, mouthpiece, and charging equipment. The second includes all of these items, plus an e-liquid. These starter kits are designed to let the customer begin vaping almost immediately and with no hassle. They do not rely on accessories or gimmicks, but let the products speak for themselves.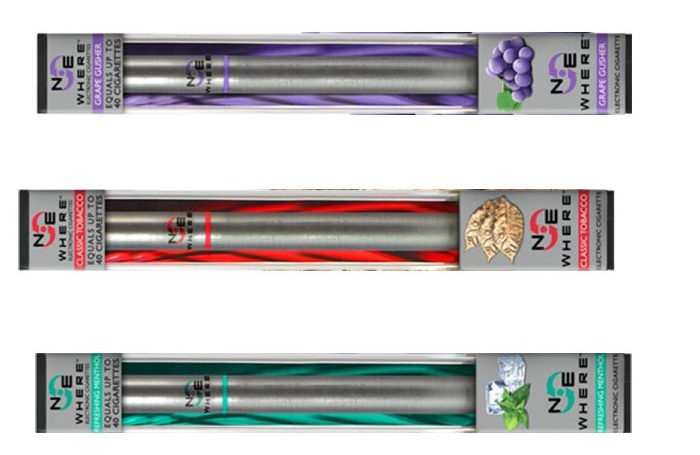 NEwhere Prices
NEwhere products are extremely reasonable priced. On their website, the smot expensive product available is $34.99. This is their most advanced available vaporizer, equipped with a standard 650 mAh battery. Their e-hookah pens and e-cigarettes go for $9.99 each and last about as long as two packs of cigarettes—around 800 puffs.
The e-juices available are a little expensive; however, it should be noted that they are sold in 60mL and 120mL bottles. This is two to four times the amount normally sold at one time and you can purchase them for around $25.
Ease Of Use
NEwhere products are designed to be simple. NEwhere is not currently offering anything in the way of vape mods or box mods, and are only selling pen devices. As such, their products are made to be taken out of the package and used right away. There is little to no set-up required; unless you've purchased their one tank model. In that case, you will need to charge and fill the tank before use. However, in most cases with a single push of a button, you'll be vaping immediately with NEwhere vapor devices.
Overall
In our review of NEwhere, we found that they have chosen to specialize in marketing disposable products and they do it well. Their e-cigarettes and e-hookahs perform phenomenally and we would highly recommend giving their fruit e-hookah pens a try the next time you are looking for a non-nicotine fix.
Read more about the best e-cig brands in USA or the best e-cigs in AU.