Dear Vapors, we are sorry to report that we have received negative feedback from customers regarding this company. We strongly recommend against purchasing this brand. Please consider the other recommended
vaporizers companies
suggested on this site.
---
Gamucci Pros & Cons
Pros
The Starter kit is sold at a good price
The service department is very good
The website is easy to navigate
Cons
Not a lot of selection
Vapour production of the cig-a-like devices
Based in London, United Kingdom, Gamucci was founded in 2007 by Taz and Umer Sheikh. Since their appearance on the e-cigarette market, Gamucci has gained international recognition and are now available in over 55 countries worldwide. As the company has grown, they have two additional international offices in both The United States and Asia. Gamucci is in fact one of the first e-cigarette brands founded in Europe and they also claim to be the first brand to introduce disposable devices to the e-cigarette market.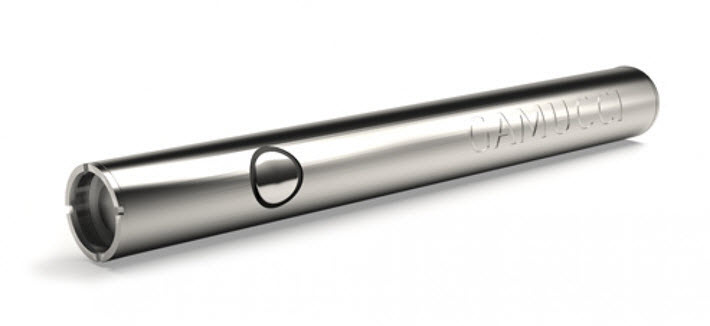 First Impression
After reading about the company's history, the first impression is based on how well the company is established. This is always a good indication as to whether or not the products are quality designed and manufactured. Firstly, it is worth noting that the website is very easy to navigate and get to grips with. It isn't too overly complicated which is sometimes seen in other premium electronic cigarette brands.
Gamucci Vapor Production
The Vitesee vape-pen device features a VaporCoil™. As you can guess from the trademark logo, this is a brand of the vapour coil. The website claims that the advanced technology offers consistent flavour with an effortless draw. On top of this, the VaporCoil™ technology should allow for a satisfying throat hit while releasing thick clouds of vapour right down to the last puff. In reality, this is quite accurate. The VaporCoil™ design and manufacturing is quality and this is reflected in the use of the product.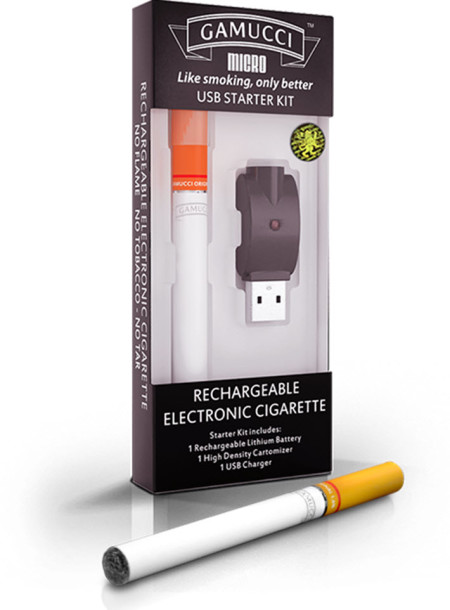 As for the Micro cig-a-like devices, the vapour production is unimpressive, almost slightly below average. It was difficult to draw, especially considering the modest amount of vapour that was produced. All in all, the vapour production isn't anything to shout about.
Gamucci Accessories
The accessories section on the website includes replaceable items such as the Vitesse battery, clearomizer, vapour coil twin pack, Micro rechargeable battery and USB and mains adaptor. Gamucci do not sell additional accessories or products such as cases, Portable Charger Cases, or lanyards for the vape-pen device.
Gamucci Flavors
There are ten flavours of e-liquid to choose from including: Original, gold tobacco, menthol, black cherry, mango, cappuccino, watermelon, lemon and blueberry. All of the flavours are available in 10ml bottles with nicotine strength of 16mg (1.6% per ml).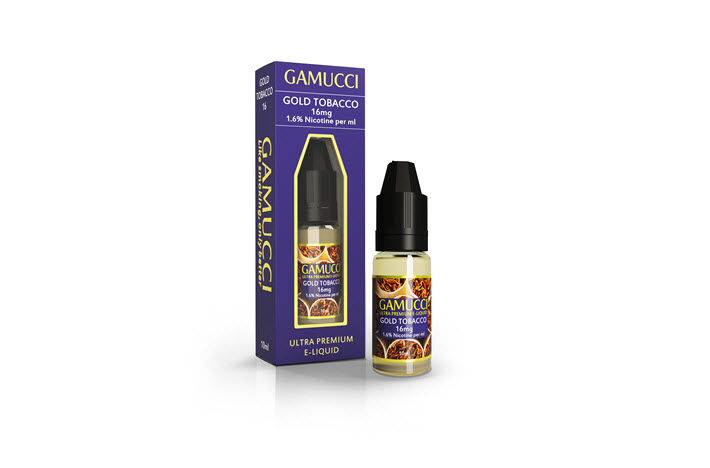 As quality of flavours goes, Gamucci e-liquids are definitely one of the best brands on the market. The gold tobacco is accurate in taste, with a distinctly tobacco-like flavour. The blueberry e-liquid is also worth mentioning as once again, it is true to its name. As well as this, it doesn't leave that uncomfortable, sickly-sweet taste in your mouth. It is definitely one to try if the smoker prefers a sweet, fruity flavour.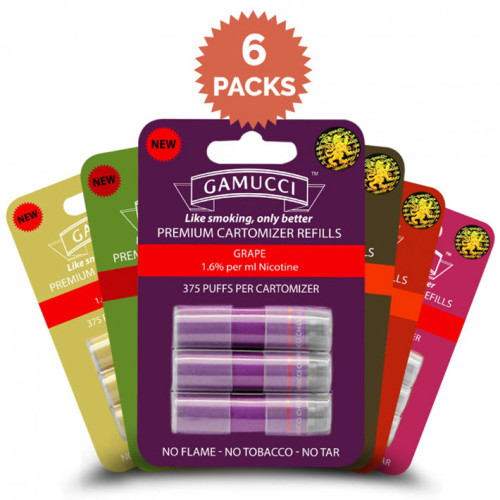 Unfortunately, the Original flavoured e-liquid is a bit of a let down. There isn't much flavour and there is a slight chemically after-taste.
If the customer is unsure of which flavoured e-liquid to choose from, Gamucci also offers bundle packs. The Tobacco Mix Bundle includes four different flavours in 6 e-liquid bottles. Alternatively, customers can purchase the Flavoured Mix Bundle, which includes a variety of six different flavours in six e-liquid bottles.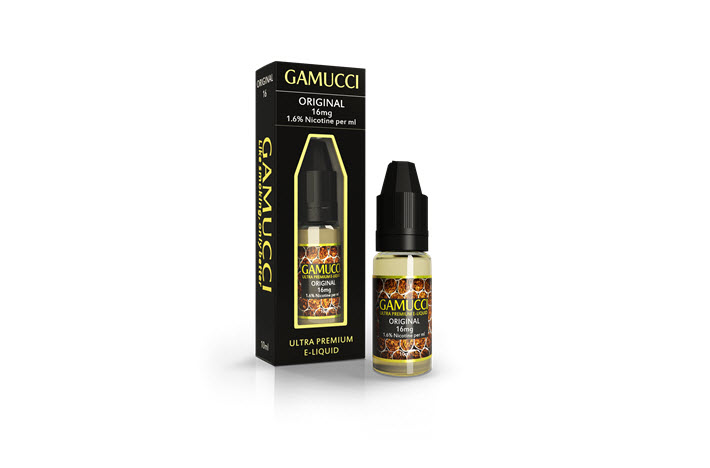 Gamucci Battery Performance & Charging
The battery of the micro e-cigarettes lasts about half a day, or about 375 puffs, on average. With a capacity of 240mAh, this is what is expected from a cig-a-like battery. The good thing about buying starter kits from Gamucci is that the batteries are pre-charged; so customers can start puffing right from the word go.
The battery of the Vitesse is rather standard with a capacity of 400mAh and a coil operation of 1.7-1.9 Ohms.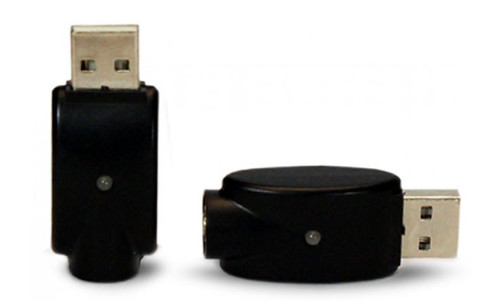 Selection
Unfortunately, Gamucci can't boast a wide selection of products. For instance, there are only three types of starter kits. Although this doesn't appear too much of a problem, compared to other brands on the market the options offered to the customers are limited. Moreover, when selecting a starter kit, customers again don't have option. For instance, with the cig-a-like devices, customers can't select the flavour or strength of the cartomizer. This also goes for the e-liquid bottle that is included in the Vitesse starter kit.
As well as this, Gamucci is a company that claims to be one of the first e-cigarette brands to sell disposable devises. Considering this is one of their main selling points, potential buyers would expect more selection with regards to their Continental 500 devices. Alas, they are only available in two flavours and one option of nicotine strength.
However, Gamucci has a good choice of e-liquid flavours with ten to choose from all available in 16mg nicotine strength.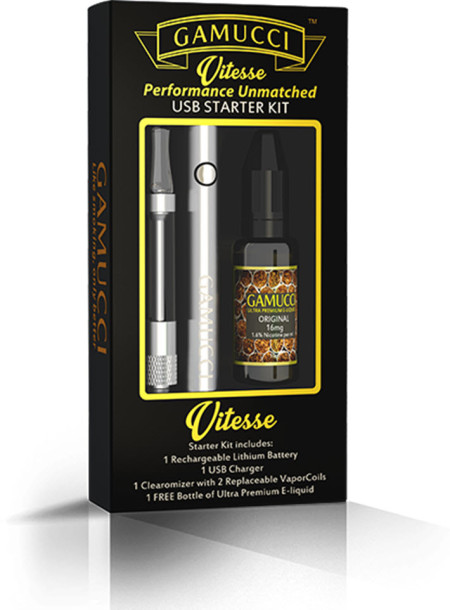 Packaging & Design
The micro USB starter kit really looks like a traditional cigarette with the white battery and yellow cartomizer. Even the tip mimics the ash of a burning cigarette with the grey speckled colouring.
The packaging of the micro deluxe starter kit is particularly note worthy. The box opens with a black 'drawer', which reveals all the items expected in the starter kit. The silver writing is subtle against the off-white/grey background. The design of the box seems very art deco and simplistic. By opting to design the packaging in this classic, old-fashioned style, Gamucci stands out from their competitors.
The Vitesse vape-pen is sleek and graceful after it has been fully assembled. The devise has a brushed aluminium finish with the brand name engraved along the battery. It has a slim and elegant profile measuring 11.5mm and 151mm in total length.
Gamucci Shipping
Orders before 2pm will be shipped the same day with Royal Mail Recorded Next Day delivery. Orders after 2pm will be shipped the following morning. Customers can track their shipment via the Royal Mail Track and Trace website. Free shipping is offered to any UK orders with a value of £40 or over.
Gamucci Warranty
The USB charger and mains power adapter is fully covered by a manufacturers 12-month warranty. The lithium ion battery is covered by a 1-month warranty.
Gamucci also offers a 30-day money back guarantee. Terms and conditions apply.
Customer Service
For general questions and queries, the Gamucci website has a FAQ section. Customers can contact the customer service department via e-mail or by calling their help line. There is also a contact form that can be filled in on their website. Gamucci also has a live chat option that is available during their work hours.
Gamucci has recently introduced the 'Gamucci Hub'. This is the company's blog section where customers and e-smoking enthusiasts alike can keep up to date with the latest news bulletins on anything from Vape related articles to information on latest gadgets released on the market to technology advancements. The Gamucci hub also includes a section on tips and advice for e-smokers. The 'product news' section has articles dedicated to Gamucci products alone.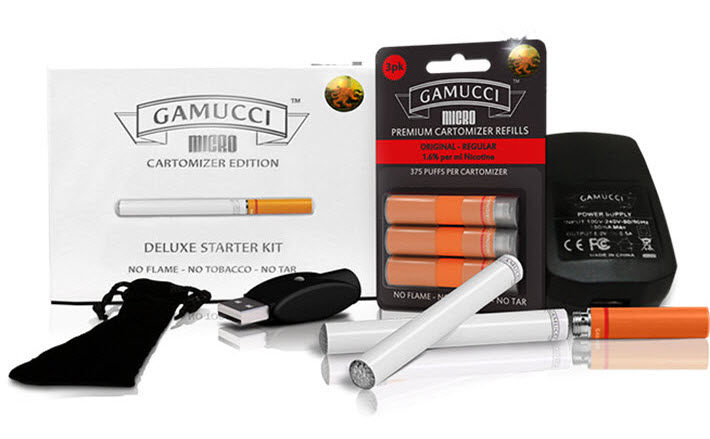 Gamucci Starter Kits
The smallest starter kit is the Gamucci Micro USB starter kit. This is perfect for transitioning from traditional smoking to electronic smoking. The kit includes one lithium battery and a regular strength 1.6%, original tobacco flavour cartomizer, as well as a USB charger. This starter kit is very simple and easy to use, which is always a bonus for the new e-smoker. The downside to this starter kit: there is no option of flavour or strength of the cartomizers.
The micro deluxe starter kit is one of their more popular starter kits. The kit is similar to the Micro USB but larger. It features two rechargeable batteries, four 1.6%, original tobacco flavoured cartomizers, a USB charger and a power adaptor, as well as a bonus carry case. The extra battery means that the user can continue smoking even after the first battery loses power. Similar to the Micro USB starter kit, the Deluxe starter kit doesn't offer the customer a chance to choose a flavour or strength of the cartomizer, which might otherwise be offered by other competing e-cigarette companies.
The Gamucci Vitesse USB starter kit features Gamucci's vape-pen device. The starter kit includes a rechargeable battery, a 16ml bottle of original gamucci Ultra Primium e-liquid, a clearomizer (which features a vapour coil plus a mid ring), a USB charger and a spare vapour coil. The vape-pen device is designed for the e-smoker who wants to advance from a cig-a-like device to a larger vape-pen.
Gamucci Prices
If you notice on the Gamucci website, all of the starter kits have been reduced in price. This was a wise decision made by the company, as the previous prices were a little too expensive for what you got. For instance, the Micro USB kit was previously priced at £19.99 but has since been reduced to £9.99: a more appropriate price tag for what you get.
The micro deluxe starter kit is priced at £39.99. For a cig-a-like starter kit, this is on par, however, there are batter offers out there where smokers might get more for their money.
The Continental 500 disposables are priced at £6.99 per unit, however they do offer a bundle deal where customers can purchase 12 devises for £59.99. It is well worth opting for the bundle deal as customers can save up to £23.89.
A bottle of e-liquid costs £4.99, which is about average for a 10ml bottle of e-liquid. However, customers can purchase in bulk: a six-pack of e-liquid bottles will cost £24.99.
The cartomizers are sold in packs of three, each costing £6.99. Once again, customers have the option of purchasing in bulk, so for £59.99 you can buy 12 packs of cartomizers.
Rewards
Gamucci offers a reward system to their customers. After each order, the customer will receive reward point that will give you discounts for future orders. If you have 200 Gamucci reward points, then you will get £2.00 off. The Gamucci Rewards Points can be redeemed on any order from their website. Points do not expire but unfortunately they cannot be transferred to other people. Customers can redeem their points by adding them at the checkout page under the payment method window.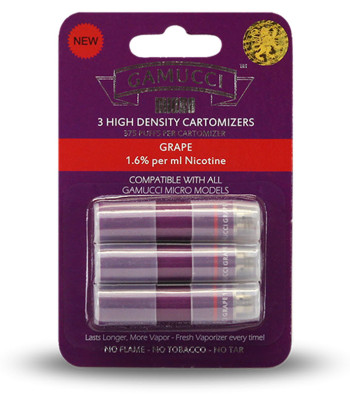 Other Products
The Continental 500 is Gamucci's disposable e-cigarette, which is available in either the original tobacco flavour or menthol, with 1.6% nicotine. The website claims that the disposables are 'hugely successful'. Like all disposables, the Continental 500 is perfect for the traditional smoker who wants to test out e-cigarettes without fully committing to a starter kit. The devise is equivalent to almost two packs of regular tobacco cigarettes and lasts up to about 500 puffs. The Continental 500 is pretty much what you will expect from a disposable. Overall, it is worth purchasing this devise if the customer wants to test out a cig-a-like device.
Benefits
Purchasing the starter kits from Gamucci means that customers truly get their money's worth: the price of the starter kits is very competitive. As well as this, the customer service department is arguably one of the best found on the e-cigarette market. The team is very helpful and there are many ways to contact them if ever there is a question or query.
It is worth mentioning that Gamucci has received a few rewards in its time. The sole UK Patent was awarded for its unique cartomizer technology. Gamucci was also awarded the Best Electronic Cigarette Brand award at the recent Consumer Choice Awards 2014. They also boast being the only electronic cigarette company in the UK to won its own factory.
Overall
Gamucci deliver when it comes to their disposable e-cigarettes. This is a pretty good gadget: well designed and manufactured. This also goes for the Vitesse vape-pen. The vapour production is good and the battery is what is expected. Unfortunately, the micro cig-a-like device is a let down. With an unimpressive vapour production and an average battery, there is definitely a better design out there. With Gamucci, it is a hit or miss and is advisable to do a little research before fully committing to anything.
---
Find out more about
the best e-ciga brands in Europe
or
the best e-cigs in South Africa
.