Dear Vapors,
E-Cig Brands
are sorry to report that we have received negative feedback from customers regarding this company. We strongly recommend against purchasing this brand. Please consider the
other recommended vaping companies
suggested on this site.
---
Founded in New York City, 2011 Clearette emerged as one of the top electronic cigarette producers in the United States. Since their original founding, their inventory has continuously expanded, with
e-liquids
,
vaporizer devices
and a selection of
accessories
and replacement items, all on sale on the e-cigarette market. Clearette is a pretty new
e-cig brand
. It can be argued that Clearette has now solidified itself as one of the leading vapor brands in the world.
First Impression
This first thing to take into account when discussing Clearette is their extensive collection of disposable devises. Moreover, their prices are very competitive, putting them at the top for quality products at an affordable price. The web site is very easy to navigate and customers are bound to find what they are looking for.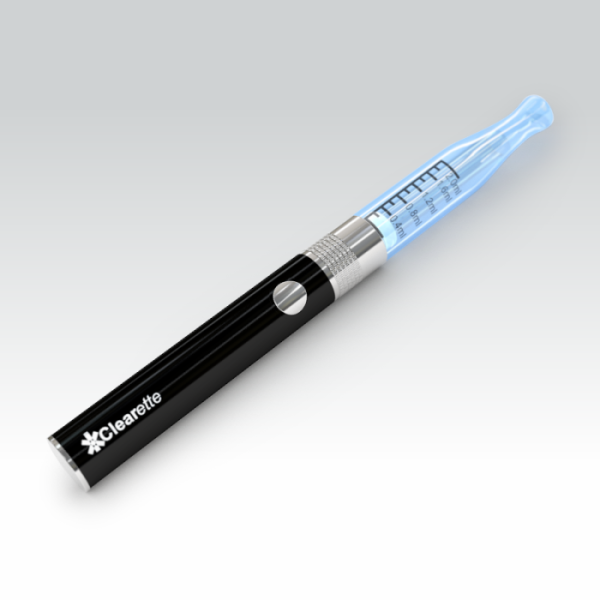 Clearette Vapor Production
Clearette tops all other brands when it comes to their vapor production. They manufacture their products in order to produce a robust, thick, and satisfying vapor. Whether you have recently given up smoking tobacco cigarettes or want to try another brand of e-cigarette, Clearette is bound to top any other vapor experience that you may have tried in the past.
When talking in general, disposable e-cigarettes haven't gained the best reputation for vapor production, yet this doesn't apply to Clearette's disposable e-cigs. They are arguably the best on the market. The e-hookah devise is particularly note-worthy as, considering it too is a disposable, the large battery and cartridge that makes up the devise produces enough vapor that most smokers are surprisingly content with the vapor and the throat hit experienced.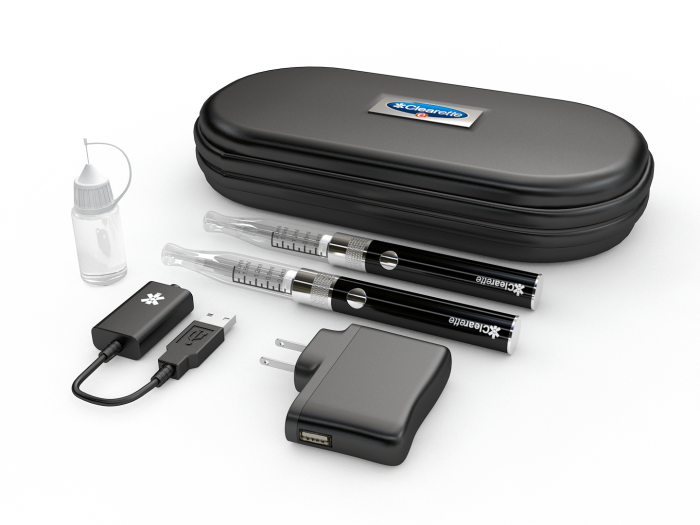 Accessories
Most accessories such as cases and mixing bottles arrive with the starter kits and cannot be purchased separately. However, Clearette has a selection of replacement parts for their vaporizers. If the customer is in need of replacement coil heads, they can purchase them in packs of 5, which are suitable for the Pro Tank range. Moreover, they can purchase a range of tanks that are also compatible with the Pro Tank devises. The Predator X tank is perfect for e-juices with higher levels of VG. The Kraken X has a 510 thread and is manufactured to produce substantial vapor from sticky waxes and thick oils. This is similar to the X3. Then there is the Megalodon tank. This tank has four different settings for airflow, which can be altered using the twist dial located at the base if the tank. Unfortunately, the collection of accessories is limited with Clearette.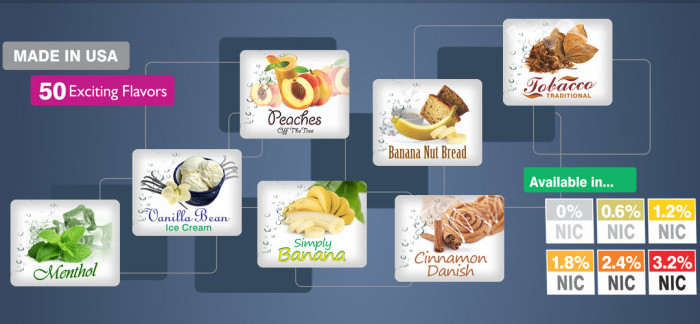 Clearette Flavors
All of the flavors that Clearette provides for their customers are handcrafted and bottled in the United States of America. Clearette makes all of the flavors in a number of different nicotine strengths varying from zero nicotine, 0.6%, 1.2%, 1.8% and the strongest being 2.4%. The flavors of the e-liquid can be quite extravagant, with blends such as French Toast, Black Cherry Slushy, Peppermint Patty and even Banana Nut Bread, customers are sure to be a little adventurous when purchasing e-liquids. The e-liquids are categorized by flavors: traditional, fruit, dessert and beverage.
As well as the standard e-liquids, Clearette has manufactured and produced an alternative line of e-juices named Modster Juice. This line was especially produced in order to deliver rich flavored vapor and the most robust clouds of smoke. The 30ml bottles come in seven different flavors: The Devil's Juice, Mummy's Tomb, Lion's Heart, Medusa, Tobacco Bliss, Menthol Madness and The Loch Ness Modster.
The Loch Ness Modster is particularly worth mentioning as it has been created to produce a sweet-sour flavor with an impressive thick vapor. This is a very rare and original blend and taste that is comprised of two delicious flavors: citrusy lemon-lime and a delicious candy apple. All of the Modster bottles are made with 80% VG and 20% USP-grade PG. With this perfect combination, there is no doubt the customer will be satisfied with the vapor production.
Battery Performance and Charging
The battery on the Pro Tank can really hold out: for an average smoker, expect to continue smoking all day and then some. It doesn't just deliver long lasting smoke time; the vapor isn't about to diminish later in the day, either. With the 2ml tank, the battery well out-lasts the e-liquid, which means the user would have to refill, an aspect of e-smoking that is a little inconvenient at times, but the tank is large enough that it wouldn't be too much of an issue.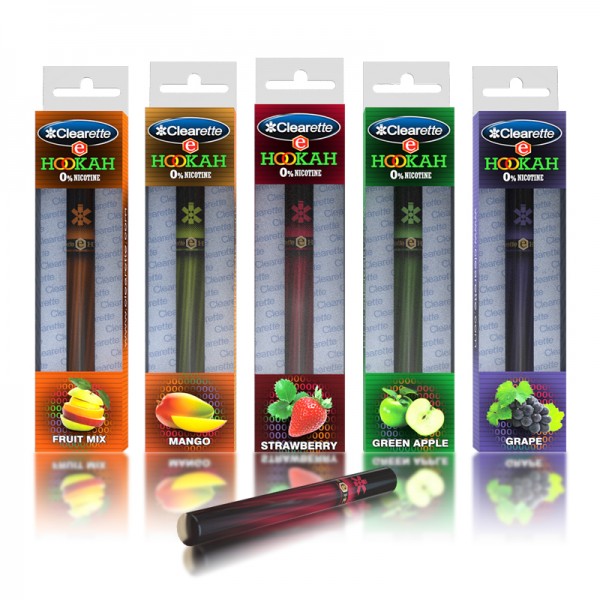 Selection
One of Clearette's main selling points is their impressive production of disposable e-hookahs. Clearette obviously saw there was a gap in the market and swooped right in there with an array of e-hookahs in an assortment of different flavors to satisfy any palette. Moreover, they have a fantastic choice of e-liquids as well as an elite range entitled Modster, which offers a heavier mist of vapor and a stronger throat hit.
While Clearette might boast a selection of e-liquids and disposable devices, they fall short with the choice of vape-pen models. With only a handful of vaporizers on the Clearette shelves, the selection is few and far between. This also goes for the choice of accessories. There is not a specific accessories section on the web site, however they do offer a handful of replacement items for the vaporizers which are well manufactured at the highest standard. Unfortunately, they don't offer extra cases or lanyards.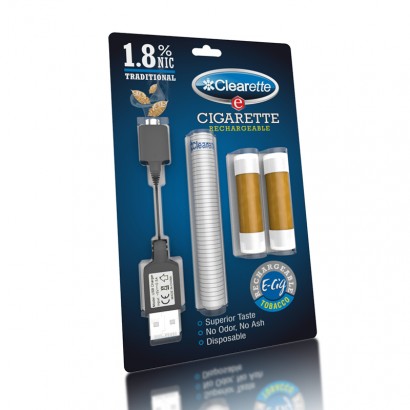 Packaging & Design
The H2 vape-pen is one of the more eye-catching vaporizers Clearette produces. The aqua blue tank contrasting with the basic black battery is quite unlike Clearette's other vape-pens. It's very lightweight and comfortable to carry, which is always an added bonus when focusing on the feel and aesthetics of the device.
The body of the twist vapor is made of stainless steel and is particularly slender for a vape-pen. The fan-like transparent mouthpiece compliments the elegant, elongated design. In contrast to this is The Pro Tank Mini, which is a little less elegant with a heavier more bulky battery. Although the aesthetics might be compromised, the product is durable and well manufactured.
The disposable cig-a-likes Clearette is most famed for replicates a normal tobacco cigarette with the orange cartridge that has the added feature of the beige freckled dots that are so common on the filter of a regular tobacco cigarette. They even have the natural horizontal lines that are formed on a classic cigarette. Incorporated into the design is the red-glow tip that lights up with each drag.
Alternatively to the e-cigarettes are the disposable E-Hookahs, which are not as big, bulky and unattractive when they are compared to other E-Hookahs on the market. Instead of mimicking the tobacco cigarettes, the E-Hookahs come in a variety of different colors. The color of the actual devise reflects upon the flavor the user chooses. For instance, the body of the green apple e-hookah is fashioned in a green-black design running down the devise in a spiral motion. The design of the e-hookah is very fun and quite out of the ordinary for the e-hookah market.
Clearette Shipping
Clearette will ship all of the products that you purchase online right to your doorstep. They guarantees that all of the orders placed are free of cost, no matter how many items have been purchased. Delivery time within the USA is usually between three and five business days. For international shipment, the delivery time is a little longer. International customers are expected to pay a small shipping fee. Each order is packaged and sent in a discreet box. Another great benefit that Clearette provides is that customers are able to pay with their PayPal account.

Warranty
Clearette provides their customers with two different types of warranties. The first is that of the Satisfaction Guarantee: if the customer is not satisfied with their purchase, Clearette will provide them with a full refund. The second type of warranty that Clearette provides only applies to certain products that have been purchased through their website. If any of the items sold are damaged, lost, or stolen, Clearette will replace them (this warranty is void if the device has been tampered with).
Customer Service
The customers of Clearette have found themselves to be very pleased with the quality of service provided. Clearette is happy to listen to all of their customer's complaints, advice and feedback. They are constantly striving for ways to improve their service.
Customers can get in touch via dropping a line on their website or calling them on their customer service number. However, the most efficient and easiest way to contact them is by asking them a question on their online chat service located at the bottom of their web page. Their office is open Monday to Friday from 9am to 6pm EST. There is also a FAQ section if there is a general question or query that needs to be answered.
Clearette ensures that, if ever there is a question or query sent to them, they reply within hours with a full, detailed response.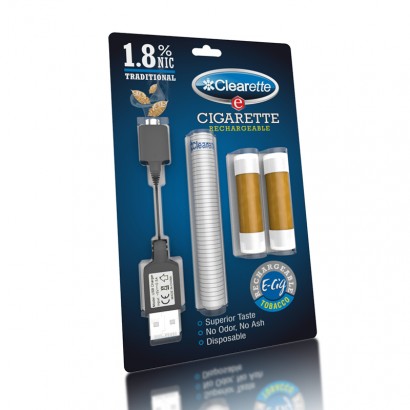 Clearette Starter Kits
All of the kits include one rechargeable battery, one express charger, and two flavored cartridges. The flavor and strength of the cartridges vary depending on the kit chosen.
The Rechargeable E-Cigarette starter kit is the smallest and easiest to use with a battery and two flavored cartridges. Although this starter kit is small, it is ideal for giving up tobacco smoking and converting to the healthier e-smoking.
With the release of the Pro Tank range, Clearette really set the standard on vape-pen starter kits. Customers can purchase three different types of Pro Tank starter kits, the smallest being the Pro Tank Mini kit. This includes two pens that are made up of the 650mAh batteries and two 1.5ml tanks. Customers can expect to find a carry case and a mixing bottle. The Pro Tank 3 is very similar to the mini but with a larger 2.5ml capacity tank, while the Pro Tank 3.5 starter kit comes with two 3.5ml tanks.
The Evod Pro Tank Mini Kit includes two Evod manual batteries, one eGo zipper case, one Pro Tank box set, one wall adapter, one USB charger, and two bottles of e-liquids.
Prices
Clearette boasts the best prices on the market without compromising the quality of the manufacturing. For instance, the traditional and menthol starter kit will set the customer back a measly $14.99. This cig-a-like e-cig kit is one of the cheapest on the premium market.
As for the e-hookah devises, normally they are at the higher end of the price range as they are bigger devises, however Clearette sells their disposable e-hookahs for only $7.99.
Clearette manufactures and produces their own e-liquids and so can sell each bottle at a lower, more affordable price. The standard 10ml bottle costs $5.99 while the Modster e-juice range is a little more expensive at $17.99 per 30ml bottle.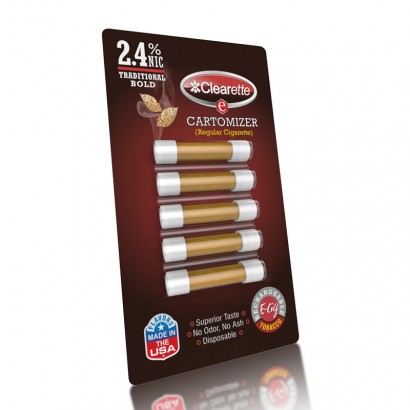 Other Products
The award winning line of E-Hookahs are completely disposable and will provide the customer with nothing but a sweet, robust, thick mist. The voluptuous vapor clouds that Clearette's electric E-Hookahs produce might come as a surprise, especially when the design of the electric E-Hookahs is somewhat ultra-sleek, and slender. The black design of the electric Hookahs is classic, and inviting. All of the electronic Hookahs contain a high-capacity battery, a bottle of premium e-liquid, and an advanced microchip with airflow technology that has the ability to ensure a top quality hookah experience right up until the last drag. The customer can also choose between a selection of shisha-inspired fruity flavors; all of the flavors are available in multiple strengths of nicotine.
Taking into account the customers who may choose to avoid the dangers of nicotine all together, Clearette has released a range of zero nicotine disposable e-cigarette and e-hookah. The zero nic e-hookah releases 900 puffs of clean vapor and can be purchased in five different flavors including fruit mix, green apple, grape zero, strawberry and mango. As for the e-cigarette, Clearette only sells the zero nicotine version in vanilla, but it produces a satisfying 500 puffs per devise. The zero nic range also includes flavored e-liquids that release the same amount of vapor and flavor as any other nicotine e-liquid.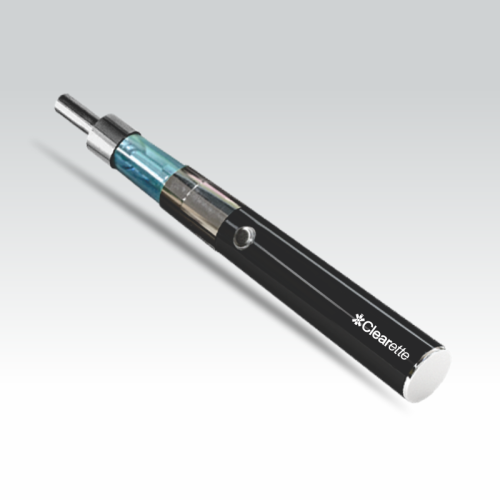 Not all of the vape-pens can be purchased in a starter kit, Clearette has a few of them that are sold in singles. The first of them is the Clearette MT3. This is their most popular vaporizer for smokers who want to upgrade to the larger vape-pen models. The MT3 is very durable and easy to use so there is a lot less effort assembling and refilling the devise. The 650mAh battery includes a 5-click security function and the tank can hold an impressive 2.5ml of e-liquid.
As well as this, Clearette sells the EVOD H2. Once again, this is perfect for vape-pen beginners. The transparent tank features measurement lines to keep track of the amount of e-liquid remaining. Similarly to the MT3, the H2 battery has a 650mAh capacity with a 5-click security function.
The Twist vapor pen is designed for the DIY smoker of the world. The 650mAh twist battery features a 3-setting twist dial that alters the airflow and density of the vapor. The 2ml capacity tank is made of stainless steal and Pyrex glass for durability. This product is one of high quality, Clearette doesn't cut corners with The Twist.
Clearette has some fantastic bundles that are perfect for the e-smoker lover. They can be themed, such as the H2 holiday bundle that includes a 5-pack of atomizers and a selection of 12 120ml bottles of Christmas themed e-liquids. Flavors include, Eggnog, Candy Cane and Pumpkin Spice, amongst others. Moreover, customers can expect to find two vapor pens, two batteries and two tanks. This is perfect as a Christmas gift for a friend or loved one.
As well as this, the E-hookahs and E-cigarettes can also be purchased in bundle packs. With the E-hookah, Clearette has created bundles depending on the flavors, such as the Fruit bundle, Dessert bundle and the beverage bundle. If a customer is still unsure about what is their preferred flavor, they can always purchase the mixed bundle, which has a few of Clarette's best and most popular flavors.
If that still doesn't entice you, there is always the Platinum and Diamond bundle. Both are very similar, however The Diamond bundle has more items, which lets the customer try more of Clearette's products at a cheaper price. The Diamond bundle contains 48 e-cigarettes, 50 e-hookahs, 36 bottles of e-liquids, 2 Pro Tank Mini kits, 2 Packs of vaporizer coils, 3 packs of Bullets and 12 e-cigars. Customers can also select their desired nicotine strength.
Benefits
The most beneficial part of buying Clearette products is the price. When compared with their competitors, Clearette sells their devises and e-liquids at affordable prices that all of their customers can enjoy. On top of this, their free shipping is an added bonus for buying from Clearette. There are not many e-cigarette companies that offer free shipping and by doing this, they really persuade new customers to buy from them. Their selection of e-liquids is impressive: all of the e-juices are homemade and manufactured within The USA and cater to all types of taste buds. By far, Clearette is one of the best e-cigarette companies on the market.
Overall
With all the impressive awards Clearette has won over the years, it is obvious that this company is the best on the market. They have everything that an e-smoker might want at very reasonable prices. The production and manufacturing is top quality and they definitely do not cut corners in order to save on production costs. Moreover, they put their customers first, ensuring that they will be satisfied with the devises and e-liquids they purchase.
---
Find out more about
the best e-cigarette brands in Europe
,
the best e-cigarettes in Canada
or
the best e-cigarettes in South Africa
.