What Is Non-Nicotine E-Liquid?
Vape juice is a liquid based primarily off of vegetable glycerin and propylene glycol that can be flavored with tobacco or menthol. That way, it tastes as if you're smoking tobacco while really you're only ingesting the flavoring. However, many vape companies include nicotine in their e-liquids because they know that the vast majority of vapers are addicted when they make the switch from smoking to vaping. Most vapers take their time and reduce their nicotine intake gradually. However, there are plenty of non-nicotine e-cig liquids, and, in fact, most companies offer the majority if not all of their e-liquids nicotine free. We'll discuss here how to find the best non-nicotine vape liquid.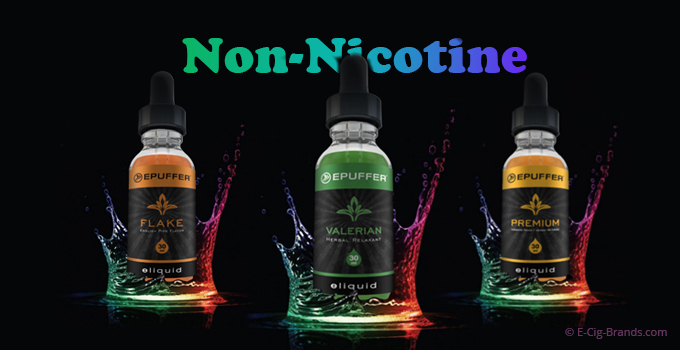 ePuffer:
ePuffer offers their e-liquids with nicotine concentrations of 0mg/ml, 3mg/ml, 6mg/ml, and 12mg/ml although it does depend on the e-liquid. All of them come nicotine-free, but not all of them come in all four variations. You have to click on each e-liquid individually to find out how it's offered. ePuffer also has a new nicotine rating system called True Nicotine Content through which they rate the level of nicotine per unit
Best Non-Nicotine E-Liquid:
Valerian Herbal Relaxant by ePuffer uses natural extracts from the valerian root, which has been used since classical antiquity as a sleep aid. It helps to ease anxiety and stress, but does not have any THC or cannabis in it and will not make you high. This e-liquid only comes nicotine free, so you don't have to worry at all about selecting the right version. We think this is the best non-nicotine e-liquid from ePuffer not only because it is so unique but because many people start or continue smoking because it helps them to relax, and so this helps them to ease their anxiety naturally allowing them to be more productive during the day.
VaporFi:
You can limit your e-liquid search on the VaporFi website by flavor, but all of them are good. Depending on your PG/VG blend, you can get different concentrations. You can purchase e-liquid with up to 36mg/ml if you choose 70/30 blend. We suggest trying out the "Flavor of the Month" for unique, new blends.
Best Non-Nicotine E-Liquid:
They say that if you want something done right, do it yourself. Well, we couldn't agree more. Though there are loads of great flavors to choose from here, VaporFi also gives you the opportunity to blend your own e-juice. Choose your PG/VG blend and nicotine concentration and then add up to three different flavors to brew up a bottle of your own vape juice. You can choose 0mg all the way up to 18mg.
South Beach Smoke:
South Beach Smoke has a number of popular flavors. Like with VaporFi, you can choose your nicotine concentration based on your blend, but then you can also add extra flavor shots to make your e-liquid extra strong.
Best Non-Nicotine E-Liquid:
There are so many good e-liquids from South Beach Smoke, but we're going to suggest Cherry Crush because it's one of their top-selling brands. It's saturated with fruity flavor, and will be the perfect cherry on top of your day.
Vaper Empire:
Vaper Empire has a classic and artisan collection, and their artisan collection represents the height of elegance and sophistication. You can choose between 0mg and 24mg for Vaper Empire products, and because they are produced in the U.K., all e-liquids come in 10ml bottles.
Best Non-Nicotine E-Liquid:
Our favorite e-liquid from Vaper Empire has to be Spring in Siberia. Its name alone is enough to entice you, but you won't be able to resist the fresh minty blast you'll taste from this e-liquid.
Overall
So, there you have it folks. We've tested hundreds upon hundreds of bottles of e-liquid here in our E-Cig Brands office, and these are definitely the best non-nicotine e-juices on the market. There are, of course, many more from which to choose, but we thought we'd show you some of our favorites so you at least have somewhere to start.