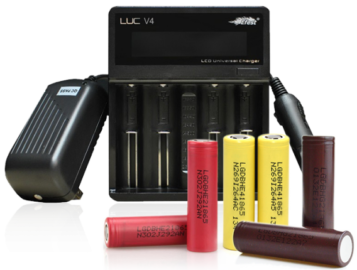 If you give a vaper an e-cig, he's probably going to ask you for a battery. If you give him the battery, you can bet he's going to ask you for a charger. A charger, you say? How do I find a battery charger? I'm glad you asked! Finding a good battery charger is sometimes just as important as finding a good battery because while the battery serves as the engine behind a master work of machinery, if it's dead, it's not going to serve you very well anyway.
When selecting the best battery charger, you're going to want to keep in mind what you're going to do with it. How many batteries are you going to be charging at one time? How quickly do you need to be able to charge your batteries? Would you like your battery charger to be sleek and portable?
The type of charger you buy will depend on your level of experience and the number of devices you own. E-Cig Brands has everything you need to know about in order to find the best battery charger for your vaporizer. Read on to discover relevant safety points, important information, and our reviews.

How to Charge Batteries Safely:
We've spoken quite a bit on our site about batteries and why you shouldn't ever skimp on a good-quality battery because it will completely alter your vaping experience. Well much the same is true for battery chargers because if you're dealing with high-discharge batteries, you're not going to want to play around with them. You could really get hurt if you settle for a cheap piece of machinery.
What Type of Battery Are You Using?
Now not all batteries are compatible with every device. While 18650 batteries seem to be fairly standard, they are not, by any means the sole battery in the vaping world. If you are charging 18650 batteries, you want a charger that can get you right to 4.2V without overcharging and therefore harming your batteries in the long-term.
On the other hand though, if you are charging a different kind of battery, make sure to look for a charger that can accommodate that kind of battery. There are battery chargers that can charge multiple different types of batteries at the same time, but in any case, do note that this is not always the case. If you have a 26650 battery or a 18350 battery, you need to be more selective. Not any device will do. Sub-ohm vaping becomes even more particular.
What Criteria Should You Consider When Trying to Find the Best Battery Charger?
You want to charge your batteries as quick as possible, and so the faster a charger can do just that, the faster you can start vaping again. A good battery should be able to manage two batteries at 1.0 amps or four batteries simultaneously at half that power. Faster is always better, but that should serve as the very minimum.
Battery chargers today like batteries and vaporizers are very modern. They come with sleek LCD screens and multiple ports. On some of the more modern displays, you'll be able to monitor everything from amperage to charging current to voltage all on one convenient little screen.
Other vapers might value convenience and portability, and indeed a large number of chargers are sweet little designs that hold your batteries neatly inside a jeans or shirt pocket. With these chargers, you won't have to worry about dragging around a big clunky black box of batteries. On the contrary. Many of them resemble packs of cigarettes. You may not even notice that they are battery cases because they blend in so well.
What do you care about most? Well we've organized our search by criteria. When you read our tips, you'll be able to identify the best battery charger in each separate category. Sit back and relax. E-Cig Brands has got you fully covered. You are just a few clicks away from finding your own best battery charger, so read on.
Number of Ports
Multiple Battery Types
Value for Money
Portability and Convenience
Design
High-Efficiency Charging
Where to Find Them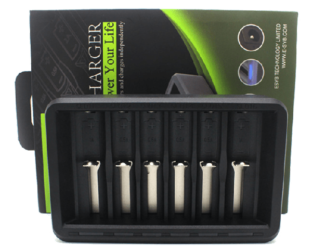 The Best Battery Charger for Multiple Uses:
The Best Battery Charger for Value for Your Money:
Most Aesthetically Appealing Battery Charger:
The Best Battery Charger for High-Efficiency Charging:
The Best Battery Charger for Charging Power
Conclusion:
Chargers come in a whole host of shapes and sizes, and before shopping for one, you need to make sure to narrow down your focus. Your specific needs more than anything else are going to determine which charger is perfect for you. We've tried to list the best battery chargers in each category here, and so regardless of where you are in your vaping journey, you should have at least somewhere to start. Whether you need a four-port charger with LCD screen, a high-efficiency single battery charger, or a simple carrying case for e-cig batteries that doubles as a charger, you should be satisfied with one of these devices.
And so, if you give a vaper an e-cig, make sure you're ready to give him a battery charger because, well, you all know how the story goes already. Go out and get your battery chargers today.