Vaper Empire Pros & Cons
Pros
Large Selection of Vaporizers & Accessories
Affordable Prices
Great Customer Service
Variety of E-Juices
Our Exclusive 15% Discount, Use Coupon Code: e-cig-brands
Start Vaping with Vaper Empire
First Impression
Vaper Empire was formed in 2012 with the aim of giving customers a lifestyle brand that offers not only the most interesting and extravagant e-liquid flavors on the market but also high-quality, reliable hardware. These guys have produced something truly special with their brand, and the website looks great with its premium look and feel. This is where Vaper Empire truly stands out; it is the Armani of e-cigarettes, and the products live up to that standard.
While Vaper Empire is an Australian brand, it is actually based in the United Kingdom and produces all of its artisan flavors at its manufacturing center in England. The brand prides itself on providing a wide range of choice of hardware, from the standard ciga-like products to the tank options, the most popular being the Vantage model. Not only does the Vantage have a great look, it also performs beautifully with a fabulous smooth vape that oozes quality. The starter kit comes with two batteries and two clearomizers, making it a great value too.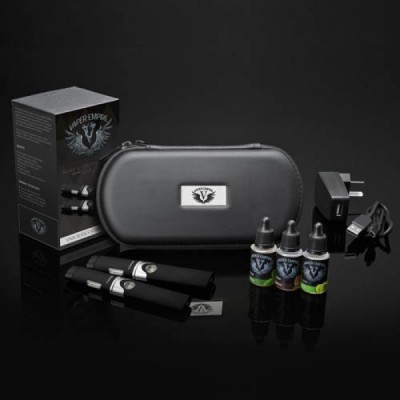 Vaper Empire Vapor Production
A+. Vaper Empire has specifically designed its e-liquids so that they optimize the vapor production in their hardware. As a master mixer, Vaper Empire has managed to create flavors with the correct PG/VG that complement its e-cigarettes and produce beautiful plumes of vapour every time. The company also provides different battery sizes and voltages that can further enhance vapor production for those looking for bigger clouds.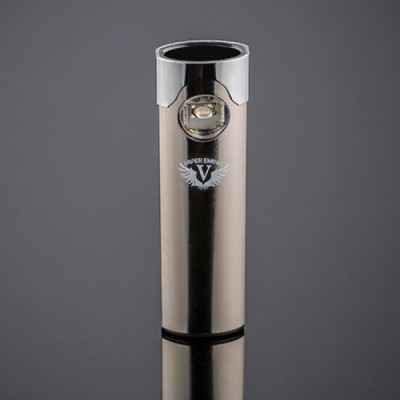 Vaper Empire Vaping Accessories
Vaper Empire stocks all the accessories that you need to make vaping as enjoyable as possible. It offers a series of different battery colors and designs and various size batteries to suit every vapers' needs. It also sells a great accessory carry hard case that allows you to keep a few bottles of your favourite e-liquid together with a couple of batteries so that you're never stranded without your vape. The case is really durable, so it really helps to protect the contents. Vaper Empire also stocks all the chargers you need and any miscellaneous replacement parts.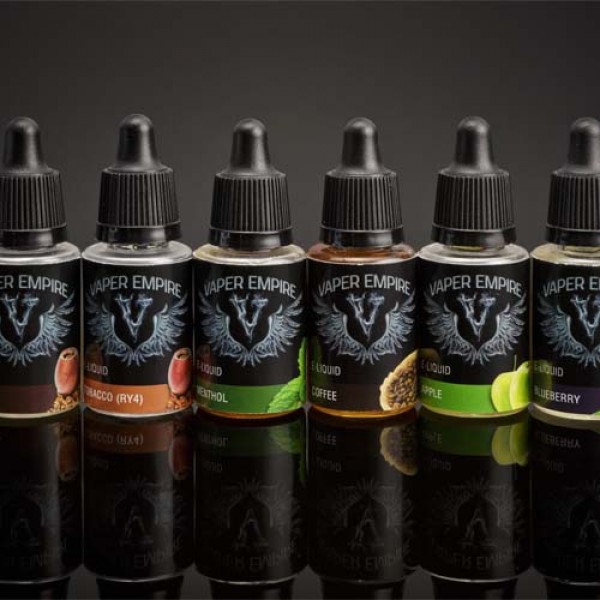 Vaper Empire E-Liquid
Here's where it gets very interesting, because this is where Vaper Empire stands out from the rest. These guys are master mixers and their flavor combinations and e-liquid names are the most interesting on the market. Take for example the Death Valley Nectar, which is a combination of bilberry, kiwi and pear with cactus oil, or the Amazonian, which is exotic mango and passion fruit with a twist of citrus. These flavors have been intricately mixed to produce e-liquids that are truly groundbreaking. Vaper Empire also does some really amazing tobacco flavors and simpler flavors too, so it really offers something for every palate.
Start Vaping with Vaper Empire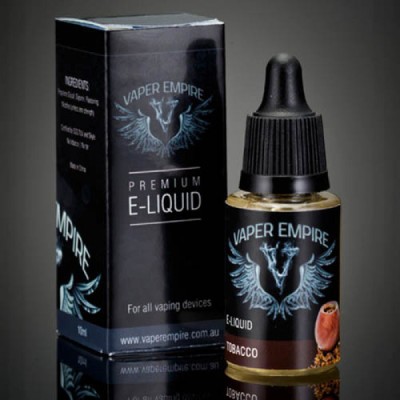 Packaging & Design
Vaper Empire's branding is meticulous and it looks beautiful. It is understated, but the quality of the finish lets you know that it is premium. It's this high-fashion look and feel that makes Vaper Empire stand out. Unlike the clinical designs of its competitors, Vaper Empire is doing something different, and it's all about style!!
Vaper Empire Shipping & Warranty
Vaper Empire offers a 90-day, no quibble warranty on all products. But more impressive is its low cost shipping. Vaper Empire is one of the few Australian brands that is able to deliver nicotine to Australian customers. It can do so because it is shipping internationally from the UK. And shipping times are fast and offer good value:
DHL Premium Express 3-5 days: AUD $35.00 [USA $25]
Standard Flat Rate 6-12 Days: AUD $15.00 [USA $11]
Vaper Empire Starter Kits
The Vaper Empire team sells a standard starter kit for all three of its models. The Vantage and the Viva standard kits come with two batteries, two clearomizers, a wall adapter, and a USB charger.
The V-Pack option (our Cig-a-like version) comes in a choice of tobacco, menthol, or coffee, and it also contains five ready-to-try cartomizers. It also contains a wall adapter and a USB.
However, Vaper Empire's most popular choices are the Deluxe starter kits, which are a great value. The Vantage and Viva Deluxe Starter Kits come with two batteries and two clearomizers, 3 x 10ml bottles of e-liquid (of your choice), a carry case, a wall adapter, and a USB charger.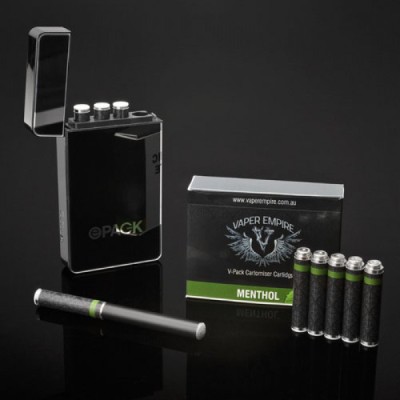 Vaper Empire Prices
Considering the quality of Vaper Empire's products, their low prices are not what you'd expect.
Standard Starter Kit:
Vantage: AUD $85
Viva: AUD $109
V-Pack: AUD $109
Deluxe Starter Kits:
Vantage: AUD $110
Viva: AUD $130
E-liquid:
Artisan collection: AUD $15
Boutique range: AUD $15
Classic range: AUD $12
V-Pack Cartomizers: AUD $15
There are many e-liquid value packs with big discounts
Ease of Use
Vaper Empire has made every effort to make its products simple to use. The products are super easy to refill and charge. They're literally ready to go the moment you take them out of the box.
Overall
Vaper Empire is one of the most exciting brands to emerge onto the vaping market. With its innovative style, exciting e-liquid flavors and durable hardware, it has really made a statement. The finishing and presentation is really special, and the website looks outstanding. Vaper Empire is for sure one of our recommended choices!