ePuffer Pros & Cons
Pros
Large Selection of Quality E-Juices
Great Prices!
Long Lasting Batteries
Generous Warranty
Excellent Customer Service
Stylish & Fun Vape Mods and E-Cigs
Huge Discounts in the "Clearance" Section
The ePuffer site (also known as E-Puffer) provides a wide variety of options that can appeal to both the beginner and the more experienced vaper. Not only does it offer e-liquids, but it also offers a wide variety of options when it comes to devices. Let's explore a few of the pluses and the minuses of this site for the consumer.

ePuffer E-Liquid Flavors
ePuffer's e-juice is produced in the USA (California) and is considered a very quality one. Nicotine levels vary based on your preferences.
The e-liquids offered by the company provide a variety of options. Some of these include flavors geared towards cigar smokers, including a Havana cigar flavor. All of ePuffer'se-liquids are made to refill the cartridges within their devices. Thus, it is billed to save the consumer money versus purchasing new cartridges over and over again. However, the refilling needs to be done carefully to limit the amount of nicotine that is dripped onto the skin during the process.
ePuffer recommends that a cartridge only be refilled a few times to preserve the overall flavor and experience of the e-liquid. This brand of e-liquid is compatible with a variety of devices, so even if you choose not to use an ePuffer device, you can still enjoy the company's flavor options. Take advantage of the choices and various starter kits to find the flavor that is your personal favorite.
ePuffer's e-liquid arrives in 30ml bottles with great price for its quality.
You may also find great e-liquid deals in the clearance section. For example: 30ml bottles for 7.95$!
Cosmos – Dry Herb Vaporizer
The Cosmos is the best dry herb vaporizer in the vaping industry. It is great for dry-herbs, loose leaf tobacco, and medical cannabis (marijuana / weed). This is the first portable herbal vaporizer that uses Smart OLED digital heat control panel technology. You can control the power and temperature, which upgrades the vaping experience dramatically. There is also a special option of auto-save for the temperature after you set it as you want. The temperature range is 185°C (385°F )-230°C(430°F). The battery capacity is a great 2000mAh!
The Cosmos dry herb vaporizer is made of carbon fiber material that makes it really light weight. This also helps to prevent overheating issues that other herbal vaporizers suffer from.
The quality of the Cosmos herbal vaporizer is very impressive, and we highly recommend you buy one and try it out for yourself!
Try the Best Dry Herb Vaporizer Now!

Vapors Selection & Production
The site offers a wide variety of devices, including cigarettes, cigars and even pipes. In addition, the site provides starter kits and spare parts for all of ePuffer's devices. For those who prefer a more disposable option, the ePuffer site gives you a disposable cigarette option to use.
The devices also come in a wide variety of colors and designs. The pipes, for example, are available in both a more traditional brown and a classic white. The vaping pens have a snap together option, so they do not require the traditional screwing and unscrewing to pack up for the carrying case.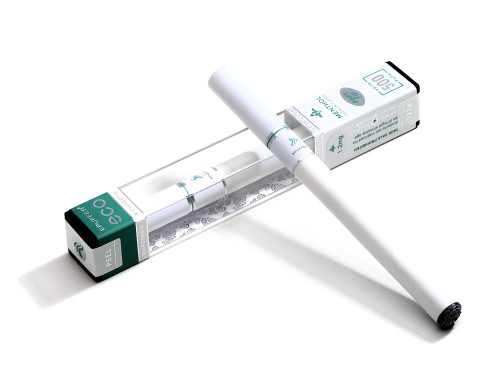 Battery & Charging
The site does not offer a large selection of replacement batteries, but it does provide charging options using the USB port for all devices. Therefore, you can purchase the connector to charge the device in the wall or in the car. There is also a magnetic e-cigarette option that charges within the pack or case, so it is always ready for vaping when the user needs it.
These devices can last for quite a long period of time, so most moderate users will be able to charge their device overnight and make it through the day's vaping. There are also other accessories available, including carrying options for the e-cig. Thus, this site gives its users great variety, which is helpful for beginners.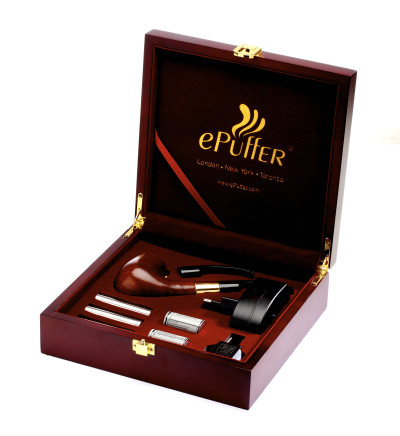 ePuffer Starter Kits
Each of the device options offers at least one starter kit option, but, more realistically, the device will actually have several starter or flavor kits available. The kits for the pipes are based on flavor options. Other devices have a starter kit based on the amount of e-liquid or other accessories. The kits are user friendly, making them a great option for a beginning vaper. Replacement cartridges also come in larger packs, making it budget-friendly to buy empty cartridges and do the refills yourself.
E-cigar starter kits allow you to customize the device, either in black or the more traditional brown. The device also gives you the option of choosing the most famous cigar flavor–Cuban. For those who want to have a more traditional cigar experience, these starter kits provide various flavors and other choices to make that happen.
As mentioned previously, ePuffer's e-cigarettes come with a package that appears to be similar to a more traditional pack of cigarettes. With their magnetic option, a quick snap and click means the device is ready to go. Again, the starter kits provide flavor options that allow you to sample and find your personal favorite.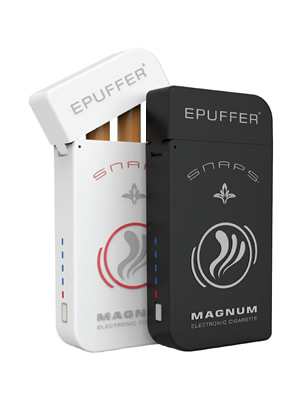 ePuffer Prices & Shipping
The prices are reasonable compared to many other sites. ePuffer also offers the ability to buy several cartridges of a flavor in one pack, thus providing a budget-friendly option. Its starter kits are fairly reasonable for what is included.
For purchases over $50, the shipping is free in both the USA and Canada. All other international shipping rates apply. However, if you take advantage of free shipping, there is no tracking option available to confirm your purchase's delivery window. For those individuals who live in California, the package will be delivered via US Postal Service, but it will require that the individual sign for the package and show ID confirming his or her age. This is done on all initial purchases for California residents.
ePuffer offers a great deal: shop above 75$ and get a free disposable e-cigarette!
ePuffer Packing and Warranty
The packaging is sleek and meant to mimic more traditional cigarette options. Additionally, the packaging for the more traditional e-cigarettes works as a charging device. For the cigars, the packaging is a carbon copy of a cigar box. Singly packaged devices are also available for the cigars. There are other devices that are disposable and thus packaged for both single and multiple preferences.
The warranty is a standard manufacturer's warranty for the devices themselves, but the company also offers a 30-day money back guarantee. If you want to take advantage of the guarantee, you must return the products purchased within 30 days of the date on the receipt of purchase.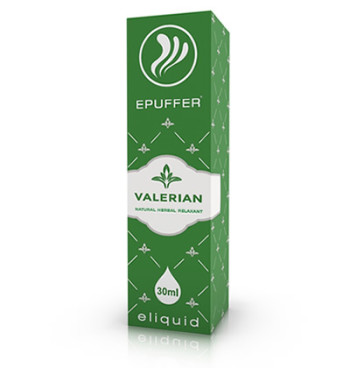 Overall
ePuffer's site itself is user-friendly, providing plenty of choices for both devices and e-liquids. Still, the e-liquids allow users to have a more traditional smoking experience or banish the cravings for sweets as they quit traditional smoking. The e-liquids are made in California, which explains their high quality.
The devices are not necessarily the newest box mod options, but ePuffer does offer devices that appeal to those who prefer a more traditional vaping experience that closely aligns with traditional smoking. ePuffer's devices pass the ISO 13485 certification (medical certified), which means its vaporizers are way better than most of the other brands out there who mainly sell low-quality, advanced vaporizers that may hurt your health.