What Is High VG Juice?
E-liquid is primarily composed of two separate chemicals, propylene glycol and vegetable glycerin shortened to PG and VG for convenience. They are both colorless, odorless members of the alcohol class that can be inhaled in the form of vapor when heated; however, they have different qualities and textures. Propylene glycol typically provides the throat hit while vegetable glycerin thickens the vapor clouds. VG makes vapor smooth, and many vapers easily become addicted to the syrupy taste it leaves in their mouth. Cloud-chasers who need extremely dense, thick clouds oftentimes compete with e-liquids composed entirely of vegetable glycerin. However, most of us will prefer some sort of blend of PG and VG e-juice. If you want to know how to find the best high VG juice, listen up. This is your #1 guide in how to find the best high VG juice.
Why Go For High VG Juice? What's With All These Proportions Anyway?
E-liquid comes in different proportions of PG and VG to accommodate a wide range of tastes. A standard blend is 50/50, but you can find quite a variety of combinations. High VG Juice will typically have a ratio of something like 20/80 or 30/70, and online retailers should offer e-liquids in at least two or three different mixtures from which you can select your favorite.

What Do I Need to Know to Use High VG Juice?
Because High VG vape juice has such a thick and creamy texture, it may not be compatible with every device. You'll need your vaporizer to reach a certain temperature and produce a certain amount of power. Otherwise, you might not actually be able to vape your e-juice. Typically vapers use their high VG juices with their sub-ohm mods and their more powerful vape pens. You may be able to get away with using high VG juices on smaller vaporizers, but it's best to check the manual or the online description first before assuming that it can handle it without a problem.
Important Features to Consider When Trying to Find the Best High VG Juice
There may not be one ideal high VG juice out there with your name written all over it, and there may not be any hard and fast rules about how to find the best high VG juice. However, that being said, we have some tips that will help you narrow down your selection. There are quite a few high VG juices out there, but hopefully with these tips, you'll be able to find one that suits you exactly.
If you're looking for high VG juice, chances are you want either a smooth vape or want to blow bigger clouds. Either way, pure vegetable glycerin is not going to be all that pleasant, so you'll need to find your perfect PG/VG ratio and identify the flavors that go best with high VG liquid. Sometimes heading to the vape shop can be intimidating because you walk in and can't choose from among the hundreds of flavors. If you are the kind of vaper that looks on in horror at the sheer number of choices in front of you, then keep reading. E-Cig Brands has you covered.
Find the Right Ratio for You
Again, unless you are going to vape pure vegetable glycerin, which we definitely do not recommend unless you are participating in a cloud chasing competition, you are going to need to buy a bottle of e-juice that has a mix of PG and VG vape liquid. A mix of the two will always taste better than one or the other because they each have different qualities. PG tends to hold flavors better than VG and provides better throat hits, so without a mix of the two, your e-liquid might be a bit bland even if it tastes syrupy against the back of your throat. If your goal is simply to produce larger clouds or avoid smoking, this might be fine especially since VG is naturally sweet. However, those of us who can't resist white cheesecake or strawberry delight might be unpleasantly surprised.
Now not all vaping companies specify what they mean by "high VG liquid," but usually it's either 20/80 or 30/70. 40/60 can also be considered high-VG juice. Not all vape shops will offer e-liquids in all of these ratios, and so you may not necessarily have a choice. However, if you do have a choice, don't just assume that 20/80 will be best just because it's the highest concentration of high VG juice. You may actually prefer 40/60 because it will be more balanced.
E-Juice That is Compatible With Your Vaporizer
Not all vaporizers can handle high VG juice. Most advanced sub-ohm mods should be able to handle any high VG juice easily, but if you have a vape pen, even if it is fairly powerful, the tank may not be powerful enough to handle the viscosity of a 20/80 liquid. There's not necessarily one specific way to identify which tanks will work, but if you read reviews about a topic, other customers should warn you if they found that the atomizer was constantly clogged. In general, anything marketed as a sub-ohm mod shouldn't have too much of a problem unless it's a mini-mod or a pen-shaped mod.
How to Still Get a Throat Hit
Many former smokers crave the hit at the back of the throat that reminds them of their nicotine cigarettes. However, many of them will also tell you that they love to vape high-power mods that produce tons of vapor. If this sounds like you, you may want to consider ordering your high VG vape juice with a higher concentration of nicotine than usual so the smoothness of the vegetable glycerin doesn't completely overpower it. That being said, if you up your nicotine level and sub-ohm vape, you're going to be inhaling a lot more vapor than usual. So it might be wise to set a maximum puff count on your mod so that you regulate your nicotine intake level. You wouldn't want to become more dependent on High VG liquid just because you are sub-ohm vaping. The purpose of vaping is to help you reduce your dependency.
Flavor Intensity
Since PG tends to carry flavor better than VG, you might find that you can't taste your very vanilla e-juice as well as you used to. However, most vaping companies will give you the chance to add an extra flavor hit. In fact, if the e-juice is a complex blend, then you can even add flavor shots for each flavor in the mix. Check the reviews for the vape juice before buying to see what other buyers recommend. You'll probably find that you'll need two or three flavor shots to make it taste like it would were it a 50/50 blend even if it is a 30/70 blend in reality.
Which Flavors Work Best?
Since high VG liquids tend to be extra smooth on the back of the throat, you are best off purchasing an e-liquid like ice cream or caramel mocha latte that is designed to have a creamy texture. Some companies will allow you to search their e-liquid inventory based on your ratio preferences, and others, like Mig Vapor, even offer a specific line of high-VG e-cig juice. We tend to avoid vaping fruity high-VG liquid, but any kind of cream or custard will work perfectly. Do note though that VG is already slightly sweet, so while it could enhance a dessert flavor, the natural sweetness might overpower a tobacco flavor if the ratio isn't correct.
The best question to ask yourself here is: would this food or flavor taste good as a syrup? Especially when you're vaping at extremely high wattages, you're going to be inhaling vapor that is thick and almost soupy. We personally don't vape at anything higher than 65 watts, but for those intense vapers who like to fire at up to 150 watts, you're going to need something sweet and creamy to balance out the heat.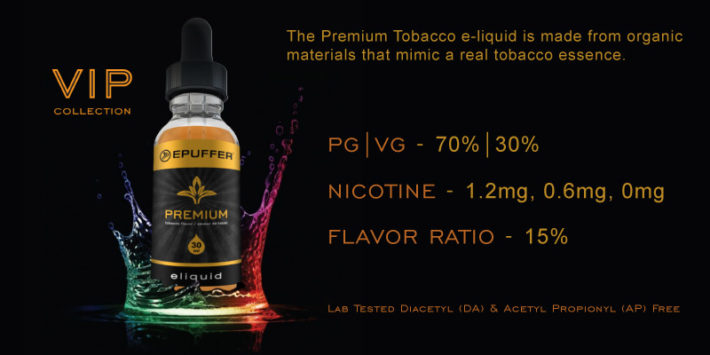 Where to Find the Best High VG Juice
You can find high VG liquid just about anywhere, but it's not always easy to filter your choices based on the PG/VG ratio. In fact, most online vape shops require you to click on each flavor individually and choose your preferences from there. That being said, many of these same vape shops also offer a great selection in each e-juice. Mig Vapor and VaporFi are particularly accommodating. ePuffer often sold e-liquids that came in only one PG/VG ratio because of the nature of the blend.
Conclusion
If you can't resist that thick, syrupy vapor that swirls around in the clearomizer and forms dense clouds of vapor around your head, then you need to get yourself a good bottle of high VG e-juice. Exercise discretion when using your high VG vape juice, and make sure to read instructions carefully before filling your tank. Not all vaping devices can handle vape liquid with high levels of VG because it's extremely thick. So, that's everything you need to know about how to find the best high VG juice. Now all you have to do is, well, find the best high VG juice for you!