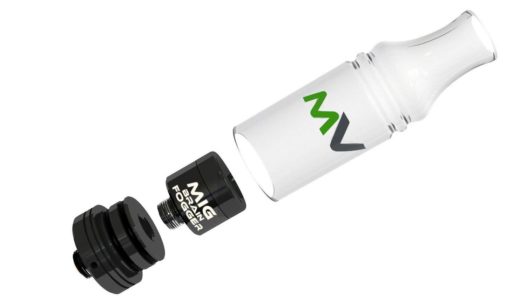 Vaping is not a cheap hobby, and although you'll be saving a chunk of dough if you've abandoned your cigarettes, with new devices popping up left and right, you might end up spending the same amount. There are cig-a-likes, vape pens, multiple functionality vape pens, e-cigars, disposable e-cigarettes, e-pipes, e-shisha, sub-ohm mods, and then vaporizers designed for dry herb and concentrates.
When each new device costs you $100 or more, and you "have to have" each one, how do you decide where to spend your money? Then you're going to have to purchase new atomizers or cartridges and e-juice as well to keep vaping. Now let's say you have a portable pen for on-the-go vaping and vaping during the work day. You have your sub-ohm mod with amazing vapor production, and you have a few tanks floating around here and there for good measure. What if you want to start vaping concentrates? Do you have to buy another device?
Actually, no, you don't. Even though vaping concentrates is much different than vaping e-liquid or dry herbs, you can get a wax atomizer. A wax atomizer is essentially a tank designed specifically for concentrates that is compatible with other sub-ohm batteries via a 510 thread connection. That way, all you have to do is screw in your tank to a mod you already have and vape away. It's as easy as that.
Now even though vaping wax is not all that popular, there are quite a few wax atomizers, which is great for you because that means you save a lot of money. There is far less competition for dry herb atomizers because companies typically decide to make new vaporizers specifically designed for vaping loose leaf. There probably isn't a large enough market for vaporizers just for vaping concentrates, but there are plenty of vapers who would spend some extra money to do it occasionally.
Bam, the wax atomizer was born. If you have very little time and just slightly more money, then read on. E-Cigs Brands has tested hundreds of devices for you, and we're here to report what we found was the cream of the crop, the best of the best.
Conclusion: You Need to Check Out the Best Wax Atomizers Today!
Here at E-Cig Brands, we know that you don't want to spend money on anything you don't need, and so that's why we researched the best wax atomizers out on the market. When you buy an atomizer instead of an entire mod, you save a boat load of money. No one needs extra mods around for no reason. It's best to spend a nice chunk of change on a good-quality mod and then keep it around for years to come. These are the best wax atomizers we could find. They are built with high-quality materials, and they won't burn your flower. Of course, you do need to be careful to stay within the recommended wattage range prescribed by the company, but as long as you do that you shouldn't have any problems.
You'll notice that the majority of dry herb and concentrates atomizers are coming from mig vapor. In fact, a lot of our favorite e-cigarette brands aren't even in on the competition. Atomizers will be the new trend for dry herb and concentrates because they're inexpensive and offer great value! Make sure to get yours today and be the envy of all your friends. You don't know when this trend will catch on, but if you get your wax atomizer today, we can assure you that you'll have the goods before anyone else does.