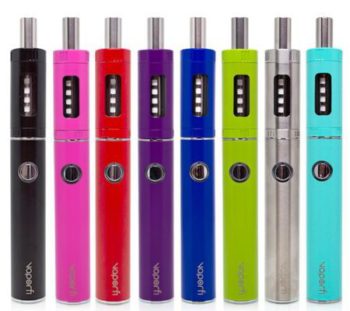 VaporFi Pro 3
VaporFi has done it again, their all new Pro 3 might be one of the best devices to help smokers truly make the switch to vapor. Similar to previous models, the Pro 3 offers a mouth-to-lung vaping experience that provides one of the closest sensations to smoking that I've experience, but with none of the guilt or stink. The VaporFi Pro 3 offers solid performance consisting of the Pro 3 Battery, the Pro 3 Atomizer (2.0 ohm), the Pro 3 Tank, a Micro-USB Cable, and a Pack of Spare O-Rings (4). Not only is this an effective device to those still craving their bad habits, but the Pro 3 offers stunning good looks, available in 8 different colors and the ability to mix and match to fit your personal style with a possibility of 64 color combinations. With VaporFi and the new Pro 3 Starter Kit, you'll be able to choose your battery color, your tank color, and even blend your own juice, truly creating your own experience throughout your journey. VaporFi – Think It. Mix It. Vape It.
Kit's Price: $49.99
What's Included with the Pro 3 Starter Kit:
1 Pro 3 Tank (with pre-installed 2.0ohm Atomizer)
1 Pro 3 1000mAh Battery
1 Additional Pro 3 2.0ohm Atomizer
1 USB Charging Cabler
4 Pack of O-Rings
Instruction Manual
Specs:
2.5mL Tank Capacity
Battery Capacity 1000mAh
Battery Voltage 3.5 volts
Atomizer Resistance 2.0ohm
USB Wall Charger Adaptor 100-240V Input, Output 5V
---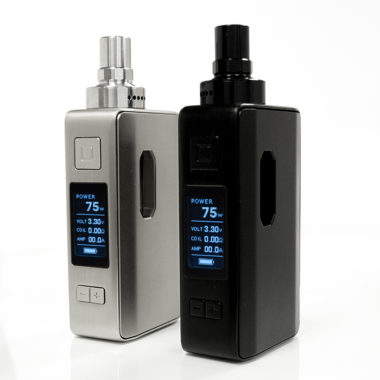 VaporFi VAIO 75W TC All-In-One MOD
The VaporFi VAIO All in One 75W TC MOD is a powerhouse of a MOD. Do not be fooled by this MOD's compact size, this bad boy can provide up to 75 watts of precision power. A built in tank makes the task of finding a compatible tank a thing of the past. The VAIO 75 also features a window built into the body to be able to view your vape juice levels at all time. The bottom feed coil design of the VAIO provides vapers with a mouth to lung draw, but direct to lung vapers can also take advantage of low resistance coils for massive vapor production. Power by a single 18650 battery (sold separate) the VAIO all in one MOD has the ability to meet the demands of even the most advanced vapers.
Retail Price: $129.99
What's Included with the VAIO Starter Kit:
1 VaporFi VAIO™ 75W TC MOD
3.5ml Built-In Tank
Mouthpiece
VaporFi Notch Atomizer: 0.25ohm (Pre-Installed)
SS316 0.5ohm Atomizer
Tank Connector
USB Cable
User Manual
Buy your VAIO 75 All In One MOD Today and Save 10%!
---
Rebel 3 Advanced Vaporizer
VaporFi has finally released their highly anticipated Rebel 3 Advanced Vaporizer mod. The Rebel 3 is a serious upgrade over its predecessor, the Rebel 2. Featuring a 3000mAh battery for all day vaping pleasure, the Rebel 3 provides users with a durable and long last vape mod. The cylindrical shape of the Rebel 3 contours perfectly and ergonomically to fit in your hand or pocket for maximum portability. The accompanying tank boasts a 510 spring loaded connector capped off by an incredible 5.8ml tank capacity. With the VaporFi Rebel 3, you will never have to question your battery life and you are also backed by VaporFi's leading warranty and money back guarantee. Make sure to step up your vape game and get the Rebel 3 today!
Retail Price: $119.99
Rebel 3 – What's Included:
1 Rebel 3 Tank (with pre-installed 0.5ohm Atomizer)
1 Rebel 3 Battery
1 0.5ohm Rebel 3 Atomizer
1 USB Cable
1 Wall Adapter
1 User Manual
Click to Buy Now & Receive 10% Off
---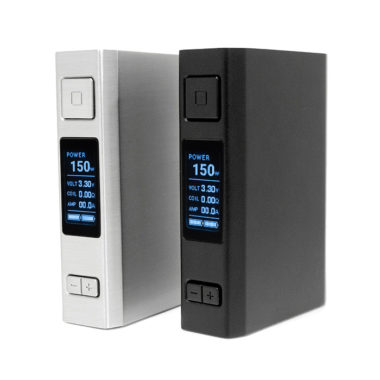 VaporFi VEX 150W TC MOD
The VaporFi VEX 150 TC Vape MOD is the most powerful vape mod available in VaporFi's arsenal. Boasting a whopping 150 watts of power, this box mod is powered by 2 x 18650 batteries and was designed with the advanced vaper in mind. A 510 threaded spring loaded center pin allows you to use any sub ohm tank or RDA with precision. The VEX 150 features over-charge, over-discharge and over-current protections as well as dual vent holes to prevent any shortages or overheating. The VEX 150 vape mod can fire kanthal, Ni200, stainless steel and titanium coils with ease. A stunning OLED screen and a real time clock are just part of the beautiful aesthetics of this box mod.
Retail price: $129.99
What's Included with the VEX Starter Kit:
1 VaporFi VEX™ 150 TC MOD
1 USB Cable
User Manual
Buy the VaporFi VEX 150 & Save 10% Today!
---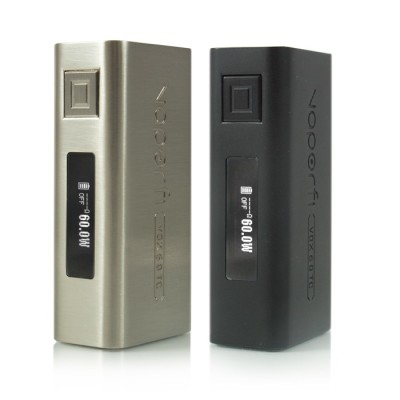 VaporFi VOX 60W TC Box MOD
The latest from VaporFi, the VOX 60TC is a pocket-sized yet powerful device from the innovative Vox series. Boasting an exterior case that is constructed of lightweight zinc alloy for ultimate portability, this tiny mod is packed with awesome features. We will first start by looking at the chipset, which fires up to 60 watts, includes temperature control which will let you toggle between standard kanthal, nickel or titanium coils, a bright OLED screen, short-circuit protection, reverse battery protection, automatic ohm resistance meter, low voltage protection and a device lock feature for ultimate safety. The internal battery on the Vox 60TC is 3000 mAh which is more than enough to get you through a full day of vaping. The flush-mounted firing button on the Vox 60 reduces the probability of accidental firing, the battery casing is vented and the sleek lines of the design offers great ergonomics and looks. If you don't need as much power from the 100W version, and you want to save a few bucks, the Vox 60W TC from VaporFi is a fantastic option for entry level or advanced users.
Retail Price: $104.99
What's Included with the Edge Starter Kit:
VOX® 60W TC MOD
USB Charger
Manual
Save 10% on VaporFi's VOX 60W TC!
---

VaporFi Rocket 3 Vape Starter Kit
The VaporFi Rocket 3 Vape Starter Kit has changed the way you look at a conventional vape pen. The Rocket 3 vape pen boasts several great features such as variable wattage and temperature control modes. The 2500mAh internal battery proves vapers substantial battery life for extended use. The VaporFi Rocket 3 comes with a 0.5ohm pre-installed coil as well as an additional 0.1ohm Ni200 atomizer. A 3.5ML vape juice capacity tank and a convenient top fill design ensures a smooth experience while refilling your tank with e-liquid. Available in 6 beautiful colors, don't miss your chance to buy the Rocket 3 starter kit and save 10% today!
Retail Price: $89.99
What's included with the Rocket 3 kit:
1 Rocket 3 Tank (with pre-installed 0.5 ohm Atomizer)
1 Rocket 3 2500mAh Battery
1 Additonal Rocket 3 Ni200 0.1 ohm Atomizer
1 Micro USB Charging Cable
2 Pack of O-Rings
User Manual
Save 10% on VaporFi's Rocket 3 Kit!
---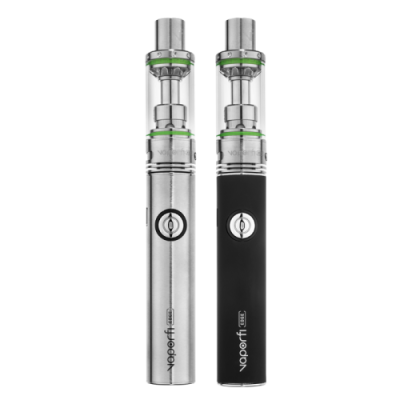 VaporFi Edge
If you are looking for an easy to use, powerful sub-ohm setup, that is also safe to use, then the VaporFi Edge should be exactly what you're looking for. The Edge features a 1800 mAh battery that can fire as low as 0.1 ohms, capable of a maximum output of 100 Watts! There is no LED screens or variable wattage functions to speak of, just a simple 5 click on/off is all it takes to fire up this powerful battery. The battery is available in 2 color options, Black or Silver, has a USB charging port and also includes low voltage and short circuit protection for your safety. Sitting on top of the Edge battery is the Edge sub-ohm Tank, which brings 2 atomizers (0.5 and 0.2) can hold a massive amount of juice (up to 7MLs!), has adjustable air holes and includes a wide bore drip tip for massive vapor production. The Edge tank is extremely versatile as it can be used with Ni200 coils, but you must use a compatible Temperature Control mod if you do intend to take advantage of this option instead of the kanthal coils. If you are looking for a sturdy, simple and safe sub-ohm starter kit, look no further than the Edge from VaporFi.
Retail Price: $129.99
What's Included with the Edge Starter Kit:
Edge Sub-Ohm 1800mAh Battery
Edge Sub-Ohm Tank with 0.5ohm atomizer
510 Drip Tip Adaptor
Tank Glass Replacement
Additional 0.2 Ohm Atomizer
USB Charger
Wall Adaptor
Click to Buy Now & Receive 10% Off
---
VaporFi Vice
Compact, Powerful and Sleek all describe the VaporFi Vice starter kit. The Vice consists of a Vice Ego style Battery and a Vice tank. The Vice tank is constructed of durable stainless steel, holds 2.5 ML of e liquid and has 2 windows to monitor your level of juice. The Vice battery provides 2200mAh capacity which should be enough to last most vapers a full day of usage, and can fire atomizers with a resistance range of 1.0ohms all the way down to 0.3 ohms. Although the Vice does not have variable voltage or wattage capabilities, you can select the resistance and amount of vaper by the type of coil you choose, and the Vice brings both a 1.2ohm coil and a 0.5ohm coil. The Vice is about the same size of other ego style kits, but with much more power and capabilities, and can be operated with a simple 5 clicks of the firing button. One of my favorite features of the Vice is that it has pass-through charging, so you can vape and charge at the same time! The VaporFi Vice is a perfect kit for a beginner as well as the experienced vaper.
Retail Price: $99.99
What's included with the Vice starter kit:
2200mAh Vice Battery
Vice Sub-Ohm Tank
Additional 1.2 Ohm Atomizer
Additional 0.5 Sub-Ohm Atomizer
AC Adaptor
USB Charger
Click to Buy Now & Receive 10% Off
---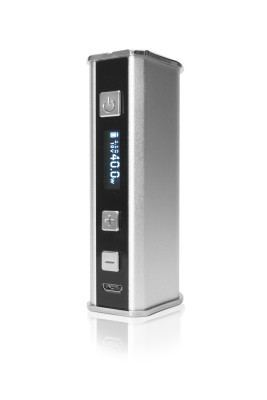 VaporFi Vox Mini
The latest pocket sized mod from VaporFi, the Vox Mini, looks like a mod that is going to be hard to resist. The Vox Mini produces a maximum output of 40 watts and can fire down to 0.3 when using a sub ohm tank, such as the Volt. Although the Vox mini isn't a temp control mod, this is a fantastic, discreet little mod that even the most demanding vapers should enjoy. The Vox Mini has an internal and powerful 35A battery, a digital OLED screen, a spring loaded pin, 510 threading, so really any type of tank you decide to use it with, should have a nice secure connection. Constructed out of stainless steel, the Vox Mini feels very sturdy and fits very comfortably in the palm of my hand. When you are considering a mod, the post-sale experience is critical, that's why VaporFi backs the Vox Mini with a 90 day unconditional warranty. If you don't need temperature control, and are looking for a solid reliable mod, the Vox Mini packs all the punch you need.
Retail Price: $79.99
What's included with the Vox Mini:
VOX Mini 40W MOD Vaporizer (Built in 35A battery)
USB Charger
Tank Sold Separately
Click to Buy Now & Receive 10% Off
---